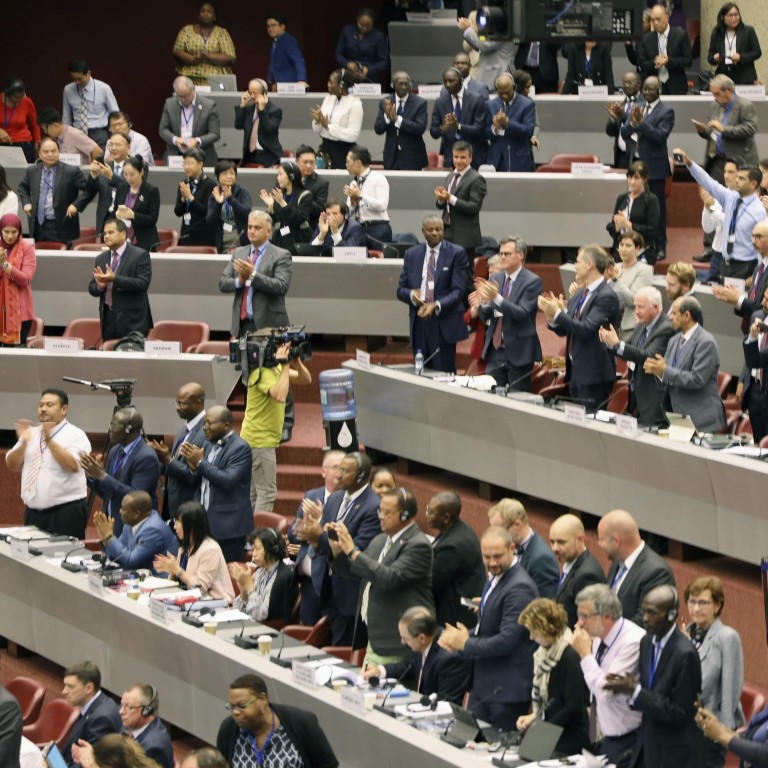 US global postal rate deal will have limited impact on Chinese exporters, observers say
The United States will be allowed to set its own rates for inbound international letters and small packages starting in June 2020
But observers say the new rates will have less impact on China than Washington had envisioned
A deal struck between the United States and a global postal union that will allow Washington to set its own postal rates for parcels from abroad will have less impact on China than the Trump administration hoped for, observers said.
The US will be able to raise prices for letters and small parcels from July next year after reaching a compromise on Wednesday with members of the Switzerland-based Universal Postal Union (UPU), which represents 192 member countries and is responsible for setting international postal fees.
The White House
had threatened to pull out of the union unless it reformed its fee structure, which Washington claimed gave countries like China an advantage and threatened US jobs.
Under the union's "terminal dues" system, developing countries – including China – pay less for the international delivery of packages under 4.4 pounds than developed nations.
Wednesday's agreement will allow the US to set their own fees - or "self declare" in UPU parlance - from July 2020. Other countries that receive more than 75,000 metric tonnes of mail annually can begin phasing in higher rates in January 2021.
Some Chinese exporters, many of whom have been hit by US tariffs as part of a bruising trade war, are expected to pay more to ship directly to the US as a result of the new UPU deal, but many observers said it would not affect rates paid by firms that use private-sector carriers for large shipments.
"Chinese exporters are not affected at all because this has no impact on regular ocean freight or air freight, only on individual parcel shipments," said Fredrik Gronkvist, co-founder Chinaimportal, which helps small businesses manage their manufacturing projects in China.
The vast majority of Chinese exporters do not ship abroad "parcel by parcel" and many e-commerce firms, especially dropship companies, were moving their inventories to the US, he added.
Dropship companies like Alibaba's business-to-customer subsidiary AliExpress and San Francisco-based low price platform Wish combine small online orders through third-party sellers into large shipments. Alibaba is the owner of the South China Morning Post.
China's delegation backed the deal, saying Beijing has "been actively working with all the members and trying to find a positive solution and compromise in the spirit of UPU."
A separate US proposal to immediately start charging foreign shippers the same rate that domestic small and medium-sized shippers pay was rejected on Tuesday.
"The reforms passed are significant, with broad global implications," said Matthew White, a strategist at consulting firm IDrive Logistics. "Trump has a solid mandate from US small-business owners and parcel carriers across the political spectrum to levy exorbitant terminal rates on shipments from China."
Chinese companies selling products on
US e-commerce platform Amazon.com
are unlikely be hurt by higher postal rates, said Sibiao Chen, chief operating officer at SellerMotor, a cross-border e-commerce analytics company. He said most Chinese sellers already pay for Amazon's "Fulfillment By Amazon" service, or FBA, which requires sellers to ship in bulk to Amazon's warehouses, with Amazon handling storage and shipping to customers.
SellerMotor estimated that products shipped directly from China contributed to roughly 0.0005 per cent of Amazon.com's US sales.
"Sellers with a direct to consumer model will be impacted," Chen said, adding that smaller merchants might leave the US market, leading to consolidation.
Charlie So, Hong Kong-based brand director at Super Resurs, which offers many of its engine care products online in 42 countries including the US, said customers may have to absorb the extra shipping costs.
"With the current logistic set-up and being in the early stages of our online business, if there is an increase in postal costs to the US, it's likely that US customers would bear the additional costs for our products. It's not possible to offer any subsidies from our side at this moment," So said.
White House trade adviser Peter Navarro said that the current system meant the US Postal Service was effectively spending US$300 million to US$500 million to subsidise the cost of delivering imports, including goods mailed to the US from China.
"We'll buy less Chinese stuff, buy more from other countries, we will make more in America and the market will be free of distortions," Navarro, who led the US delegation to the UPU, told a Geneva news conference.
"China is certainly going to pay more for the privilege of shipping to our market."
Additional reporting by Reuters 
This article appeared in the South China Morning Post print edition as: US post deal 'poses limited threat to China'