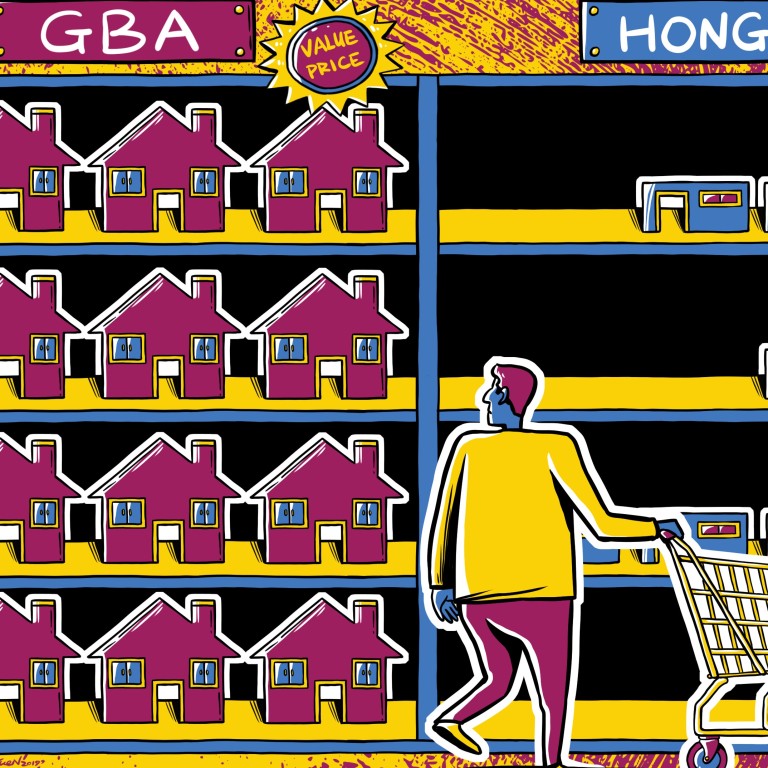 Can China's Greater Bay Area offer relief to Hong Kong's housing woes?
In a new series delving beyond the social unrest in Hong Kong to survey the city's deep-rooted problems, the Post is focusing on the role of housing in causing great disaffection in society
In this instalment, we examine the role of China's Greater Bay Area, and whether moving to mainland China is a viable option for Hongkongers
Rising property prices and lack of affordable housing have Hong Kong residents exploring the wider Greater Bay Area for their next property investment, either for a holiday home or a place to retire to, although it remains to be seen if China's development plan can play an indirect part in easing the city's housing crisis.
Property agents claim that they have noticed an increase in cross-border property investments since the release of the
Greater Bay Area development plan
earlier this year, which followed a change in China's immigration laws last year that meant eligible Hong Kong residents could now choose to live as well as work in mainland China without the need for additional visas or approvals.
That change removed at least one of the obstacles for people looking for more affordable housing alternatives. But many obstacles remain, including access to quality health care, which is particularly important for the growing elderly community in Hong Kong that are considering mainland China as an option for their retirement. Questions of quality aside, most would not be eligible for the Chinese state system, having not contributed to it.
Jackson Ip, 60, bought a 560 sq ft flat for HK$2.5 million in Hong Kong soon after the handover in 1997, and it is now worth around three times that.
"I don't mind living in a relatively small flat. Hong Kong is my home and all my friends are here," said Ip, who has never lived in mainland China but has viewed several properties in multiple cities in the Greater Bay Area in recent years.
He added that he has been concerned about water and food safety across the border. He has not bought a property in mainland China because of doubts about the return on his investment due to "an oversupply of flats".
The Greater Bay Area is the Chinese government's scheme to link the nine large cities in the Pearl River Delta – Hong Kong, Macau, Guangzhou,
Shenzhen,
Zhuhai, Foshan, Zhongshan, Dongguan, Huizhou, Jiangmen and Zhaoqing – into an integrated financial and business hub.
The Greater Bay Area now has a combined gross domestic product of US$1.34 trillion and a population of 68 million and the plan calls for it to grow and overtake similar economic zones, such as the San Francisco Bay Area or the Greater Tokyo Area, in the coming decades.
Guangdong province, for example, is attempting to attract talent from Hong Kong and Macau by offering tax subsidies as well as supportive health care and education policies, while a growing number of nursing homes are opening their doors to Hong Kong residents.
But the recent
unrest in Hong Kong
has created a wave of distrust for the Communist Party rule in China among young, pro-democracy supporters, who now say they have no interest in moving across the border regardless of the affordability of properties.
There are Hong Kong residents who work in the city but live just across the border in Shenzhen, although a daily commute of at least two hours each way via the high-speed rail link would be impractical from other cities in the Greater Bay Area.
"The shortage and high cost of land supply is one of the major causes for housing problems in Hong Kong. Due to the close proximity of [the Greater Bay Area], encouraging some people who work in Hong Kong to live in [the Greater Bay Area] is one of the most promising and cost-effective ways to alleviate housing problems in Hong Kong," said Maggie Hu, an assistant professor of real estate and finance at the Chinese University of Hong Kong (CUHK).
Hong Kong resident Peter Lau, 45, is considering doing just that. He and 38 other Hong Kong residents recently took a free "Greater Bay Area homebuyer tour" organised by a property agency to explore the options available in Guangdong.
Lau, who earns between HK$20,000 to HK$30,000 (US$2,8000 to US$4,200) a month, bought a 80 square metre (860 sq ft) flat in Shenzhen's Yantian District for 1.5 million yuan in 2013, which is now worth over 3 million yuan, although it is still much lower than Shenzen's average property price.
But as home prices in both Hong Kong and Shenzhen have risen well beyond his means to afford another flat, he is now exploring smaller cities in Guangdong province as his budget is less than 1 million yuan.
"If you don't buy now, the price will just go higher in coming years and you won't be able afford it," said Lau, who has relatives living in Guangdong, meaning the province is a viable location for retirement.
On this occasion, Zhongshan, a third-tier city in Guangdong with a population of about 3.3 million, is Lau's destination. Hong Kong residents are now able to buy new properties in China, having previously only been allowed to purchase second-hand flats and commercial properties.
As recently as 10 years ago, Hong Kong's working class could easily afford a decent or even superior lifestyle in Guangdong. However, income stagnation in Hong Kong over the last two decades has coincided with a sharp rise in property costs in the province, meaning Hong Kong residents have less spending power.
"In the 1980s and early 2000s, compatriots in Guangdong were envious of Hong Kong people. Girls wanted to marry Hong Kong men because such marriages meant an elegant and rich life. For locals in Guangdong now, a Hong Kong citizen is just another passer-by, a nobody, inconspicuous," said David Lee, a Hong Kong resident in his 40s.
Lee, who graduated in the late 1990s and joined a private communication company in Hong Kong, has also lived and worked in Guangzhou and Shenzhen.
In 2002, Lee spent 480,000 yuan, the equivalent of two years salary at the time, on a new, 72 square metre (775 sq ft) flat in a high-end community in Shenzhen's Nanshan district, near the city's most prosperous shopping district, a golf course and China's top theme park at the time, Window of the World.
Lee sold the property for around 950,000 yuan in 2008 and returned to work in Hong Kong. Now the average price in the same neighbourhood has risen from 7,000 yuan per square metre (10.8 sq ft) in 2002 to around 76,000 yuan (US$10,630) in 2019.
"At that time [in 2002], Hong Kong people did not even need a loan [to buy a flat in Shenzhen], but could pay it off in a lump sum. It was easy for Hong Kong University graduates to purchase one or even a few flats in the best gated communities in Shenzhen or Guangzhou," he said.
Zhaoqing, one of China's third-tier cities in the Greater Bay Area, is building new flats at a feverish pace, with a 78 square metre, two-bedroom unit costing only around 500,000 yuan (US$70,000).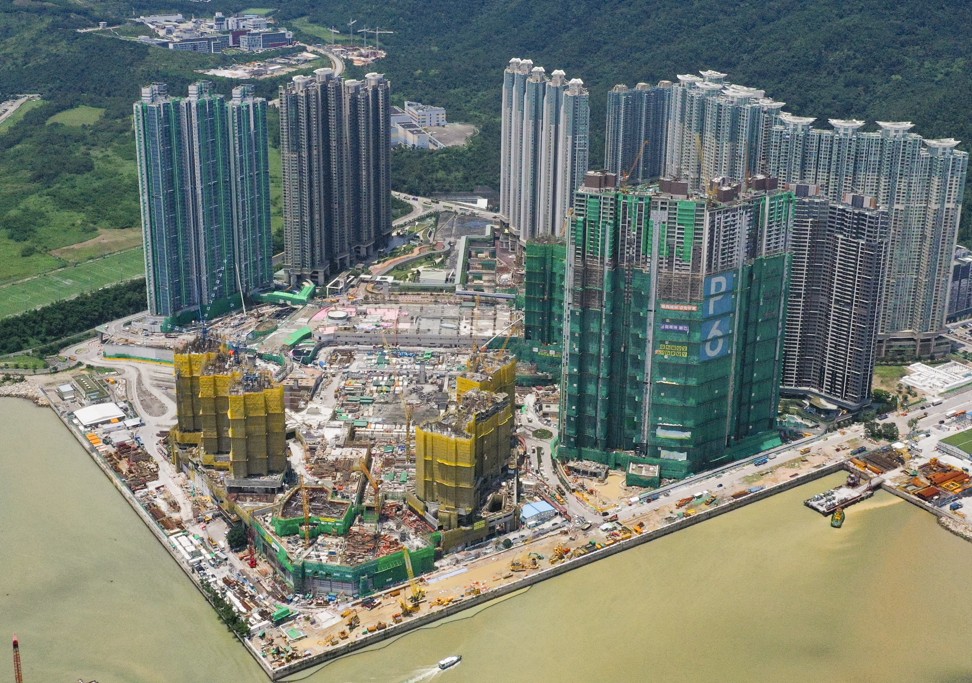 In contrast to the rising prices in China, the average starting salary for new graduates in Hong Kong has increased by only HK$5,000 from around HK$12,000 two decades ago, while at the same time, the yuan has appreciated about 20 per cent against the Hong Kong dollar.
 "10 per cent of the buyers of our newest project near the Zhaoqing high-speed rail station are from Hong Kong," said Jiang Muge, a senior sales director of R&F Properties. "We are targeting the Hong Kong working class because of the high-speed rail connections to Hong Kong."
This puts pressure on the Hong Kong government to build more public housing that is available to rent. Housing Department records showed that as of June 30, there were 2.1 million people living in 792,800 public rental housing flats, a Hong Kong government scheme to provide housing for low-income families at an affordable rent. With an average waiting time for general applicants of around five years and five months, according to government data, there are currently around 147,900 applications waiting to join the scheme.
"We expect that more and more public/subsidised housing could be provided in Hong Kong, especially for low-income and young people. However, it must be cautioned that a large proportion of government revenue comes from land sales or real estate-related taxes as both the corporate and personal tax rates are very low in Hong Kong," added CUHK's Hu.
"So the government has to rely on real estate related tax revenue for fiscal budget. However, too much reliance on land sales and real estate related tax revenue leads to a heated private real estate market."
Given the pressure on Hong Kong property prices, the spacious and inexpensive flats on offer across the border are attractive to some buyers, especially those who moved to Hong Kong at early age and who still have relatives in Guangdong, as they seek a less cramped living environment for when they retire.
In 2017, Hong Kong's Census and Statistics Department projected that the city's elderly population would increase from 1.16 million in 2016 to 2.37 million in 2036, meaning 31.1 per cent of the total population would be above the age of 65. It is also projected that the elderly population will remain at over 2.3 million for at least 30 years.
In 2013, the Hong Kong government launched the Guangdong scheme, and in 2018 the Fujian scheme, with both providing an allowance of HK$1,385 (US$177) per month to eligible residents aged 65 and above who choose to live in the two provinces just north of Hong Kong.
From 2020 at the earliest, the Hong Kong government will also extend the Normal Old Age Living Allowance (OALA) and the Higher OALA, the current scheme to provide a special monthly allowances to supplement the living expenses of people aged 65 or above who are in need of financial support, to eligible elderly Hong Kong residents living in Guangdong and Fujian provinces. The government estimates around 25,000 people would eventually benefit from the plan.
The Hong Kong government could also consider easing its land supply issues by building facilities such as elderly care and retirement homes that require a large amount of space across the border in Guangdong, according to CUHK's Hu.
"Some senior citizens are living in aged flats without elevators in Hong Kong, but they are not necessarily willing to live in [Guangdong]. The elderly will face many challenges once they live across the border, as they will be detached from Hong Kong's medical and social care system. There would probably be difficulties for them to integrate into a new but strange community, too," said Vivian Lou, director of the Sau Po Centre on Ageing at Hong Kong University.
Hong Kong residents
with special talents who are attracted to the Greater Bay Area for employment and more affordable housing could demand special medial and education benefits from their employers to boost the appeal of heading across the border, although this would not be the case for elderly residents, with that extra burden set to weigh on any decision to relocate.
Certain provinces and cities in China are already competing for Hong Kong talent, with some offering graduates
residency permits
that grant access to local health care and education, while others seek to lure workers with tax and housing incentives.
"To carry out these arrangements effectively, a strategic plan should be set up. To encourage elderly people and patients to live in [the Greater Bay Area], the Hong Kong government can lease the land from local governments and all the logistics, goods, and personnel can be arranged in the same way as in Hong Kong. For example, nurses and doctors who work in these facilities can be hired from Hong Kong instead of locally and paid similarly as in Hong Kong," Hu from CUHK added.