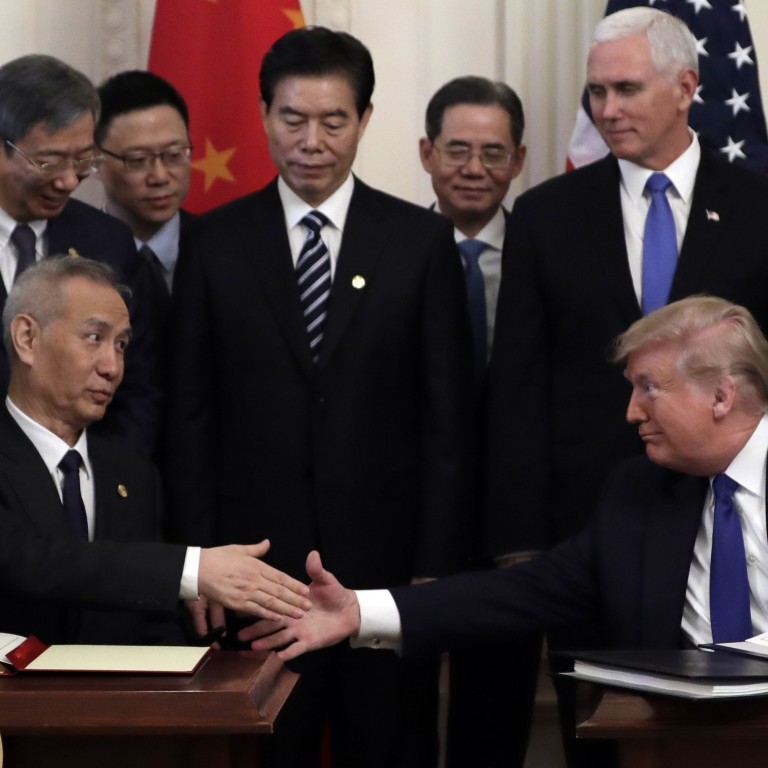 China Vice-Premier Liu He rejects Trump's suggestion of immediate phase two talks, calling idea 'unwise'
Vice-Premier Liu He has told Chinese media it would be foolish to chase a phase two trade deal with the United States when the ink on phase one is not yet dry
Liu's comments diverged from those of US President Donald Trump, who has said the next stage of trade negotiations would start soon
Chinese Vice-Premier Liu He has said Beijing has little interest in immediately starting negotiations on phase two of a trade deal with the United States, in a polite rejection of US President Donald Trump's suggestion the next stage of talks would start soon.
If China and the US hurry ahead with phase two talks after only just
signing a phase one deal
, the two countries would be acting like "a bear losing itself in a corn field", said Liu, referring to a Chinese proverb.
"We might get nothing if we rush to a second job before the first one is properly done. I don't think it is a wise choice to impatiently launch new stages of talks," the vice-premier told Chinese media in Washington after signing the partial trade agreement with Trump, Caixin magazine reported.
Liu's comments sharply diverged from those of the US president, who just a few hours earlier said that the two countries would be "starting phase two as soon as [phase one] kicks in."
After months of negotiations and escalating tariffs, the two sides agreed to put the brakes on
an 18-month trade war
that has disrupted global supply chains and shaken markets.
Although most US tariffs on China would remain in place, the US agreed to reduce duties on some Chinese imports and suggested further tariff relief if a phase two deal can be reached.
For Liu, President Xi Jinping's most trusted economic aide, the most significant value of the deal was that China and US could manage their differences through dialogue.
The deal "has fully proved that, in spite of many differences, we can work together. This kind of cooperation is not only good for China and the US but also the whole world," he said.
Liu tried to put the deal in historical perspective by citing geopolitical tensions between European powers at the beginning of the 20th century, saying it was dangerous when "a country's intelligentsia and general public have a tendency of taking a hardline approach to other countries".
The vice-premier did not elaborate, but it was a clear reference to the growing tensions between Beijing and Washington.
The partial trade truce has also dashed talk of
decoupling
between the world's two largest economies, Liu said.
"I think it is very unrealistic. A few people without economic backgrounds are talking about decoupling between China and the US, but in reality it is impossible to take place – a global value chain has been formed with 'part of me in you and part of you in me'," he was quoted as saying.
Liu, who is widely perceived as a reformer within Beijing's leadership who values the role of the market, said the agreement with Washington would also help reforms at home, promoting fair play and curbing unfair competition.
"If we look back in 10 years, we may find that it had made a very positive push for the technological advancement of China," Liu said.
Protection of intellectual property was one of the pledges made in the phase one deal and Liu said that China needed better laws in the area for its own interest and protection.
Purchase the China AI Report 2020
brought to you by SCMP Research and enjoy a 20% discount (original price US$400). This 60-page all new intelligence report gives you first-hand insights and analysis into the latest industry developments and intelligence about China AI. Get exclusive access to our webinars for continuous learning, and interact with China AI executives in live Q&A. Offer valid until 31 March 2020.