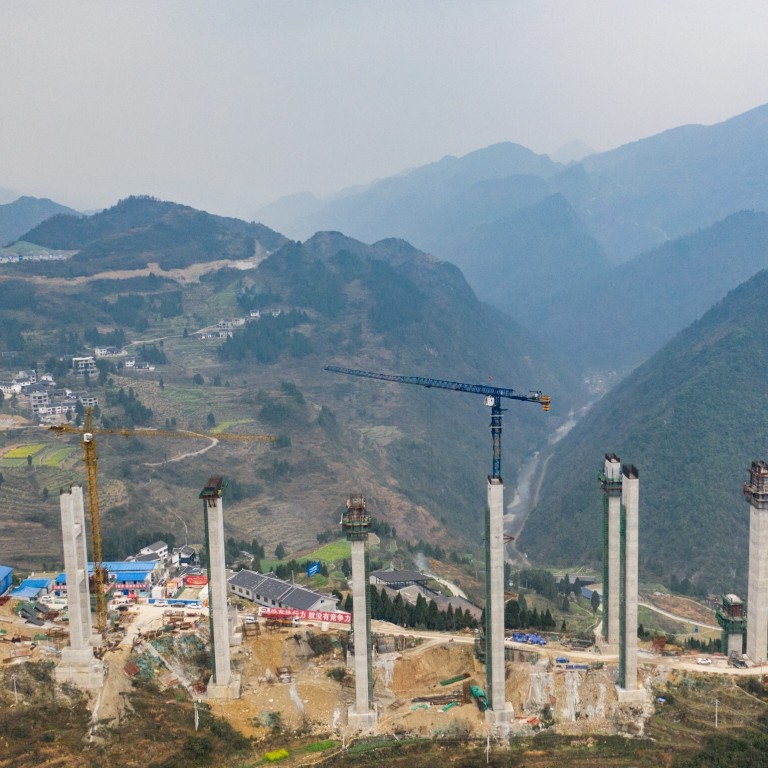 Coronavirus: China local government debt could hit record high as Beijing front-loads more bonds
China announced this week it will bring forward another 1 trillion yuan in advance quota of local government special purpose bonds
Beijing hopes infrastructure spending will curb the economic fallout from the coronavirus, but concern is mounting about local government debt
Local government borrowing in China is likely to hit record highs this year, as Beijing continues to shovel money into infrastructure projects to keep regional economies afloat.
The growth of local government debt slowed last month to 286.7 billion yuan (US$40.4 billion), down 26 per cent from 387.5 billion yuan in March.
But the finance ministry said on Monday it would bring forward another 1 trillion yuan in advance quota of local government special purpose bonds to fund
infrastructure projects
.
The move could swell local government debt to a record high of nearly 3 trillion yuan for the first five months of the year, compared to 1.9 trillion yuan from a year earlier.
"The key benefit of using special purpose bonds is that it's more transparent. You can see exactly how much new funding local governments are taking on and you can see how that would impact their direct debt," said Jack Yuan, assistant vice-president at ratings agency Moody's.
Special-purpose bonds were introduced by the central government in 2015 to fund infrastructure and public welfare projects. Interest on the debt security is to be paid for by income generated by a specific project, in contrast to general bonds that can be paid back out of fiscal revenue.
Before 2015, many regional governments borrowed through local government financing vehicles (LGFVs), which were created to provide off balance sheet borrowing that skirted restrictions on local government fundraising. The debt of LGFVs is often held by state-owned and most commercial banks.
But as borrowing spiralled and economic growth cooled, some projects funded by LGFVs have struggled to produce returns, leading to defaults on debt repayment.
"LGFVs tend to be less transparent, there are often many forms of hidden debt," Yuan said. "This is one of the areas that financial regulators have been trying to remedy in the past few years."
Beijing has attempted to keep a lid on its overall debt level in the past few years, but an economic slow down that has been exacerbated by the coronavirus pandemic has once again pushed policymakers towards debt-fuelled growth.
Local governments have increased borrowing in the past few months and are close to using up the early allocation of 2020 bonds quota worth 1.8 trillion yuan, after it was brought forward by the Ministry of Finance.
Between January and April, local government special bond issuance hit 1.6 trillion yuan, based on the ministry's data.
However, there are growing concerns over the outlook for local governments finances amid the heavy borrowing that is expected in coming months. Fiscal revenue has been in decline since the start of the year, plunging 14.3 per cent in the first quarter from a year earlier to 4.6 trillion yuan.
Nearly 40 Chinese LGFVs had trouble repaying debt obligations in 2019, a substantial increase from more than 10 in 2018, according to public reports cited in research by Fitch Ratings.
"More than 80 per cent of the LGFVs involved were from western provinces, whose economies are less developed than those of the coastal provinces. Guizhou province had the most LGFV credit incidents among all Chinese provinces, forming half of the total in 2018 and 2019," according to a report from Fitch published on Tuesday.
Yuan, from Moody's, said LGFVs still play an important role in infrastructure spending.
"The funds that local governments get through special purpose bonds, a portion of that will go to LGFVs through [their] involvement in infrastructure construction and urban renewal," he said.
Yang Zhiyong, a researcher with the Chinese Academy of Social Sciences (CASS), a think tank affiliated with the State Council, said local governments must be prepared to cover any shortfall in projects funded by special bonds.
"Special debts should deliver corresponding benefits, and the returns can cover the costs of the projects. If the project income is not enough to cover the cost, then only when there are sufficient funds … should the special bond be issued," he said on Tuesday in an interview with the Guangzhou-based newspaper Time Weekly.
"There is still room for expansion of local debt. However, considering the risks, more attention should be paid to the actual projects," Yang said.
So far this year, special purpose bonds have been used to finance transport infrastructure, health care and education facilities and water conservation projects.
Borrowing via special purpose bonds was still risky if governments took on projects to support growth that were less economically viable, Yuan said.
"That's always the difficulty with infrastructure spending in China. After a decade of very fast growth in infrastructure spending, in fixed asset investment in general, for a lot of local governments, there are not too many cash generating public projects left to invest," he said.
This article appeared in the South China Morning Post print edition as: Local debt likely to hit record high as Beijing front-loads more bonds