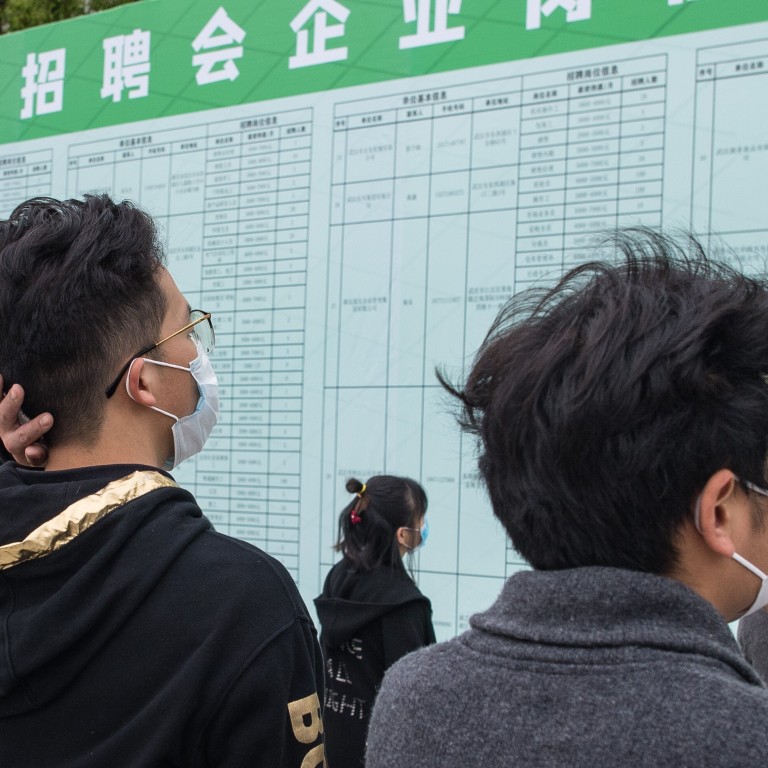 China's university students escape online to rail against the nation's growing inequality
China is on track to officially alleviate poverty by year's end, but there is growing frustration over inequality and limited social mobility among young people
Scores of young Chinese, many of whom are new graduates, are joining online groups to voice their frustration with the nation's widening wealth gap
In May, a group of young Chinese, many of whom were fresh university graduates, started a club on Chinese social media platform Douban called "Five", which sounds similar to "Feiwu," or loser in Mandarin.
Within five months, the community had more than 100,000 members. Many had a lot in common: they grew up in rural villages or small towns and studied hard to get into the country's top 100 universities. But they found it a struggle to get a good job or integrate into society after graduation.
Up for discussion were threads like, "How many of you have decided not to get married and have children?" or "How do you all resist loneliness?" A good deal of members shared their personal failures and complained about the nation's widening wealth gap.
While there is little coverage in mainstream media, Chinese youth are flocking online to express their fury and disappointment at inequality in the world's second largest economy.
China is on track to officially alleviate poverty and reach a "
comprehensive well-off society
" at the end of this year, but not everyone is satisfied. The sense of relative poverty is becoming acute, thanks to the income gaps between cities and the countryside.
Li Shi, a professor who studies income distribution at Zhejiang University, defines relative poverty as roughly 40 per cent of median income, or an annual income of 5,000 (US$738) yuan for rural residents and 12,000 yuan for urban residents.
While China's official absolute poverty line is an annual salary of 2,300 yuan, Li's research showed more than 130 million Chinese are living in relative poverty.
"The income and consumption gap between high-income and low-middle-income residents is widening sharply," said Wang Xiaolu, deputy director of Beijing-based think tank the National Economic Research Institute, in a speech last month.
Wang said the coronavirus pandemic had limited impact on the wealthy, who could be seen queuing outside luxury stores in big cities, but had hit poor people hard.
Beijing does not release data on the Gini coefficient – a measure of inequality from 0 to 1, with 1 being maximal unequal – in its annual economic performance report. But according to household surveys conducted by the National Bureau of Statistics, inequality peaked around 2008, fell steadily over the next decade before rising slightly in recent years.
Economists, however, have argued China's official figure does not provide an accurate picture, as the sample underestimates rich people's income growth and excludes migrant workers.
If more wealthy people were added to the sample, the Gini coefficient would rise by 6 per cent for the period 2007-13, instead of falling, according to Li's research. It would also show rising inequality within cities and villages, despite a narrowing gap between urban and rural areas.
Li said a key reason inequality would continue to rise was because of declining social and income mobility; it is becoming much harder for graduates without family backing to settle in major cities.
Meanwhile, wealth inheritance across generations – China does not have inheritance tax – has helped widen the gap.
Law student Richard Li, a member of the popular Douban community "985 Feiwu Plan" which references China's elite universities, said the gap between the rich and poor in the generation born after 2000 is "particularly shocking".
"Children in Liangshan of Sichuan province [a poor area] are picking up scraps for a living, and homes where children in Shanghai live are worth tens of millions," the 21-year-old from Guangzhou said.
"In universities and colleges, students from families of migrant workers or farmers eat only one meal a day, while some wear luxury products from head to toe."
When Claire Wang, 23, first came across the "985 Feiwu Plan" community, she knew it was for her. She had grown up in a village in southern China, earned a bachelor's degree from one of the nation's top universities, but her post-graduation life has failed to live up to her expectations
After finishing her studies last year, she landed a job as an office clerk at a state-owned manufacturing company in the eastern Chinese city of Hangzhou, but quit this year. Since then she has been travelling across the country trying to find what to do next.
Wang, who struggled on a monthly income of less than 4,000 yuan in her last job, said she could relate to the messages about poverty, money, relationships with parents and life in big cities that were shared in the group.
"Many people in the group posted there was a huge gap in family wealth between them and their colleagues or classmates," she said. "That's true, but there is no other way but to accept it.
"A colleague from my previous job wanted to leave on the first day we joined the company, but we had no money and couldn't ask families for help, so we had to stay for one year. The cost of making mistakes is too high."
This article appeared in the South China Morning Post print edition as: Young 'losers' find solace and solidarity online amid growing inequality