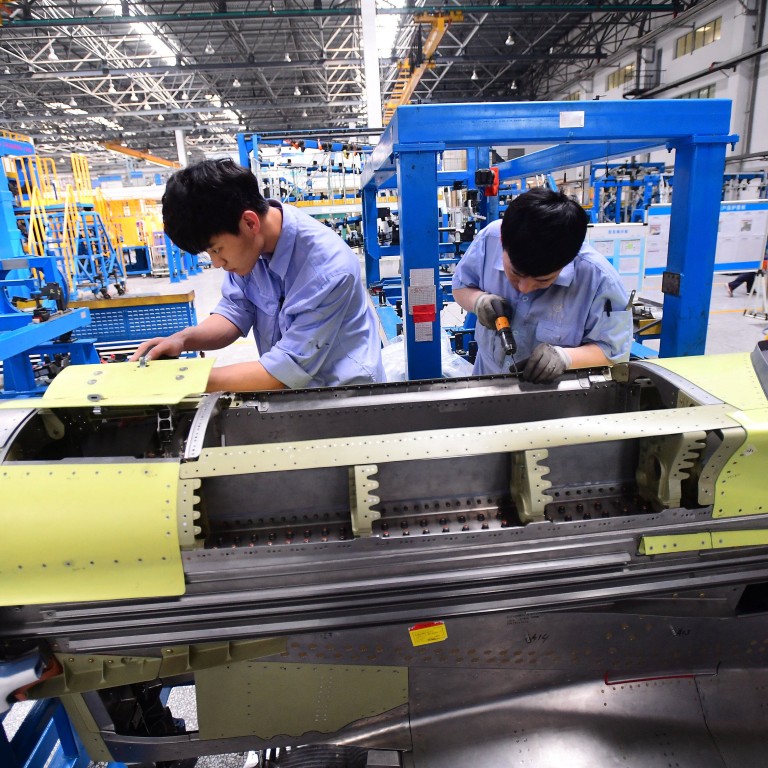 China's aviation capabilities stuck at 'low-end' as military-civil fusion weighs on innovation: official report
China's aviation sector is being held back by the dominant role of the state and the country's military-civil fusion strategy, says a new Shanghai report
The country is only able to make basic aviation parts as a result of inadequate core technology and poor research and development capabilities, the report says
China's commercial aviation industry is lagging behind international competitors, with the country's military-civil fusion strategy stifling innovation and state dominance of the sector hampering efficiency, according to a report from the Shanghai government.
Shanghai has been at the forefront of China's commercial aviation sector, which was identified as one of the key industries set for heavy investment in the 14th five-year plan for 2021-25.
The city is home to the state-owned Commercial Aircraft Corporation of China (Comac), which manufactures the
C919
, the narrow body jet China hopes will compete with Boeing 737 and the Airbus A320. It is also the site of numerous military-industrial research institutes. 
But in a report published on Wednesday by thePaper.cn, a media site owned by the Shanghai government, an official research unit said there was a "gap" between the city's aviation and aerospace industries and those in the United States and Europe in terms of technology and management. 
The report also said China is only able to make low-end aviation parts as a result of "insufficient core technology and system research and development capabilities".
"It is difficult for key technologies such as engines, airborne equipment, and new composite materials to reach the international advanced level in the short term, leading to being locked at the low end of the industry chain," said the Development Research Centre of Shanghai Municipal People's Government.
"In addition, China's airworthiness certification capabilities are still weak and cannot be fully recognised internationally in the short term."
China's military-civil fusion strategy, which aims to ensure military and economic development advances in lockstep with scientific and technological innovation, has not worked effectively, despite the large number of military-industrial research institutes in Shanghai.
"Due to the lack of system integration and other issues, barriers to both the use of military efforts for civilian purpose and civilian participation in military initiatives have been formed, and the effect of collaborative innovation is not good," the report said.
What's more, collaborative research and development is being held back because of state dominance of the industry and institutions, the report said, which has led to problems such as "an incomplete distribution mechanism" of shared risks and benefits.
Last year, Shanghai invested 200 billion yuan (US$30.6 billion) to launch an industrial estate focusing on aviation manufacturing, with the goal to grow the industry to 50 billion yuan by 2025 and more than 200 billion yuan in 2035.
The report said the new industrial estate, along with Comac's presence in Shanghai, would allow the city to attract key laboratories, engineering technology research centres, academics and experts in the global aviation industry.
This would help it achieve a breakthrough in research and development, while establishing a hub for international collaboration and integration of industry, universities and research.
The report also identified new challenges. The coronavirus pandemic had triggered supply chain reviews in the US and Europe that will see a reduction in outsourcing of manufacturing, it said.
"In this context, China's aerospace and aviation industry chain needs to be scientifically deployed, continuously expand the proportion of localised supply at the core level, and take a solid step towards selective self-sufficiency."
The trade war between US and China has morphed into a battle for tech supremacy that has
spilled over into the aviation sector
in the past two years. China is a big importer of US aviation products and has relied on mostly American components for its C919.
Washington is increasingly concerned that US global competitiveness could be compromised and critical technology could fall into the hands of the Chinese military through its exports sales.
The administration of former president Donald Trump pushed through a flurry of punitive actions aimed at Beijing towards the end of last year, many of which targeted the aviation industry.
China's biggest state-owned aviation and defence firm, the Aviation Industry Corporation of China (Avic), was put on the list of "Communist Chinese military companies".
Seven Avic subsidiaries were also listed as "military end users" by the US Commerce Department, meaning American exporters are required to obtain licences to sell certain products to them.
Comac was added to a blacklist of alleged Chinese military companies by the US Department of Defense in January. Under an executive order signed last year by Trump, American firms cannot invest in these entities.