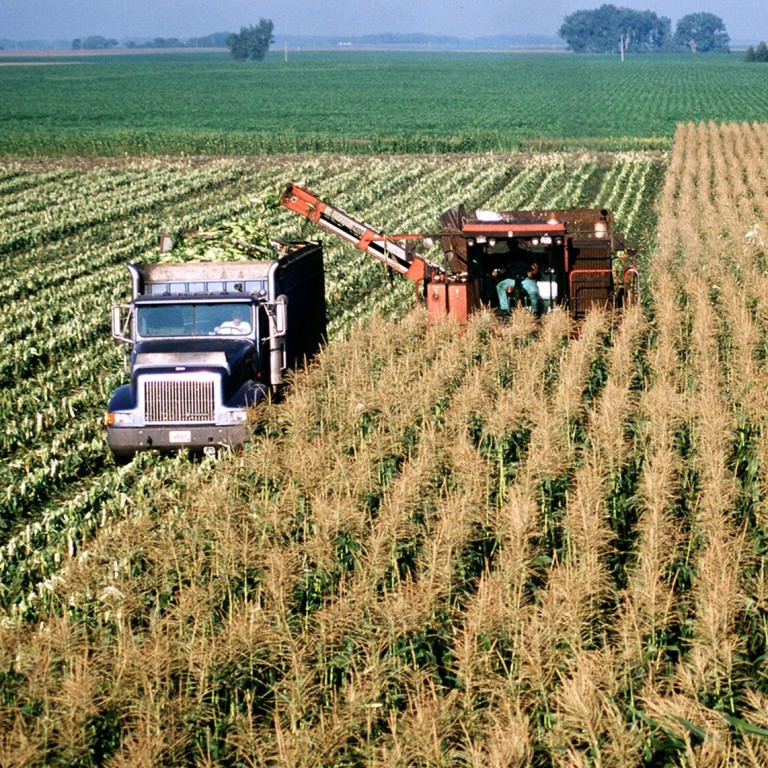 China food security: Beijing taps US to fill more than a third of next season's corn imports
China has already bought about 9.5 million metric tonnes of US corn from the 2021-22 season so far this month
The country is a key source of demand for grains to feed its expanding hog herd, helping push the price of crops to record highs
China has tapped the United States for more than a third of next season's expected corn imports, accelerating its pace of buying from the world's top supplier to fill its growing grain needs.
The Asian nation bought about 9.5 million metric tonnes of US corn from the 2021-22 season so far this month, according to US Department of Agriculture figures. The agency expects China to import around 26 million tonnes from worldwide suppliers for the period that begins in September.
China has been a key source of
demand for grains
to feed its rapidly expanding hog herd, helping push the price of crops to record highs, and there's little indication its appetite is abating.
The country's purchases from the US, the world's top corn supplier, is happening as dry conditions threaten crops in Brazil, which ranks second for global shipments of the grain.
Corn futures have slid about 13 per cent from an eight-year high of US$7.3525 a bushel on May 7, a peak that followed a run-up in prices that began mid-April. The most-active contract fell as much as 3.2 per cent to US$6.37 a bushel in Wednesday trading in Chicago.
Chicago corn futures bounced back on Thursday, with prices climbing 1 per cent, as strong demand from China underpinned the market. Wheat rose after three sessions of losses, while soybeans inched higher.
"The decline in prices encouraged buyers to cover supplies and that is now supporting prices," said a Singapore-based feed grains trader at an international food supply company. "China has been buying US corn consistently for the last few days."
Arlan Suderman, chief commodities economist at StoneX, said Chinese buyers had "found a flat price that they like" and were making purchases for delivery by next winter.
"They want to have coverage in place with Brazil's crop getting smaller and the US crop facing undetermined risks for the growing season ahead," he said in a note.
"Chatter within China reflects an expectation that Chinese buyers will continue to buy until they've booked closed to 15 million metric tons of US new-crop corn," Suderman said. A large chunk of purchases are going into the country's cash market, he added, "suggesting that Chinese demand is much stronger than previously believed".
Additional reporting by Reuters