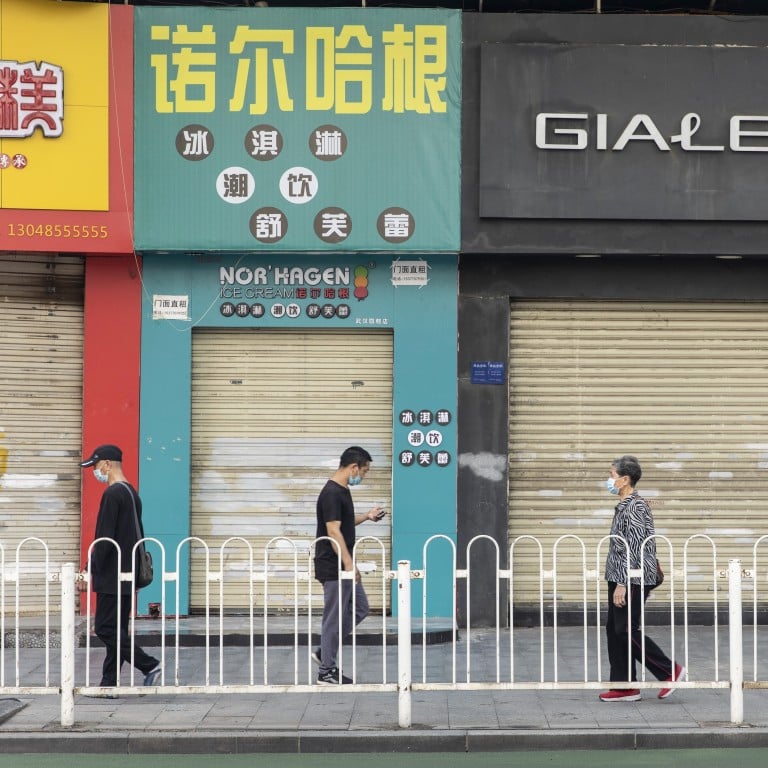 China's smallest businesses are crumbling as costs soar and help fails to arrive, putting national economy at high risk
Beijing knows how significant the problem is, and leaders are scrambling to address the situation that looks to weigh heavy on the nation's GDP in the year's second half
Small and micro businesses are the backbone of China's private sector, but many are closing down as the central government increasingly favours state enterprises
This is the second part in a series of stories looking at China's economic outlook in the second half of 2021 as it continues its recovery from a coronavirus-hit 2020.
When he invested in a snack shop at a Shenzhen mall nearly two years ago, Wen Tao foresaw a steady stream of customers looking to enjoy his clay-oven-baked crispy flatbreads while perusing the mall's offerings.
Then the coronavirus began ravaging China's economy, and his customers lost their appetite for spending.
"Since the beginning of 2020, I have been losing 4,000 to 5,000 yuan (US$620-US$775) every month, and I've cut the number of my employees from five in 2019 to just one now," Wen lamented. "What I'm going to do is close the business in September when the lease ends, instead of borrowing money to continue operating. I'd just lose more money, because I don't see any sign of consumption recovering in the short term."
It's a fate that many of China's smallest businesses are facing in the year's second half. And the central government's attempts to rectify the situation highlight just how important their role is in the nation's economy.
However, as evidenced by Beijing's previous attempts to help small businesses, it can be difficult to get officials and institutions at the local level to take sufficient action to address the problem.
Many analysts expect retail consumption to remain weak in the coming months, pointing to a lack of income growth and also the cautious spending habits that consumers picked up during coronavirus lockdowns. Additionally, small businesses – particularly small industrial firms – have been hit by the growing costs of labour and raw materials. Many small firms also have trouble securing bank loans, and when they do the cost of that credit is high.
The government recognises the toll this debilitating combination of factors is taking on China's economy, and there are signs that it is being addressed at the highest levels.
In late June, Premier Li Keqiang called for the government's fiscal and monetary policies to focus on bolstering the real economy and on promoting employment, with a greater emphasis on supporting smaller businesses and labour-intensive industries.
These small businesses form the backbone of China's private sector. According to the most recent government figures from April, China had 44 million micro and small enterprises (MSEs) – those with annual taxable income of up to 3 million yuan (US$464,000) and up to 300 employees. Additionally, there were more than 90 million self-employed individuals in China.
While large firms and state-owned enterprises recovered strongly in the first half of this year in China, interviews on the ground and recent surveys show that MSEs and self-employed people – the lifeblood of China's economic machine – are far from returning to the level of activity they enjoyed in 2019, pre-coronavirus.
As a result, many of these business owners, like Wen, say they are planning to shrink or shut down operations later this year if the situation does not improve. The services industry has been especially hard-hit, according to industry insiders.
The
vacancy rate
for food and beverage businesses at the shopping centre in Nanshan district, Shenzhen, where Wen's shop is located, has gone from less than 10 per cent at the end of 2019 to more than 40 per cent now.
"The mall is located in one of the most crowded business districts in Shenzhen," Wen said. "You can imagine the situation in other places with lower consumption. The vacancy rate of office buildings in Shenzhen is at such a high level. The number of white-collar people spending and eating at the malls will definitely decrease."
According to second-quarter data from real estate firm Savills, the average vacancy rate for office buildings in Shenzhen – China's southern tech hub – reached 26.4 per cent, and the vacancy rate surpassed 50 per cent in Qianhai, a 15-sq-km (5.8-square-mile) strip of land in western Shenzhen being developed jointly by Hong Kong and Shenzhen as a "modern service industries cooperation zone" under a State Council plan.
Stagnant incomes and weak discretionary spending power among white-collar office workers and blue-collar wage earners, especially for non-necessities, are the primary factors driving his lack of business, Wen said.
"Even though Shenzhen is China's youngest city, where the population has an average age in the early thirties, the epidemic and falling incomes continue to significantly impact social activities and spending by young people here," Wen said. "The snack chain we joined did well in 2018 and 2019; we originally thought we could earn back the investment cost within two years."
The lack of demand is affecting the whole supply chain, and factories are among those
feeling the pinch
.
Huang Weijie runs a small garment operation in southern Guangdong province, and production peaked in 2015, when he employed 200 workers and pulled in a net profit of 1 million yuan from domestic and international sales.
Buyers from across the country used to visit his three wholesale shops in the provincial capital, Guangzhou, but business got so bad last year that he had to close all of his wholesale shops, and just last month he closed two of his three workshops. Now he employs only part-time workers.
"Large enterprises benefited most from export orders in the past couple of years, especially those making coronavirus-prevention products," Huang said. "Meanwhile, individual overseas buyers, the main customers of our small factories, cannot enter China to place orders with us. I have received only three export orders since 2020 – only one-tenth of what it was before the epidemic."
Further complicating the situation, local governments are quick to launch strict lockdown measures when new local outbreaks occur, including by imposing restrictions on transport, closing restaurants and bars, and isolating local residents. This all hurts domestic consumption, and small businesses are hit the hardest, Huang lamented.
Large manufacturers have continued to expand during the pandemic while small enterprises have remained sluggish, according to the government's monthly
purchasing managers' index
.
"New infrastructure investment and those emerging industries that have been strongly supported by authorities have nothing to do with us," Huang said. "In the past, the government encouraged private enterprises to get rich first and provide other people with employment and prosperity. Now only
state-back sectors
have adequate liquidity and profits."
The decision by Wen and Huang to shrink and close their businesses mirrors the plight of many MSEs.
In the first quarter of 2021, the average turnover of MSEs was 109,000 yuan (US$16,900), up slightly from 105,000 yuan in the third quarter of 2020, but significantly lower than the 124,000 yuan in the fourth quarter of 2020, according to the Online Survey of Micro-and-Small Enterprises quarterly report conducted by Peking University's Centre for Enterprise Research. The survey includes more than 10,000 MSE operators across the country.
Among those polled, 51 per cent reported an average monthly revenue of 8,333 yuan (US$1,290) or less. A total of 28 per cent reported losses, and 19 per cent barely broke even.
In contrast, major industrial firms with annual revenue of more than 20 million yuan saw their profits increase by an average of 83.4 per cent in the first five months of this year, relative to the low base comparison during the same period last year.
The report showed that the average number of jobs created by an active MSE was about 5.9 in the first quarter, but that is not good news for China's job market, since the total is significantly lower than the level of past years, according to a survey by the National Bureau of Statistics (NBS). In 2017 and 2018, each small enterprise was able to employ an average of seven to eight workers, while self-employed individuals could hire an average of 2.9 people.
"I hired four full-time workers and one part-time worker at the end of 2019, but since then the business has been losing money. Now I have only one worker," Wen said. "As far as I know, all of the three workers I laid off are not employed full-time at the moment. Two of them are working with e-commerce express delivery firms, one as a temporary cleaner, and one went back to his hometown. They are not included in the unemployment rate for Shenzhen."
Provinces and cities across China are showing quite divergent trends this year in terms of consumption growth. In three provinces and five provincial capitals, retails sales are not yet back to the level of two years ago, according to Zhang Zhiwei, chief economist at Pinpoint Asset Management. Most other provinces have had a slim increase in consumption, relative to 2019, though GDP has grown.
Zhang pointed to an NBS press conference on July 15, when spokeswoman Liu Aihua said China's economic recovery was uneven and required further government intervention to maintain stability.
"We think this is the main reason the [People's Bank of China] made the surprise cut in the RRR," Zhang said, referring to the central bank's move last month to
reduce the reserve requirement ratio
for China's financial institutions, with an aim of supporting small Chinese businesses with more credit.
Alice Yu, who has been running an indoor playground business in Beijing's high-end shopping malls for almost a decade, said her customer base comprises mostly members of the upper-middle class, "but now they are afraid to spend money – including myself".
"Inflation is so high, and it's becoming harder and harder to sell our properties for liquidity," Yu said, noting that she and her partner will soon be forced to close their last playground and lay off the manager who has worked for them for years. "She was planning to have a second child, but now she says she will have to put that plan on hold."
According to the Survey and Research Centre for China Household Finance at the Southwestern University of Finance and Economics, even before the pandemic, the survival rate of MSEs – referring to continuous operations over several consecutive years – had fallen from 67.5 per cent in 2015 to 60.2 in 2019.
And Peking University's report showed that the percentage of MSE operators who said they were not benefiting from any government-support policy increased from 55.3 per cent in the fourth quarter of last year to 60.3 in the first quarter this year.
This year, as part of the support to China's legions of small taxpayers – including caterers, street vendors, travel agents and transport firms – the
value-added tax (VAT) threshold will be raised
from 100,000 yuan (US$15,400) to 150,000 yuan of monthly sales.
The vast majority of small and micro enterprises do not pay corporate income tax, but it is not easy to get a bank loan. And when they do, the interest rate is not cheap.
"I had applied for a loan from the local bank earlier this year, but the bank said we did not have collateral or a record on transactions. They finally gave us a loan of about 50,000 yuan, with an annual interest rate of 6 per cent, but my monthly rent is already 30,000 yuan, let alone other costs," said Tang Lin, who started a small restaurant in Nanning, Guangxi province.
On the other hand, other business-related fees, such as enterprises' required social-insurance contributions, are rising sharply.
Take Guangzhou for example. Starting last month, enterprises in the city are required to pay a minimum of 1,112.85 yuan in social-insurance contributions for each of their employees each month – an increase of 16 per cent from the previous 963.48 yuan. In addition, employees must pay a minimum of 506.38 yuan a month, an increase of 17 per cent from 431.94 yuan.
"This is a big burden for both employers and employees," said Jack Lau, the boss of a Guangzhou-based business consultancy.
The authorities should be making better plans that address the problems now facing MSEs, according to Simon Zhao, associate dean of BNU-HKBU United International College's Division of Humanities and Social Sciences.
"With the general expectation that there will be a slowdown in overall GDP in the second half of this year, the pressure on [MSEs'] operations will definitely be greater than in the first half of this year," Zhao said. "Their vulnerability is a reaction to weak domestic consumption and also will lead to a further weakening in consumption and employment demand."
And that pressure, Zhao predicts, will be reflected in the job market as the profits of micro and small enterprises fall later this year.