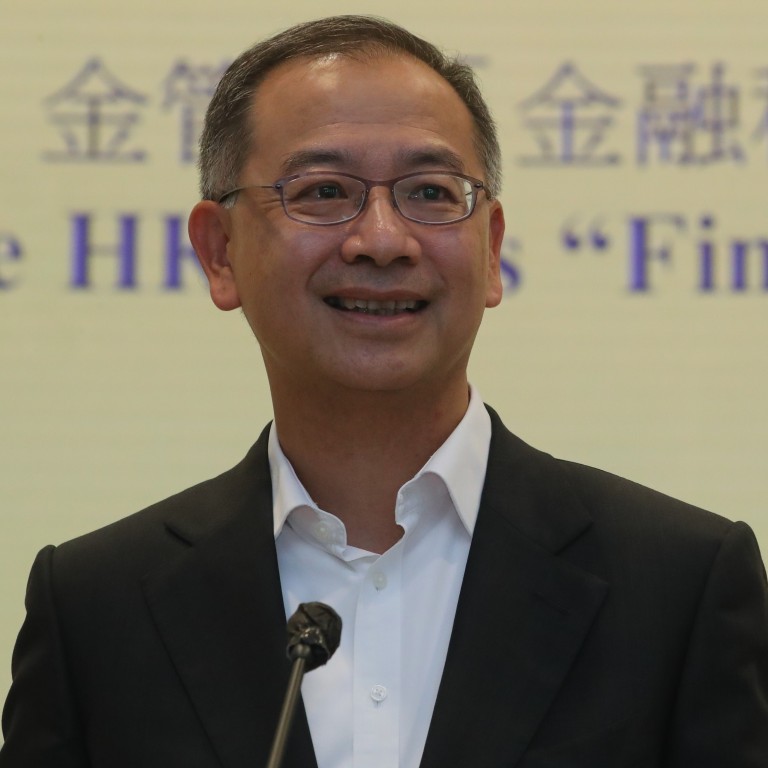 AI could create financial unfairness, prejudice without human intervention, Hong Kong monetary chief says
Hong Kong Monetary Authority (HKMA) chief executive Eddie Yue Wai-man spoke at an Official Monetary and Financial Institutions Forum event on Thursday
Hong Kong's de facto central bank is building a data infrastructure to help financial institutions use data to drive their credit decisions
Adopting technological applications based on artificial intelligence (AI) into Hong Kong's banking system raises the risk of prejudicing certain categories of people in a "systematic way", meaning human intervention remains essential, said the chief executive of the city's monetary authority.
AI and data analytics will make banks more data-driven in their credit scoring and credit allocation, thereby boosting the city's competitiveness as an international financial centre as it helps increase
innovation in banking products and services,
said Eddie Yue Wai-man, chief executive of the Hong Kong Monetary Authority (HKMA).
"[But] we want to avoid creating unfairness, in that certain categories of people will be prejudiced in a systematic way by machines," Yue told an online event held by the Official Monetary and Financial Institutions Forum, a London-based think tank, on Thursday.
"So there has got to be human intervention, and there has got to be governance and mechanisms over how you use AI to ensure that there won't be this kind of unfairness not knowingly being built into the use of technology."
In line with a strategic plan announced last month to promote Hong Kong's fintech development, the city's de facto central bank is building an infrastructure to help financial institutions use data to drive their credit decisions.
The "commercial data interchange" is a platform that will allow banks to access different data points provided by various sources, including trade links, point-of-sale terminals or even electricity company billing records, said Yue, who was
appointed as the chief executive
of HKMA in October 2019p
 "This infrastructure with lots of data points included in the platform and with banks being able to use it, the future credit landscape in Hong Kong could be a lot more data driven. Hopefully by just using collateral [to secure loans], this will allow [small and medium-sized enterprises] to get loans more easily and cheaply," Yue said.
At the same time, increased cybersecurity is needed in a more digitalised financial system so the resources dedicated to this will be especially important.
The HKMA has already introduced a cybersecurity-fortification initiative under its smart-banking strategy, requiring all banks to undertake an in-depth assessment of their resources used for cybersecurity to ensure they can safeguard the financial system, and identify areas of weaknesses, Yue added.
"If you have a financial system that is increasingly going digital in terms of products and services, it is important to have a basic foundation to enable protection of the system from attacks and cybersecurity risks," Yue said.
"Other technology risks, such as failure of systems and the ability of maintenance, these are within the regular examination that we have with banks."
While pushing for the use of technology to improve efficiency and reduce costs in the banking system, proper regulation is also needed to focus on the various technological risks faced by banks to make sure that they have ability to manage those risks, Yue explained.
"So there is a division of labour where one wing is responsible for development, and for creating infrastructure, and for pushing banks to create innovative products. But on the regulatory side, there is also focus on issues such as cybersecurity, the security of outsourcing to third parties, and data security in general," Yue said.
This article appeared in the South China Morning Post print edition as: Human oversight essential in banking to avoid 'systematic prejudice by machines'