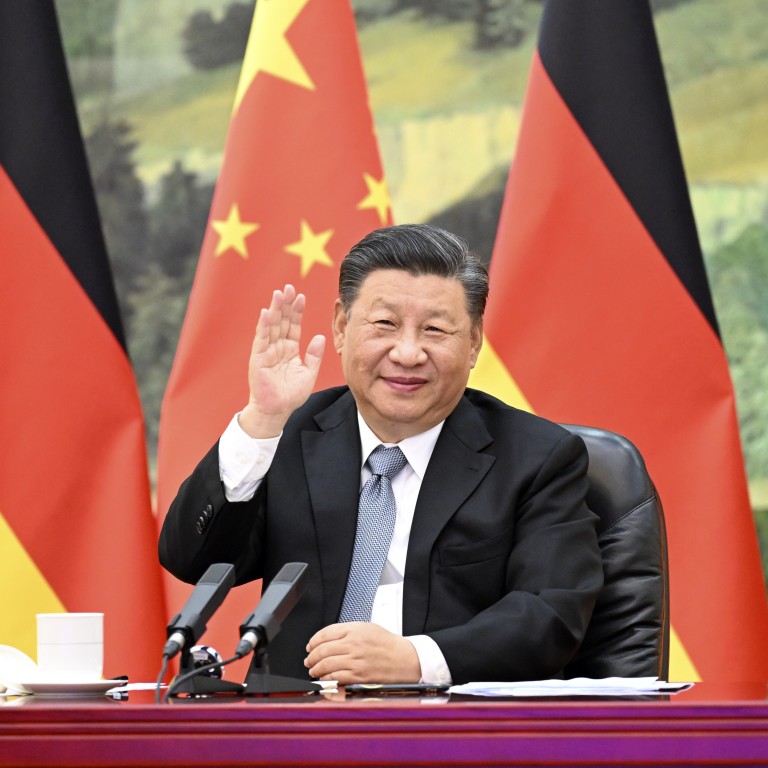 China-Germany investment faces 'challenges' as rivalry grows in post-Merkel era
Germany is still a go-to destination for Chinese firms looking to acquire hi-tech goods and cannot be easily replaced, analysts say
But China-German investment could be 'tougher than before' as relations between Beijing and the European Union worsen
Germany is expected to remain an investment hotspot for China after it unveils new overseas spending priorities at the National People's Congress this month, despite uncertainty following the retirement of chancellor
Angela Merkel
, who was praised for her pragmatic approach to bilateral ties.
China's top officials will lay out major economic policies for the year at the "
two sessions
" – the annual meetings of the National People's Congress (NPC) and the National Committee of the Chinese People's Political Consultative Conference (CPPCC) – which begins on Friday in Beijing.
Though there are signs the once-cooperative relationship between
Beijing and Berlin is fraying
, Germany is still a go-to destination for Chinese companies looking to acquire hi-tech goods and cannot be easily replaced, analysts said.
"One needs to be aware that know-how and technology in hi-tech areas, particularly in critical fields, are not easily substituted by others," said Dr Liu Wan-Hsin, senior researcher at Kiel Institute for the World Economy. "German firms can be good in certain fields, American firms in others."
However, Liu said China-German trade and investment would be "tougher than before" and there would be "challenges" for companies and governments in both countries.
Boosting R&D capabilities and tech self-sufficiency amid a heightened rivalry with the United States and Europe is likely to remain a priority for policymakers at the NPC.
Investment decisions by Chinese firms are usually influenced by long-term economic development goals set by Beijing, according to a 2020 analysis by Liu and Xia Xinming, a researcher at Peking University in Beijing.
Investment priorities this year are expected to revolve around key development strategies like the Belt and Road Initiative, the "Made in China 2025" plan and technological innovation.
The analysis by Liu and Xia highlighted that Germany is one of the most attractive investment destinations for Chinese firms looking to gain access to advanced technologies and skills.
China remained Germany's most important trading partner in 2021 for the sixth consecutive year, with €245.4 billion (US$272 billion) worth of goods traded between the two countries, according to preliminary data from the Federal Statistical Office of Germany.
"Overall, the story is of massive German [foreign direct investment] in China for greenfield projects in the automotive and basic materials industries, led by large companies like BMW, Volkswagen and BASF," said Mark Witzke, a research analyst at Rhodium Group.
"Going the other direction, the investment was mostly in the form of mergers and acquisitions. However, in the last few years that trend has shifted and Chinese greenfield investment in Germany is now increasing with large projects like the SVOLT battery factory."
SVOLT Energy Technology and Contemporary Amperex Technology (CATL) both have multibillion projects in Germany, Witzke said.
BMW is spending billions of dollars to get a larger stake in its Chinese joint venture, while Volkswagen's Audi and Chinese state-owned car maker FAW have received approval to begin work on a US$3.3 billion electric vehicle plant in Changchun city.
"We don't see any signs of … China-Germany bilateral FDI in the automotive industry slowing down," said Witzke.
However, overall Chinese investment in Germany is slowing, according to the latest data from Rhodium Group. Chinese FDI into Germany in 2020 was €2.285 billion, 41 per cent below 2019's level at €3.876 billion and 19.3 per cent lower than 2018 at €2.83 billion.
German investment in China in 2020 was €4.492 billion, up from €3.533 billion in 2019 and €2.416 billion in 2018, Rhodium said.
The new government of Social Democrat Olaf Scholz is expected to take a tougher line on China, complicating the investment relationship, amid wider tensions between Brussels and Beijing over alleged human rights abuses in
Xinjiang
, the erosion of rights in Hong Kong, and the
Taiwan issue
.
"The preferential treatment of domestic competitors against the background of a political focus of the
Chinese economy
on itself has become a major challenge," said Jens Hildebrandt, executive director and board member of the German Chamber of Commerce in China – North China.
Liu, from the Kiel Institute for the World Economy, said: "Considering the political tension and the bilateral relationship [is going] towards more rivalry and competition, I expect that investors will be more careful as to their investment plans and implementation."
"Thus, we may not observe such a rush of Chinese investments in Germany in the near future that was observed from 2015-17.
"The more critical question for them would not be 'to invest or not', but rather 'how to invest'," she added.
Max J. Zenglein, chief economist at think tank the Mercator Institute for China Studies, said Chinese investment in Germany was relatively subdued in 2020-21, though it was unlikely to drop further.
"The questions should be how long will it get stuck and how will it come out?" he said, adding the new German government had not yet formulated a clear position for dealing with China.
"It's about how far the new government is going to deviate from the Merkel position and how much the bilateral relationship between China and Germany will move to the EU."