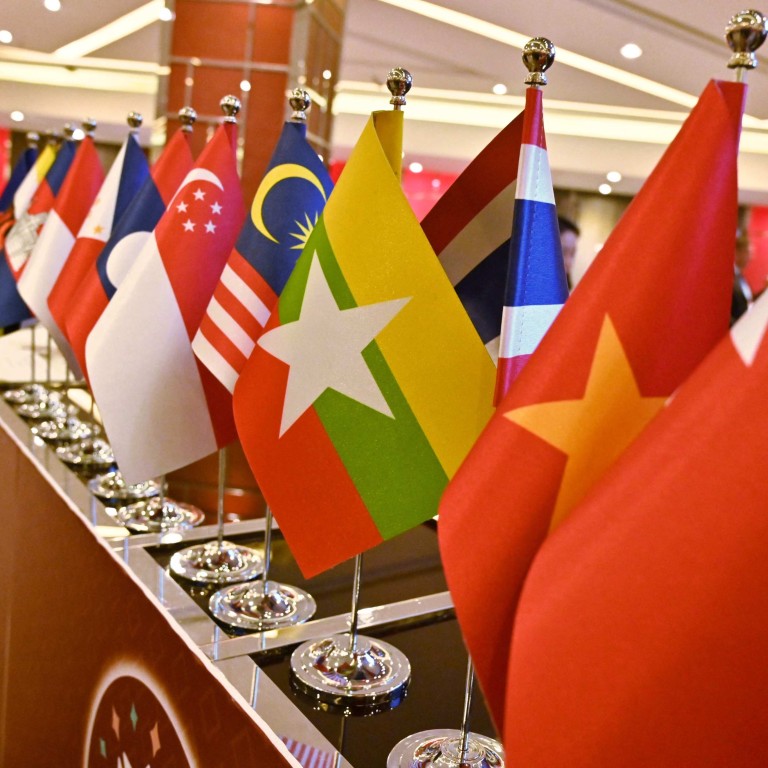 China's economic slowdown casts shadow over Southeast Asia as US steps up engagement
China's economic growth is facing headwinds that threaten to weigh on trade with the Association of Southeast Asian Nations (Asean)
China and the US are both stepping up engagement with Southeast Asia, though analysts are sceptical Asean states will take sides
Southeast Asian nations are in store for a tougher trade environment as China's economic growth slows due to hardline coronavirus controls, experts say, while US attempts to boost engagement with the region are unlikely to offset falling demand.
China's economy is facing a number of headwinds – from new outbreaks to a downturn in the vast property sector – that threaten the government's annual growth target of "around 5.5 per cent".
Already, multinational banks including Goldman Sachs, Citi, JP Morgan and Morgan Stanley have cut their growth forecasts for the world's No 2 economy to between 4 and 4.3 per cent, citing zero Covid.
For economies in the Association of Southeast Asian Nations (Asean), China's slowdown could spell trouble.
China has been Asean's largest trading partner since 2009 and accounted for 18 per cent of the total value of goods traded by the bloc in 2019, according to the Asean Secretariat. Asean is also China's largest trading partner.
"China's growth slowdown is having different impacts on different parts of Asean," said Jayant Menon, senior fellow at the ISEAS-Yusof Ishak Institute, a research centre and statutory board under the Ministry of Education in Singapore.
"In the Mekong region, [for example], it is agricultural products exporting to China that have been most affected," he added. "The bigger impact on the original Asean member countries, however, operates through supply chain linkages and the disruptions emanating from the continuing, sporadic lockdowns in China."
Slowing production in China will have an impact on Asean, according to Cyn-young Park, director of the regional cooperation and integration division at the Asian Development Bank's economic research department.
Asean's manufacturing, textiles, clothing, food and raw material industries will be particularly hard hit, she said.
Timothy Uy, a senior economist at Moody's Analytic, said supply chain disruptions in China will continue into 2023, creating shortages of components and labour.
"China's supply chains are constrained today as trucks across China can't move smoothly due to checkpoints at local government boundaries set by local officials that implement the zero-Covid policy," he said.
Singapore's economic growth is likely to be the most affected in Asean by falling Chinese demand, followed by Thailand and Malaysia, according to a note issued by French bank Natixis this week. The bank forecast China's economic growth for this year at 4.2 per cent.
But Washington is also stepping up its engagement with Asean against a backdrop of heightened geopolitical tension with China.
Asean plays a key role in Biden's Indo-Pacific strategy, which stresses building alliances, military deterrence and a stronger presence in Southeast Asia to counter China's growing regional and global footprint.
Analysts, however, say China's economic slowdown will not provide an opening for the US to expand ties with Asean in the short term.
"It is more likely that the lost sales in China are made up in other markets within the region than in the US, which is turning increasingly protectionist," said Menon.
Louis Chan, principal economist at Hong Kong Trade Development Council's global research team, said various trade initiatives – pushed by China and the US – "will balance each other" in Asia-Pacific.
Chan said the pandemic and "sudden" containment measures have prompted many manufacturers to start thinking about supply chain resilience in Asia, especially for more sophisticated products like cars and electronic goods.
"The post-Covid era won't follow the globalisation pattern of the past," he said. "Businessmen have to factor in resilience when facing a structural issue like the pandemic and they have to think about the premium of maintaining resilience."