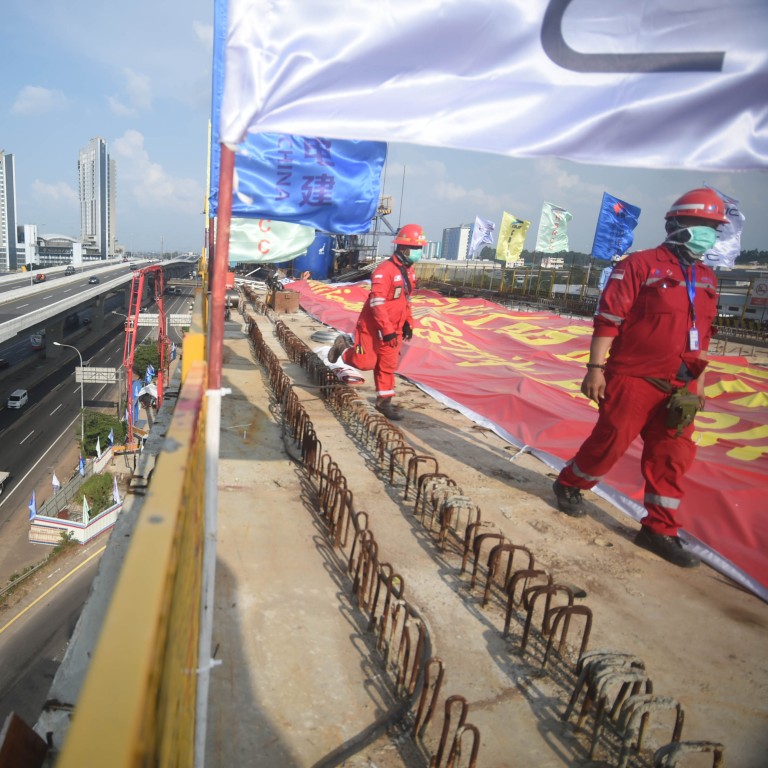 G7 infrastructure plan to rival Belt and Road Initiative could force Chinese firms to 'match global standards'
The G7's Global Investment and Infrastructure Partnership aims to raise US$600 billion by 2027 to fund projects in poor and developing countries
The initiative, seen as an alternative to the belt and road, is likely to force Beijing to pay greater attention to the quality of its own investments, analysts say
A G7 global infrastructure project intended as a counterweight to China's Belt and Road Initiative could force Chinese companies to step up standards to better integrate with the rest of the world, analysts said.
The Global Investment and Infrastructure Partnership, which was l
aunched in Germany on Sunday
, aims to raise US$600 billion by 2027 to fund projects in poor and developing countries.
The initiative prioritises values-driven, quality and transparent infrastructure projects, according to Group of 7 (G7) members.
Guo Hai, a researcher at the Institute of Public Policy at the South China University of Technology, said the initiative was intended to rival China's belt and road investments and would force Beijing to rethink standards in areas like data security and digital infrastructure.
China remains far apart from G7 countries on issues like these and other such as human rights.
"If China can't integrate domestic rules with the rest of the world, in the long term, I am afraid it will be constrained," he said.
"But China's economy has a history of needing external forces to bring in reforms. Biden's new plan might not be a bad thing for China's [Belt and Road Initiative] or its domestic market.
"As long as Chinese companies can adjust to local rules overseas, and match global standards, there won't be big problems."
Questions have been raised about the geopolitical aims of the new infrastructure plan, but experts say Southeast Asian and African nations will not pick sides, while welcoming more investment to boost economic development.
"When it comes to trade and infrastructure, Southeast Asian countries generally do not see these issues as a zero-sum game," said Ryu Yong-wook, an assistant professor in public policy at the National University of Singapore.
"Countries in Southeast Asia will try to separate economics from politics, and would welcome the initiative in principle, which will go a long way to help the developing countries of Southeast Asia meet their ever-growing infrastructure demands.
"They will also see the new initiative as a useful alternative to [Belt and Road Initiative], which would increase their bargaining power vis-à-vis Beijing."
Various infrastructure projects in the region, from roads and railways to hydro dams and training, will all reap benefits, Ryu said.
Despite the edge China has in terms of spending power, the competition is likely to prompt Beijing to pay greater attention to the quality – not just quantity – of its belt and road projects.
"This will require more thoughtful consideration on issues such as environmental sustainability, equitable distribution of benefits, governance issues, labour and other human rights, etc," Ryu said.
Some 140 countries have taken part in the belt and road plan, which aims to connect Asia, Africa and Europe with projects like ports, pipelines, railways.
But the initiative has faced persistent criticism, ranging from
poor environmental standards
to burdening developing nations with unsustainable debts to extend China's geopolitical influence.
The US-led partnership will be welcomed in Africa in addition to China's presence, and "most countries will see the Biden plan as a godsend", said X.N Iraki, an economics and management professor at the University of Nairobi.
"African countries will hope for Biden's plan to focus on the 'soft part' of the economies, such as education, health or youth unemployment.
"It's hard for the Biden plan to impact Chinese projects, they were chosen very strategically. And Biden might not want to be seen as playing catch-up with China building new roads, rails or [postal services]."
According to a G20 report published in 2017, US$94 trillion was needed in global investment by 2040 to close infrastructure gaps.
The US$600 billion investment pledge is not enough to plug global infrastructure holes or replace the Belt and Road Initiative, said He Weiwen, a former economic and commercial counsellor at Chinese consulates in New York and San Francisco.
"Unless [the US and G7] can provide more money and more favourable conditions to African hosts, they won't be able to force African countries to pick sides," He said.
Despite the G7's new plan being designed to exclude China in telecommunications, clean energy and digital infrastructure, the best results would come from collaborating through joint investments, he said.