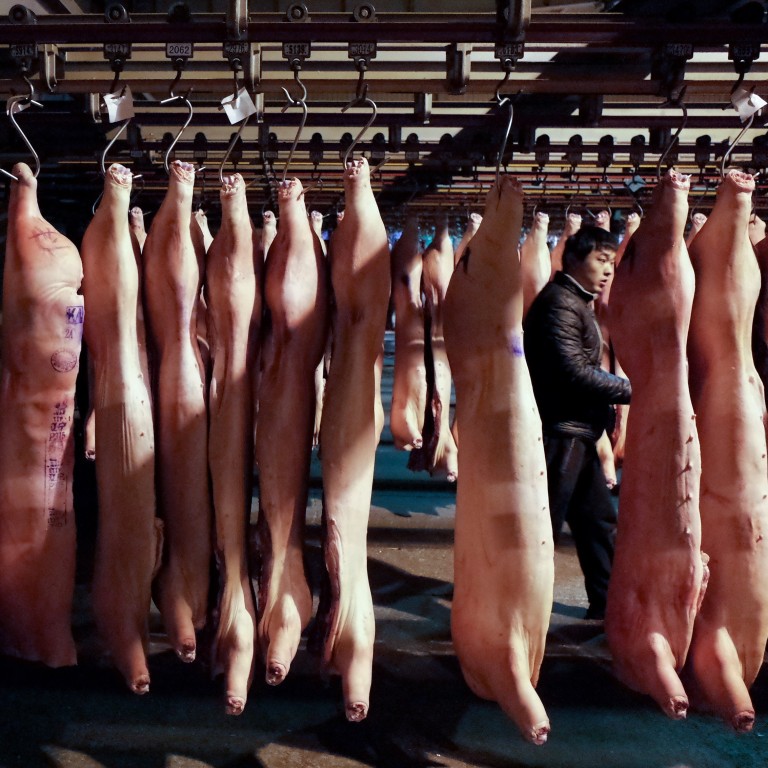 China inflation: Beijing ready to tap pork reserves as global price rises hit closer to home
China's top economic planning agency says it has tools to reign in pork prices, if needed, while warning it will punish producers for 'irrational behaviour'
China's inflation rate is relatively benign compared to Western countries, but there are fears rising prices for pork, a staple meat, may drive up inflation
China is mulling opening up its strategic pork reserves to curb steady price gains for the staple food, highlighting fears the meat could pull up consumer costs amid worsening global inflation pressure.
China's inflation rate is relatively benign compared to the
United States
, European Union and United Kingdom, which are trying to tame multi-decade price highs that have sparked worry about a global recession.
Relatively low prices for pork, which has the heaviest weighting among foodstuffs in China's consumer price index (CPI), are thought to have helped subdue inflation pressure in the world's No 2 economy. But rising prices since April have put Chinese authorities on alert.
The National Development and Reform Commission, the country's top economic planning agency, said on Monday it had tools to reign in pork prices, if needed, adding it would punish producers for "irrational behaviour".
On Monday, the commission pressed a dozen major Chinese hog breeders to slaughter pigs at a regular pace and warned them against hoarding and price rigging.
The warning was issued after China's hog futures hit their highest level in more than a year last month.
The average wholesale price for pork in China hit 26.69 yuan per kilogram on Tuesday, up 3.7 per cent from a day earlier and 19 per cent from a year ago, according to the Ministry of Agriculture and Rural Affairs.
China's top leaders have signalled a
growing focus on inflation
, saying in late April that domestic coronavirus outbreaks and the Ukraine war had created "new challenges" in stabilising consumer prices.
China's
CPI rose by 2.1 per cent
from a year earlier in May and is expected to grow 2.4 per cent in June. That projection is still within the government's maximum range for the year, which is 3 per cent, but economists say pressure is building.
"Pork prices are currently at a turning point, they are likely to bottom out and usher in a new round of increase, which will put great pressure on CPI," Yang Weimin, deputy director of the Committee for Economic Affairs of the Chinese People's Political Consultative Conference, said in late June.
The official Economic Daily newspaper said in a commentary on Sunday that "there is not a second to relax when it comes to stabilising prices" as the international environment is complex and prices for food and energy were volatile.
The article said China was feeling the shock of imported inflation through energy prices for oil and gas and called on authorities to
steady coal supply
and supply chains.
Coal accounts for more than half of China's total energy consumption and has a large bearing on domestic electricity prices.
The State Administration for Market Regulation announced last week it would carry out a nationwide inspection between June and September to prevent "fabrication" of information on energy, hoarding and bidding up coal prices.
China is unlikely to see a sharp acceleration of inflation as domestic demand remains weak, analysts at Anbound, a ­multinational ­independent think tank, said on Sunday.