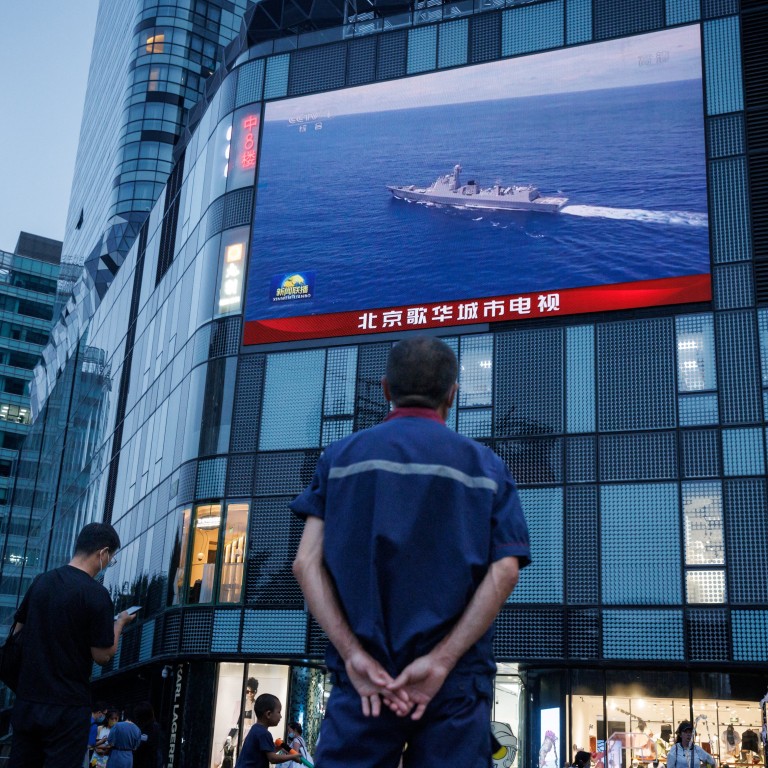 Quitting China isn't easy for Taiwanese companies, even if the mainland is 'a lot of trouble'
China provides Taiwan with inexpensive talent and some of the world's best factory-linked infrastructure, such as ports and roads
Many Taiwanese firms want to reduce reliance on the mainland, but the cost of scrapping investments would be steep, analysts say
As warplanes and missiles soar through nearby skies, Taiwanese entrepreneur Oscar Chang reflects that even with its vast supply chain and cheap labour, doing business in mainland China does not make sense.
While his one-year-old company Heyday has always made fitness equipment in Taiwan, the events of recent days – which have triggered
large-scale air and naval joint drills
encircling the island – means he will not be changing his mind any time soon.
"I would say it's a lot of trouble, because of everything – like politics and Covid," he said, adding he would only consider producing fitness machines on the mainland if the costs were right and he could "control the results".
Taiwanese businesses from Chang's size up to multinationals are closely watching China's live-fire military drills, which started on Thursday following the controversial visit of US House Speaker
Nancy Pelosi
earlier this week.
Beijing has also launched a
barrage of trade suspensions
on the island, including export and import bans and sanctions on multiple organisations and companies for supporting "Taiwan independence".
Beijing's countermeasures will give many Taiwanese firms new reasons to want to pull away from the mainland. But analysts say the cost of scrapping investments there or never tapping China's huge production capacity could be steeper. At the same time, Beijing values investment and imports from Taiwan.
Reducing
reliance on its larger neighbour
has been on the agenda since well before Pelosi's visit, according to William Choong, senior fellow with the ISEAS-Yusof Ishak Institute in Singapore. "But Taiwanese companies are committed to mainland China," he said.
The People's Liberation Army is conducting military exercises throughout the weekend in six tracts of sea surrounding Taiwan in response to the trip by Pelosi, a long-time China hawk who touched down in Taipei for a whirlwind visit on Tuesday.
Some in Taiwan fear the Chinese government will keep up military activity in the strait into next week and make export shipping dangerous, which will in turn
drive up logistics costs.
"If the Communist military keeps this going, then it's a problem for everyone and [investors] might be thinking about whether they should postpone investments," said Liang Kuo-yuan, the retired founder of Taipei-based think tank Yuanta-Polaris Research Institute.
But to scrap ties with China would sever investors from a key source of inexpensive talent and some of the world's best factory-linked infrastructure, such as ports and roads, said Ker Gibbs, former president of the American Chamber of Commerce in Shanghai.
Wages in the mainland averaged just 56 per cent of Taiwan's this year, according to the Countryeconomy.com database.
The mainland also gives Taiwanese investors access to a "comprehensive" East Asia-Pacific supply chain, "with China serving as the pivot of the network", said He Weiwen, senior fellow at Chongyang Institute for Financial Studies at Renmin University in Beijing.
Abandoning the mainland would risk a backlash over capital outflows, said Alicia Garcia Herrero, chief Asia-Pacific economist with the French investment bank Natixis. Local officials might also retaliate by ordering a surprise site inspection of and giving a failing score, she said.
Gibbs said simply shutting up shop on the mainland could provoke retaliation from Chinese authorities, who may ask for some kind of "mitigation" or hold a grudge for so long that investors cannot return.
Taiwanese have invested on the mainland since the 1980s and now run 4,200 businesses there. From 1991 to mid-2021, approved investment reached US$193.51 billion, according to official Taiwan figures.
Taiwan's US$765 billion gross domestic product runs largely on exports of semiconductors, consumer electronics, machinery and petrochemicals – and the mainland is its largest trading partner.
Product designers often outsource production to mainland factories, though due to regulations in Taipei, few mainland businesses operate in Taiwan.
Taiwan's exports to mainland China and Hong Kong reached an
all-time high last year
of US$188.9 billion, due mainly to demand for the island's computer chips. However, its outbound investment in the mainland
fell 14.5 per cent
in the first 11 months of 2021.
Chinese officials said this week they would suspend imports of Taiwanese bread, citrus fruits, certain types of seafood and natural sand. These measures have been
described as symbolic
, and the mainland is not expected to curb higher-value industries that help drive their own economy.
Taiwanese officials with guarded views of China have since the 1990s encouraged investors to consider spending on the self-ruled island and in Southeast Asia to cut reliance on the mainland.
Taiwan President Tsai Ing-wen enshrined this objective soon after her election in 2016 with the
New Southbound Policy
, which called for the enhancement of trade, investment and tourism with 18 target countries.
The close economic ties between Taiwan and the mainland have been a target for Washington, which is locked in an increasingly bitter tech war and fight for global influence with Beijing.
The Biden administration has recently sought to strengthen ties with Taipei through the
US-Taiwan Initiative on 21st-Century Trade
, which could bring the island closer to the US Indo-Pacific strategy by reducing its economic reliance on mainland China.
The US-led Chip 4 alliance, which includes South Korea and Japan, is viewed as another initiative to prise Taiwan away from Beijing and exclude the world's No 2 economy from the semiconductor value chain.
Taiwanese companies like the Taiwan Semiconductor Manufacturing Co (TSMC), the world's leading contract chip maker, will likely face more pressure in the future, said He, from Renmin University.
"The global supply chain that's based on friendship is about America's interest," He said.
Many Taiwanese investors in mainland China have turned to Southeast Asia, mainly Vietnam, when considering expansions, analysts say.
They have passed over China to avoid paying higher tariffs due to the four-year-old trade war and mobility restrictions following Covid-19 outbreaks in 2020 and 2022, said Yuan Ho-ling, director of the Taishang Research Centre at National Chung Hsing University in Taiwan.
Investors with mainland assets see the military exercises as a "sudden" upset that should quickly pass, Yuan said, adding they are most likely to remain "quiet" about the exercises and hold onto their assets.