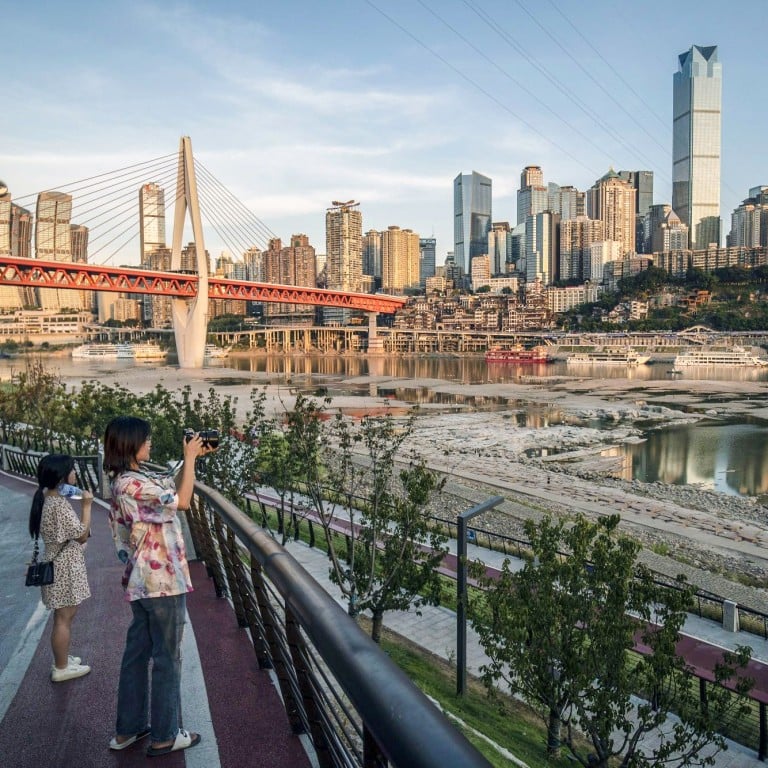 China to boost coal use as drought-fuelled power shortages trigger electricity rationing, factory closures
Parts of southern China have been gripped by record temperatures and drought in recent months, including major economic centres along the Yangtze River
Vice-Premier Han Zheng, a member of the Politburo Standing Committee, has called for stronger support for coal power as hydropower reservoirs dry up
China will step up support for coal-fired power plants and miners to ensure stable energy supply, Vice-Premier Han Zheng has said, as a scorching summer heatwave drives electricity demand to record levels and threatens to cause hydropower shortages in the Yangtze River basin.
Parts of southern China have been gripped by record temperatures and drought in recent months, with water levels in the country's largest river, the Yangtze, at
all-time lows
.
Most of the country's major economic and manufacturing hubs are situated along the river, including Sichuan, Chongqing, Jiangsu, Zhejiang and Shanghai, all of which have experienced electricity shortages that have disrupted businesses and residential use.
Han, a member of the Politburo Standing Committee, said the construction of coal projects should be accelerated and joint ventures between coal mines and coal-fired electricity generators should be "vigorously promoted", as well as coal and renewable energy partnerships.
Han made the remarks on Wednesday while visiting the State of Grid Corporation of China in Beijing.
In Chongqing, the economic centre of the upper Yangtze next to Sichuan, 51 rivers have been depleted and 24 reservoirs have dried up.
The city's water conservancy projects are storing only 63.3 per cent of their standard level, the Chongqing City Water Resources Bureau said, according to Chinese media.
As of Thursday, the city has had 11 consecutive days with temperatures above 40 degrees Celsius (104 degrees Fahrenheit), and that is expected to continue until Tuesday.
Though the province does not rely on hydroelectric power, it has started citywide power rationing and has ordered a production shutdown in Bishan district for up to 10 days since Monday.
Zhejiang, Jiangsu and Anhui provinces, which sit along the Yangtze River but do not depend on hydropower, have imposed power restrictions affecting manufacturing sectors, including steel, non-ferrous metals, polyester and textiles.
Homes, offices and shops in Dazhou city, which borders Chongqing, were plagued by power cuts on Wednesday, affecting its population of 5.4 million people.
After China's power crunch last year, President Xi Jinping vowed the government "will never allow a major incident like large-scale power cuts to happen again", according to details of a speech published in the official Qiushi magazine in May.
As a result, coal projects in China – the world's largest consumer of the fossil duel – continue to expand, undermining efforts to tackle climate change.
"Since the fourth quarter of 2021, driven by the demand of energy supply and peak load regulation, thermal power investment ushered in the inflection point, and achieved high growth in 2022," Essence Securities, a Chinese financial company, said earlier this month.
Chinese media Caixin reported on Wednesday that Guangdong will add 6.7 million kilowatts of coal power projects, with the goal to have them online before 2024.