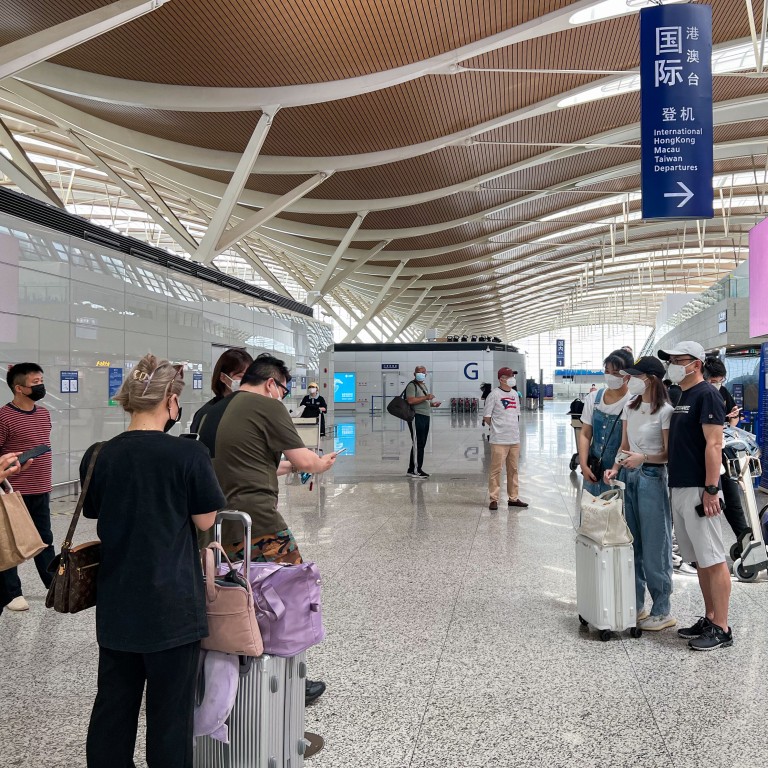 Chinese parents look to send children abroad again for education as coronavirus fears ease
The pandemic forced many Chinese parents to suspend plans to send their children overseas for study, but that is starting to change as the world reopens
The United States and Britain remain the most popular destinations, but Singapore, Hong Kong and Germany are gaining in favour, a new survey shows
A growing number of wealthy Chinese families are shrugging off fears about the coronavirus pandemic and once again making plans to send their children abroad to study.
Like many of her friends, Guangzhou native Annie Fang is determined to give her son, who is a freshman at an international high school in Guangdong, the opportunity to study overseas.
"My son's class has about 20 students and more than a quarter have gone to the United States or Canada for high school study so far this year," she said.
"No matter how difficult it is, we will pave the way for him to study abroad for better opportunities in the future."
The coronavirus pandemic forced many Chinese parents to suspend plans for overseas education, which was once considered a golden ticket offering
better job opportunities
.
Under Beijing's zero-Covid policy, China has maintained some of the tightest border restrictions in the world, while millions of Chinese have shunned travel due to health concerns.
But that is starting to change. Some 36.7 per cent of affluent Chinese families whose children study foreign curriculums say they would to send them abroad at high school age or younger, compared to 15.7 per cent last year, according to a survey released in August by Babazhenbang, an education start-up with a database of more than 400 schools preparing Chinese students for overseas study.
Some 96 per cent of parents are determined to send children abroad for schooling at some stage, be that elementary education or university, according to the survey. Parents said overseas education provided an international perspective, better resources and stronger employment options.
In 2020, about 81 per cent of those surveyed had postponed plans for foreign education, citing the pandemic and possible discrimination due to political tensions as top reasons.
The survey interviewed about 600 families, 67 per cent of whom were from first-tier cities and 63.71 per cent of whom had an annual family income of more than 500,000 yuan (US$78,872). Some 32.35 per cent had an annual income of at least 1 million yuan.
The US and Britain remain the top destinations for Chinese students, but both of these countries have seen a decline in popularity compared to last year, the survey showed.
On the other hand, countries with friendly or stable relations with China, such as Singapore, Hong Kong and Germany are gaining favour.
Hong Kong's popularity has surged, with 25.05 per cent of the interviewees choosing the city, compared to about 15 per cent last year.
Of the parents who were abandoning plans for overseas schooling, 61.5 per cent cited "suffering" and growing difficulties like obtaining a visa or airline ticket; 28 per cent said declining family income was the main reason; and 36 per cent had less interest in Western countries.
The survey showed the changing attitude of Chinese parents, said Ivan Zhan, a Shenzhen-based international education consultant.
"Since last fall, there has been a marked rise in the number of younger students studying abroad," he said.
"Shanghai's anti-pandemic lockdown suffering makes more people want to leave China. For example, a large proportion of parents are eager to accompany their children to study in Canada, and at the same time start their own immigration programmes.
"In addition, it has become more open for overseas travel out of China, so everyone is not so worried as last year."
Shanghai native Richard Shen, whose family owns several properties in the city, said China's coronavirus policies have had a huge affect lives of ordinary people and changed his expectations for the economy and society in general.
"I had never thought of immigrating until this summer but I am going to do my best to fight for the opportunity that the next generation can work and live abroad," Shen said.