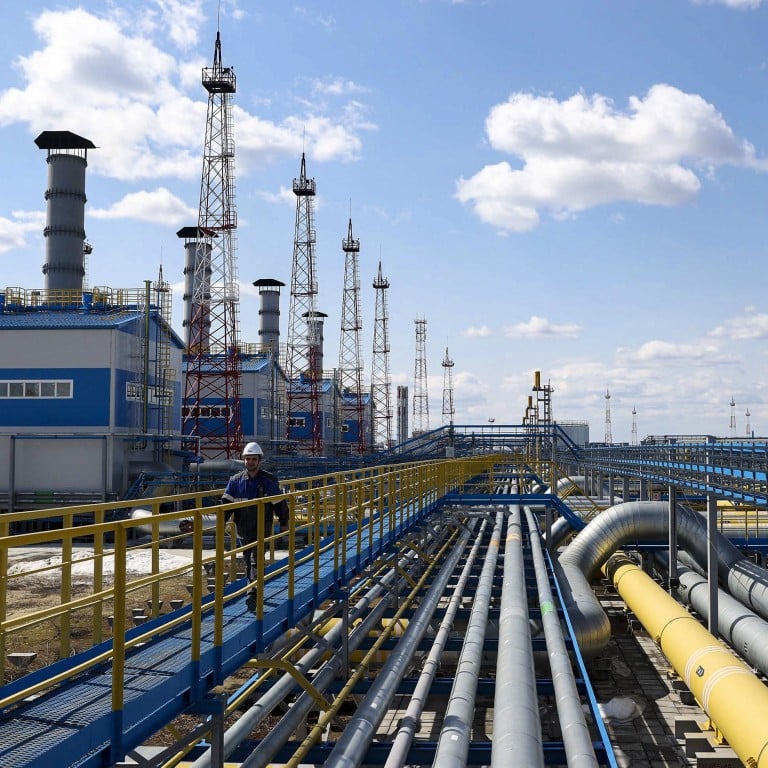 China-Russia gas deal in yuan, roubles underscores efforts to reduce US dollar hegemony
China will begin paying Gazprom half in roubles and half in yuan for Russian gas supplies, the company announced
Analysts say the deal affirms a longer-term ambition for Russia and China in diversifying cross-border payments
Beijing and Moscow are trying to insulate themselves from Western pressure by agreeing to settle payments for Russian gas supplies to China in roubles and yuan, experts say.
Russia's state-owned gas giant Gazprom announced on Tuesday it had signed new agreements with China National Petroleum Corporation (CNPC) related to the eastern route pipeline, which is also known as the Power of Siberia Pipeline.
"Settlements for Russian gas supplies to China will now be made in the national currencies of the two countries, i.e. the rouble and the yuan," said Gazprom in a statement.
Gazprom chairman Alexey Miller said after a meeting with Dai Houliang, his counterpart at CNPC, the new payment mechanism was "mutually beneficial, timely, reliable and practical decision".
"I believe that it will make settlements easier, serve as a great example to other companies, and give a new impetus to our economies," Miller said.
No further details for the payment mechanism were provided in the Gazprom statement, but Russian President
Vladimir Putin
said on Wednesday that China will pay Gazprom based on a 50-50 split between the rouble and yuan.
Presidents Xi Jinping and Putin are going to meet in person next week in Uzbekistan, Russian state news agency Tass reported the same day, citing Moscow's envoy to Beijing Andrey Denisov.
CNPC released a short notice on Wednesday saying the company has signed additional agreements with Gazprom for pipeline gas supply via the eastern route, without mentioning the new payment mechanism.
The deal comes as the monthly value of Chinese imports from Russia reached a record high in August – surging by 59.3 per cent year on year to US$11.2 billion, according to Chinese customs data released on Wednesday.
Zha Daojiong, an international studies professor at Peking University, said the switch to payment in local currencies was "only to be expected".
"What's at work goes way beyond sanctions imposed on Russia by the European Union and the United States," Zha said.
"International use of the [yuan] for settlement of trade accounts has been going on for some years, as has the rouble," he said.
"As trade ties between China and Russia – linked by land as neighbours – develop, even without sanctions, it is entirely conceivable for the two sides to trade in their own currencies."
Cross-border trade between Russia and China has historically been denominated in US dollars and euros, and only a fraction of that has been in roubles and yuan, according to Nick Marro, lead for global trade at The Economist Intelligence Unit.
"This agreement affirms a longer-term ambition for Russia and China in diversifying their cross-border payment systems. But in the short term, this is still going to be a difficult process," Marro said.
"This is partially because Chinese capital controls have long-frustrated many attempts at internationalising the renminbi, which is a challenge that won't disappear overnight.
"That said, the developments are also an important signal for how Russia and China expect their relationships with the West to deteriorate over the long-term, which will inevitably breed some attempts at closer China-Russia economic cooperation."
This year, China's imports of Russian natural gas have grown, while imports from most other countries have declined.
In the first seven months of 2022, China bought a total of 2.76 million tonnes of liquefied natural gas – valued at US$2.47 billion, according to Chinese customs.
The import volume increased by 27.4 per cent year on year, with the value surging by 161 per cent, according to the South China Morning Post's calculations based on customs figures.
Chinese customs data also showed the value of natural gas coming from Russia via pipeline almost tripled in the first seven months of the year to US$1.98 billion.
The supply of Russian pipeline gas to China increased by 63.4 per cent in the first half of 2022, according to Gazprom.
Signed in 2014, the contract between China and Russia to supply gas via the 3,000km (1,865-mile) Power of Siberia pipeline in the Russian Far East was estimated to be worth US$400 billion over 30 years. Deliveries started in December 2019.
During Tuesday's meeting, Gazprom's Miller said the construction of the Power of Siberia extension stretching from the Kovyktinskoye gas field in the Irkutsk Region to the Chayandinskoye field in Yakutia is almost completed.
The Power of Siberia will start receiving gas from Kovyktinskoye before the end of the year, and this will allow Gazprom to fulfil its contractual obligations of increasing gas supplies to China in 2023, the company said in the statement.
When Putin visited Beijing in February, on the eve of Russia's invasion of Ukraine, the two countries signed a deal to deliver another
10 billion cubic metres
(353 billion cubic feet) of Russian gas per year over 25 years to China via a new pipeline.