Taiwan
Get more with myNEWS
A personalised news feed of stories that matter to you
Learn more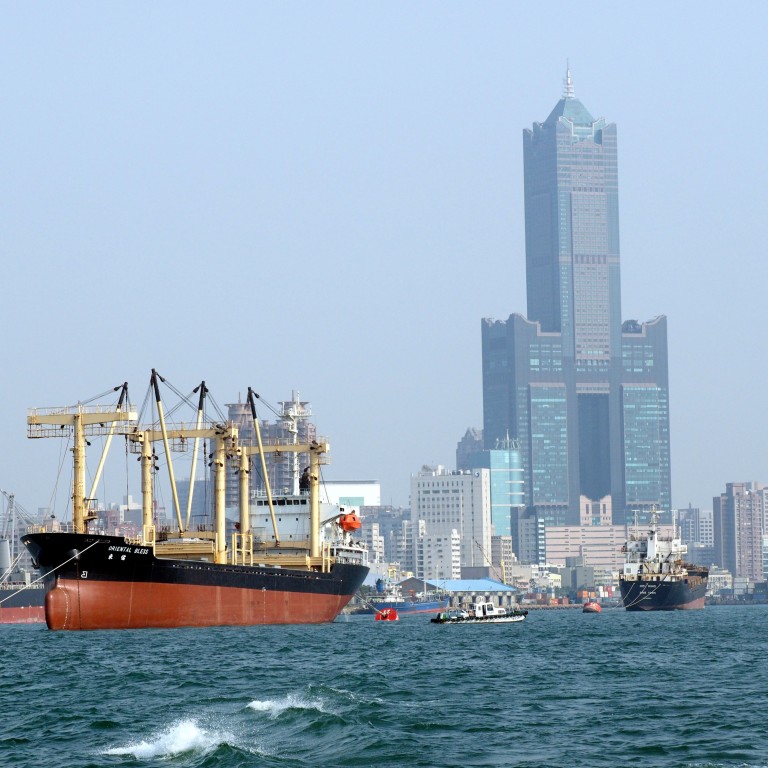 Taiwan export orders hold steady, but faltering growth in US, China and Europe dim outlook
Taiwan's export orders in August reached US$54.59 billion, growing 2 per cent compared to the same time last year, new data shows
Demand for consumer electronics rose 15.4 per cent year on year, but there were double digit declines across other export sectors
Demand for Taiwanese technology products remained strong in August in an otherwise underwhelming month for the island's export orders, with consumption slowing in China and Europe.
Taiwan's export orders last month reached US$54.59 billion, growing 2 per cent compared to August last year, according to the Ministry of Economic Affairs.
The value of new orders was roughly the same as in July, reflecting a steady decline from a peak of US$67.9 billion in December last year.
Government officials were keen to highlight strong demand for consumer electronics, which rose 15.4 per cent year on year last month, and a 3.1 per cent increase in orders for communications equipment.
Orders across Taiwan's five other major export categories, including machinery and petrochemicals, fell by double-digit percentages.
The ministry said growth in the electronics sector was driven by demand for 5G gear and orders for high-performance computing devices and automated vehicles.
"All international brands of consumer electronics continue to reach the market, and in addition, 5G, high-performance computing and electronics used in vehicles … all helping export orders hold steady," Huang Yu-ling, the head of the economic ministry's statistics department, said on Tuesday.
The increase in demand for electronic products appears driven largely by integrated circuits and memory semiconductors, said Steve Cochrane, chief Asia-Pacific economist with Moody's Analytics. Many are used in phones, he said.
China's pre-orders up until September 10 for
Apple's iPhone 14
, which is designed for 5G, indicated strong market interest.
"There are multiple market drivers in the second half of the year, ranging from back-to-school season to festivals like Diwali in India, not to mention the many new product launches from the likes of Apple, Samsung, and others," said Bryan Ma, Singapore-based vice-president for client devices research at IDC.
Taiwan's tech firms sell chips, camera lenses and other components for foreign-branded smartphones including Apple. Taiwan-based assemblers Foxconn Technology and
Pegatron
do much of the assembly at factories in mainland China.
The global 5G smartphone market should expand at a "healthy" compound annual growth rate of 124.4 per cent through 2028 from US$16.1 billion in 2020, market analysis firm ResearchDive said. IDC forecasts 689 million 5G phones will ship this year, up 24 per cent from 2021.
As of the end of June, 800 million 5G users were active worldwide and that number should reach 1.08 billion by the end of the year, market research firm Strategy Analytics forecasts.
A "range of industrial equipment" for the internet-of-things space could also support orders for 5G hardware, Ma said.
Export orders grew marginally last month despite inflation in many countries, including Taiwan's core markets such as
mainland China
and the United States, and in spite of the economic effects of rate hikes announced by major central banks.
But long term, export orders would face downward pressure from the war in Ukraine, global inflation, disruptions due to mainland China's zero Covid policy and Sino-US tech disputes, Huang said.
Export orders fell year on year in July because rising inflation and interest rates cut into disposable incomes, DBS Bank economist Ma Tieying in Singapore
said in August
.
"Near-term downside risks come from the economic performance in Europe, and in North America," Cochrane said. "Already industrial production is falling in Germany and weak across the region. North America looks better in the near term, but there is a risk that rising interest rates could drive the economy into recession for at least a short while."
Last month, petrochemicals fell 13 per cent, machinery lost 15.2 per cent and optical equipment dropped by 36.5 per cent, ministry data showed.
The Ukraine war has hurt demand in Europe, raised energy prices and snarled transport, Ma said.
"We're afraid [these factors] will suppress the strength of global economic growth and the momentum of export orders," Huang said in a statement.
Today's demand for 5G devices may go down as a blip, said Frederic Neumann, chief Asia economist with HSBC Global Research in Hong Kong.
"While there are still pockets of strength, such as growing demand for electronics related to 5G or electric vehicles, faltering growth in Europe, the US and mainland China is likely to see exports across Asia slow sharply in the coming months," Neumann said on Wednesday.
"Globally, new orders for both consumer and industrial electronics have started to contract, reflecting the inevitable payback after supercharged growth during the pandemic," he said, referring to 2020-21 demand for telework devices.
Taiwan logged another drop in export orders in April, the first time since February 2020.