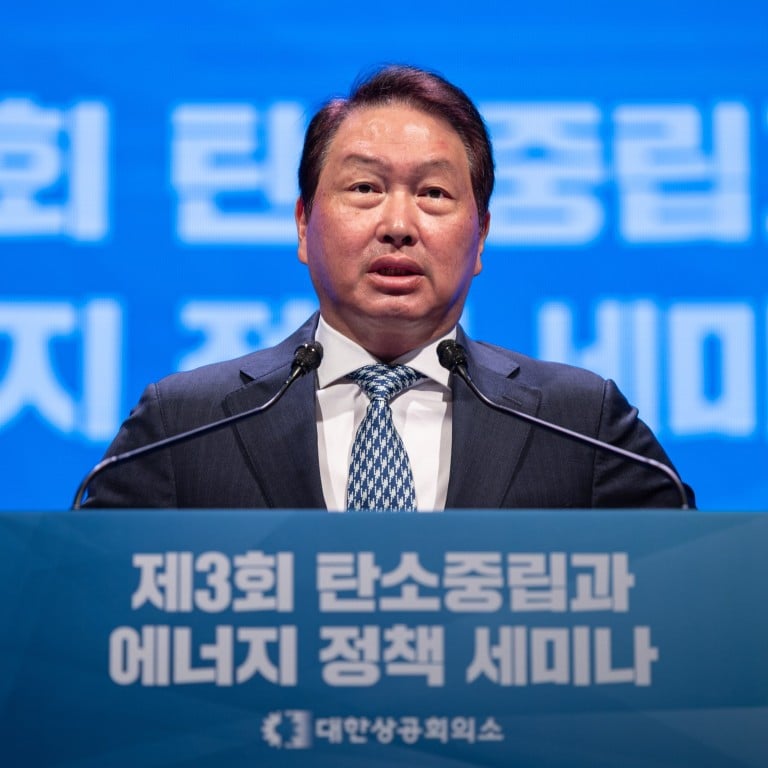 South Korea's SK Group bracing for US-China decoupling, but admits it's 'not possible' to quit mainland market
SK Group chairman Chey Tae-won says the company has made plans for a number of scenarios under intensifying US-China rivalry
Though too early to tell, the businessman says SK Hynix's operations in China may be affected by the US Chips and Science Act
The chairman of South Korea's second largest conglomerate SK Group has said the company is making contingency plans for decoupling between the United States and China, while admitting it is "not possible to give up the Chinese market".
Speaking in Washington on Wednesday, Chey Tae-won said the company has prepared for a number of possible scenarios as rivalry between China and the US intensifies, including a military clash over Taiwan.
He said the conglomerate, the country's second largest after Samsung, was determined to find a way to survive no matter what the scenario, and called on Seoul to provide more support to help Korean companies adapt to the fast-changing geopolitical environment.
"In the past, the whole world was a single market. Now it seems like the market is splitting as a result of decoupling. We have to think about what to do – for example, whether we should discard one of the two markets," Chey told South Korean media earlier this week.
"It is not possible to give up the Chinese market, which accounts for a large proportion of exports. We need to come up with countermeasures so that Korea can survive in such a decoupled place.
"It doesn't make sense for a company to try to solve it alone, and it requires a wider choice, support, and collaboration from the government."
He said it was too early to tell how South Korean companies will be affected by recent American policymaking, including the Inflation Reduction Act and the
US Chips and Science Act
, the latter of which dangles nearly US$53 billion in subsidies to lure semiconductor manufacturers to the US, while restricting subsidy recipients from expanding production in China.
The bill puts new pressure on
South Korean memory chip giants
like Samsung Electronics and SK Hynix, a subsidiary of SK Group, which are keen to steer clear of geopolitical conflict.
"Such developments indicate that the world is decoupling, which could either turn out to be a risk or an opportunity for us, depending on the speed and depth [of such decoupling] and which areas are more emphasised," Chey said.
In 2022, SK Group became the second biggest conglomerate in South Korea in terms of market capitalisation, surpassing Hyundai Motors that had held the position for the past 16 years.
Between May 2021 and May this year, SK group's market capitalisation increased by 52 trillion won (US$36.8 billion), according to a report by the Korean Fair Trade Commission in May.
A large part of that increase was driven by semiconductor sales from SK Hynix, which is the second biggest semiconductor supplier in the world.
Despite saying it was too early to gauge the effect of the US Chips and Science Act, Chey admitted SK Hynix's operations in China could face problems.
"Honestly, if equipment cannot enter [into China], the factories will continue to deteriorate and upgrading become difficult," he said. "If there is a problem due to ageing, we have no choice but to invest and build a factory elsewhere."