Taiwan
Get more with myNEWS
A personalised news feed of stories that matter to you
Learn more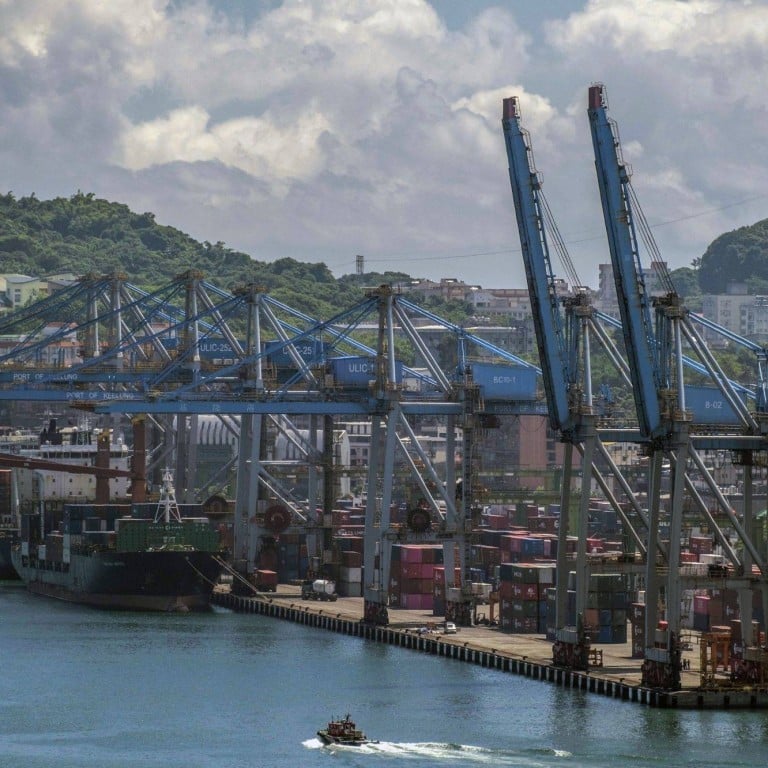 Taiwan's GDP growth beats expectations in third quarter, but mainland China lockdowns and Western smartphone fatigue cloud outlook
Taiwan's economy grew 4.1 per cent from July to September, compared with a year earlier, up from 3.05 per cent in the second quarter
Although better than expected, demand for Taiwan's hi-tech exports is being undermined by global inflation and Covid disruptions in mainland China
Economic growth in Taiwan – a bellwether of global demand for hi-tech hardware – beat expectations in the third quarter of this year, though hesitant consumer spending in mainland China and Western nations including the United States poses a risk for the export-dependent island.
Taiwan's gross domestic product (GDP) grew 4.1 per cent from July to September, compared to the same period last year, the Directorate-General of Budget, Accounting and Statistics said on Friday. Goods and services totalled US$189.56 billion over that period.
The economy expanded on the back of a surge in domestic consumption after Taiwan's major Covid-19 outbreak peaked this year, said Tony Phoo, a Taipei-based economist with Standard Chartered Bank. Growth was 3.72 per cent year on year in the first quarter and 3.05 per cent in the second.
"The easing of Covid regulations means people got to continue to spend," Phoo said. Domestic consumption reached 6.76 per cent in the latest quarter, the statistics agency said.
Full-year growth was 6.57 per cent in 2021, with a post-pandemic rebound in much of the world raising demand for Taiwanese products.
But analysts say that trend is over, and the outlook is mixed.
Exporters on the island, which sends semiconductor chips, PCs, phones and other electronics to the world's major markets, have lost business in the second half of this year, analysts said.
Mainland Chinese are buying less as lockdowns to contain Covid-19 hurt jobs and incomes from commerce that depends on mobility. Consumers globally are also replacing PCs and phones less often this year because of inflation, said Brady Wang, a Taipei-based analyst with market research firm Counterpoint.
"Sales of chips are going down all around, because inventory is overstocked and then you have inflation and China's lockdowns," Wang said.
North America has "presented an increasingly cautious sentiment" on smartphone inventory before the year-end holidays, market research firm Canalys said in a media statement on Thursday. It said global smartphone shipments fell 9 per cent year on year in the third quarter of 2022 versus the same period of 2021.
About 42 per cent of Taiwan's exports reached mainland China or Hong Kong last year. The mainland relies on Taiwan for "strategic" components such as semiconductor products, said Hu Jin-li, a professor at the Institute of Business and Management of National Yang Ming Chiao Tung University in Taipei.
The mainland is Taiwan's top trading partner in US dollar terms with the US in second place.
"Given mainland China's ongoing slowdown, we will still watch out for the sag in electronics demand from China," said Heron Lim, an economist with Moody's Analytics.
"As firms adjust inventories amid reduced sentiment and higher terminal interest rates, it is likely that less new debt will be taken up to spur production activity."
The statistics office has forecast full-year GDP growth this year of 3.76 per cent and a 3.05 per cent expansion in 2023.
"The gloomier picture is set to continue," Lim said.