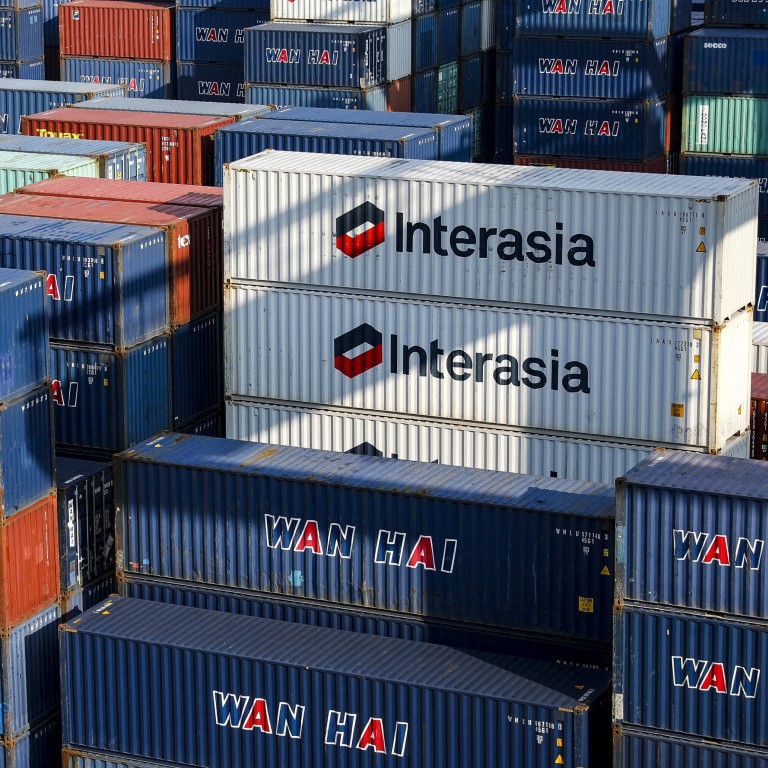 Taiwan downgrades economic outlook to 'dim' as Covid-19 outbreaks in mainland China, global inflation weaken demand
Taiwan's National Development Commission says global economic and trade momentum is slowing, which may lower export performance
Taiwan is seen as a barometer for world consumption of manufactured exports, especially hi-tech hardware such as PCs and smartphones
Taiwan lowered its economic outlook to the most dire setting possible on Tuesday due to global inflation, weakening demand and the impacts of the Covid-19 outbreaks in mainland China.
An index of business indicators received a composite score of 12 in November, down from 18 in October and 38 a year ago, the National Development Commission said in a statement. The commission issued a "blue light" based on the score, signalling a "dim" economy.
An index of "leading indicators" compiled by the commission also lost ground in November for a 13th straight month. The index covers export orders, imports of equipment for
Taiwan's signature semiconductor sector
, trends in the stock market, net hiring and health of the manufacturing sector. Officials use leading indicators to forecast six months ahead.
"Looking to the future, in terms of exports, even though applications of new technology must continue … global economic and trade momentum is weakening, which may lower the country's export performance," the commission said in a statement.
Forecasts in Taiwan are seen as barometers for world consumption of manufactured exports, especially hi-tech hardware such as PCs, smartphones and their electronic components. Weak performance in early 2023 would signal a continuation of global issues from this year, such as high inflation, spillover from the war in Ukraine and economic fallout from strict pandemic controls in mainland China.
"Affected by the overall economic environment, the market demand has reduced orders, resulting in a decline in the global PC market in 2022," said Chris Wei, an industry consultant with the Taipei-based Market Intelligence & Consulting Institute.
"In 2023, facing ongoing geopolitical risks and persistent global inflation, the global PC supply chain from brands and distributors to original design manufacturers are expected to continue to face the oversupply caused by aggressive expansion during the pandemic," Wei said, referring to strong orders last year and in 2020 for telework gear. Sales of Taiwanese-made smartphones are expected to face headwinds in particular.
Taiwan's budget and statistics office is forecasting 2.75 per cent economic growth next year after 3.06 per cent this year. Gross domestic product is expected to be US$774 billion by December 2023.
This year, consumers in Europe and the United States are coming to terms with inflation, which has raised fuel prices and heating bills.
Fitch Ratings forecasts a mild recession in the US from the second quarter next year. The Eurozone economy will contract by 0.7 per cent from the current quarter through June, according to Goldman Sachs.
In mainland China, Taiwan's biggest export market, a surge in coronavirus infections has kept people indoors and away from shops or entertainment venues despite an easing of economically damaging Covid-19 controls. Export orders to Taiwan had fallen in previous months as the mainland's lockdowns slowed factory work and consumption.
Factories that buy a lot of Taiwan's exports for making finished goods are reporting a dearth of labour because workers have left to avoid any lockdowns.
Taiwan's industrial production fell by 4.93 per cent year on year in November, steeper than the 3.6 per cent drop in October.
The Taiwan stock exchange has lost 21 per cent in the year to date, in line with other capital markets in Asia and beyond.
But the island will probably bounce back from any world downturn because its giant chip maker Taiwan Semiconductor Manufacturing Co. leads peers elsewhere in Asia in terms of business, said Hu Jin-li, a professor at the Institute of Business and Management at National Yang Ming Chiao Tung University in Taipei.
The company better known as TSMC makes some of the world's most advanced chips, and it's building a
megafab in the US state of Arizona
to ship faster to American clients.
World momentum in chip sales, however, weakened in the second half of 2022 because of inflation, according to the Market Intelligence & Consulting Institute.
"Taiwan is a strong player in the global recession," Hu said. "Taiwan is the best among the worst."