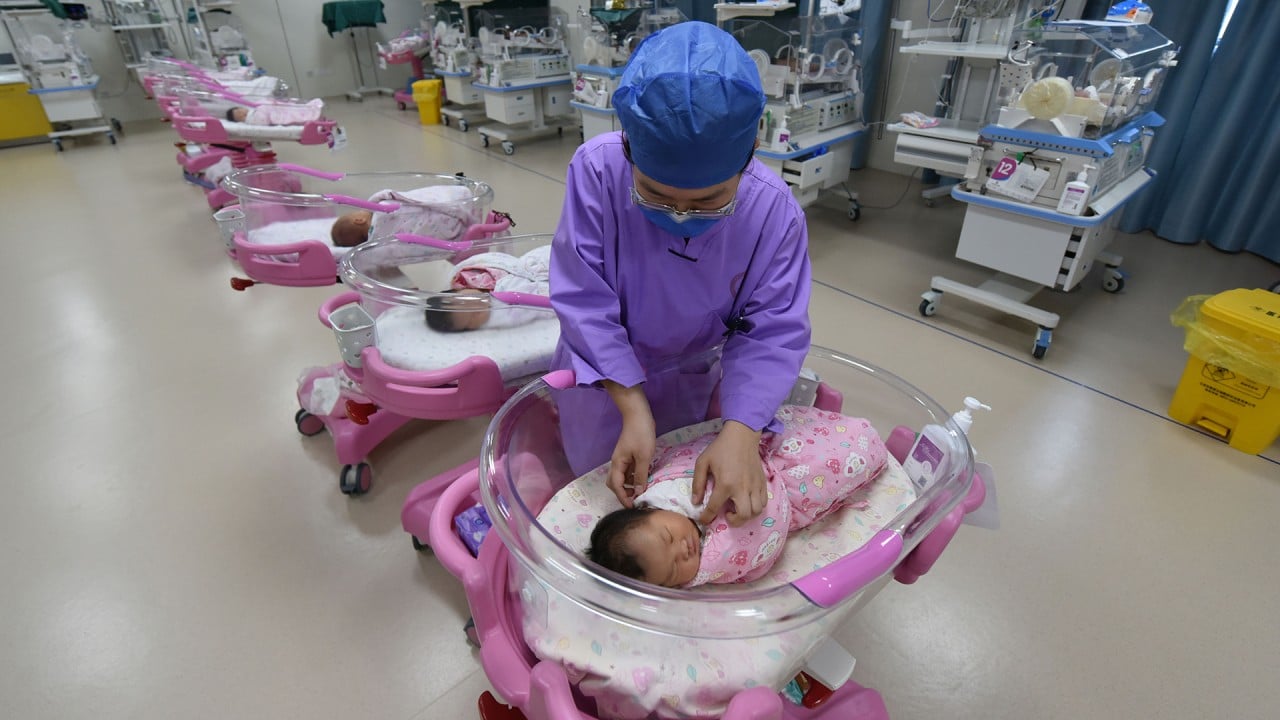 03:18
China reports first population decline in 6 decades, with birth rate at record low in 2022
China reports first population decline in 6 decades, with birth rate at record low in 2022
China population: economic model must shift from 'Made in China' to 'Designed in China', say experts
Official data confirming China's population is in decline has set off renewed debate about the economic implications
China must respond by shifting its development model to focus on technology upgrading and fostering talent, experts say
China's declining population will not necessarily lead to an economic slump, though more must be done to respond to the country's falling birth rates and take advantage of the changing demographic structure, experts say.
Government data released on Tuesday confirmed that China's population dropped by 850,000 people to
1.4118 billion in 2022
, down from 1.4126 billion a year earlier.
Though the figures were not unexpected, official acknowledgement immediately renewed debate about the economic implications and how policymakers should best respond.
"The long-term low fertility rate will inevitably lead to population decline, the trend cannot be reversed, and judging from the practices of countries and regions with low fertility rates, various pronatalist policies are not very effective," said Chen Wei, a professor with the Population Development Studies Centre at Renmin University.
However, European countries that have undergone natural population declines for decades have not seen their economies shrink, he added.
China's birth rate fell to a record low of 6.77 per 1,000 people last year, with the total number of newborns falling to 9.56 million – the nation's lowest total in modern history and the first time the figure has dipped below 10 million.
India is projected to overtake China as the world's most populous country this year, according to the United Nations, which expects the mainland population to drop to 1.313 billion by 2050 and below 800 million by 2100.
China's working-age population – those between 16 and 59 years old – stood at 875.56 million at the end of 2022, down from 882.22 million a year before.
Even if China's working age population shrinks by 200 million in the coming decades, it will still be larger than those of all developed countries combined, and much larger than the working age population in the United States, which was some 214.8 million in 2021.
"The format of China's demographic dividend is shifting, increasing human capital, population mobility and high-quality and effective allocation [of resources] will become the main form of the demographic dividend," Chen said.
"In addition, scientific and technological advancements will play an increasingly essential role in dealing with the dropping birth rate and ageing population. The explosive population growth did not bring major crises to mankind in the past, the population decline will not pose a major threat either."
Yuan Xin, vice-president of the China Population Association and a professor of demography at Nankai University in Tianjin, agreed the falling fertility rate and ageing population are unlikely to reverse.
He said China must respond by shifting its development model to focus on technology, talent and structural upgrades.
"The demand for the quantity of labour will be partially replaced by the quality of labour," he said.
"In the future, we will transform from 'Made in China' to 'Designed in China', and we must rely on innovation, technological progress and the digital society to improve our labour productivity."
Talent acquisition and retention are also cost efficient ways to counter the demographic crisis, Yuan said, adding that China needs to attract highly skilled workers from other countries, rather than recruiting cheap foreign labour.
As the number of new births fall, China's ageing crisis is deepening. The country counted 280.04 million people aged over 60 at the end of last year, up from 267.36 million people or 18.9 per cent of the population at the end of 2021.
Yuan said the expanding number of younger seniors, coupled with a longer life expectancy will also make the
silver economy
another growth point of the economy, driving up relevant consumer goods, services, as well as financial products.
"The new window of opportunity can promote delayed retirement, flexible employment for the elderly, and encourage them to be more engaging in social events, through intergenerational support within the family, community volunteers, mutual aid, counsellors, among others," Yuan said.
However, the negative effect of an ageing population and a shrinking labour force, including the widening pension gap and weakening of social security, will be hard to offset, said Lloyd Chan, senior economist with Oxford Economics in a note on Wednesday.
"This could keep savings rates high, hindering the government's rebalancing efforts towards a consumer-driven economy," Chan said.
"The fiscal implications are also negative, as the fiscal space for a response to any future crisis will be constrained, particularly as local government debt levels are already elevated."