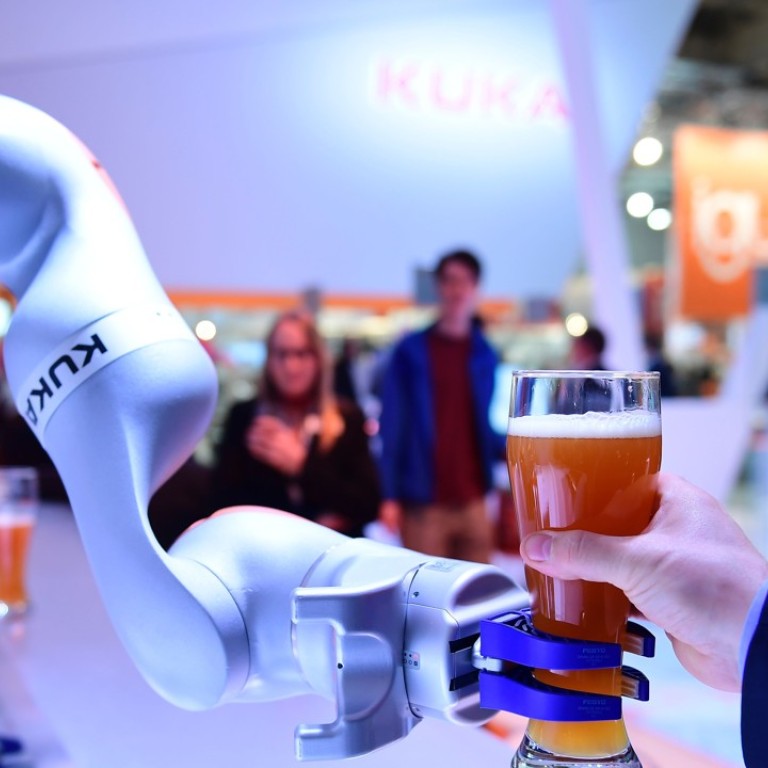 Exclusive
'Made In China 2025': a peek at the robot revolution under way in the hub of the 'world's factory'
In the second report in a series, He Huifeng and Celia Chen look at how Beijing's ambitious industrial plan aims to break China's reliance on foreign technology and pull its hi-tech industries up to Western levels
Amid the sprawl of drab, dusty concrete factories in Shunde district in the southern Chinese city of Foshan, one gleaming new structure stands out.
The 40,000 square metre (430,000 square feet) factory, designed by an American architect, cost 120 million yuan (US$17.5 million) to build and is expected to triple Jaten Robot & Automation's annual production to 10,000 robots.
Just a few miles away, work is under way on an 800,000 square metre, 10 billion yuan industrial estate that will house three ventures between Chinese appliance maker Midea and German robotics firm Kuka, which Midea bought in 2016. The new complex will have the annual capacity to produce 75,000 industrial robots by 2024.
Jaten and Midea are among the biggest players helping to make Foshan – a city of 7 million people best known as the home of the Cantonese style of lion dance and kung fu – the hub of China's robotics industry.
Under the Chinese government's "Made in China 2025" industrial master plan, the number of industrial automatons operating in the country would expand tenfold to 1.8 million units by 2025, when up to 70 per cent of the robots used in China would be made in the country, from half in 2020, and 30 per cent now.
It's an ambitious, multibillion-dollar pursuit. Sitting on the western bank of the Pearl River, with Guangzhou city to the north and Shenzhen to its east, Foshan is at the heart of southern China's manufacturing industry.
Guangdong province is China's largest regional economy, accounting for 10.4 per cent of the country's 2016 gross domestic product, and 11.4 per cent of the industrial base, according to the statistics bureau.
"China is the factory of the world, and there are millions of manufacturers that still depend on traditional labour-intensive methods," said Ren Yutong, executive president of the Guangdong Robotics Association, a government think tank. "If the country wants to maintain its top spot as a global exporter, each Chinese manufacturer has to start replacing humans with robots due to skyrocketing labour costs and the ageing population. [China] has already started running out of workers."
The number of domestically made industrial robots sold in China rose 58 per cent last year to 141,000 units, according to government statistics.
Because of China's outsized workforce, the density of automation usage lags other countries: 68 robots per 10,000 industrial workers, compared with 631 bots for every 10,000 manufacturing staff in South Korea, the global leader in automation. Singapore, Germany and Japan all have higher densities of automation than China.
China wants to more than double that usage density to 150 for every 10,000 workers by 2020. To do so would require massive amounts of government help.
The Guangdong provincial government offered 943 billion yuan in subsidies between 2015 and 2018 to help local manufacturers automate. Further up north in Zhejiang province, local authorities have set aside 800 billion yuan to spur 36,000 enterprises to make a similar switch by 2020.
SowoTech, a Dongguan-based producer of auto-cutting laminator robots integral to the production of printed circuit boards, was offered 3 million yuan last year from the municipal government, and another 1.5 million yuan from the hi-tech area where it is located, as subsidies on 80 million yuan of sales, according to a Chinanews.com report.
Other robot producers in the Songshan Lake Hi-tech Industrial Development Zone similarly would receive up to 1 million yuan in subsidies each to attend conventions and fairs on automation and robotics, the report said.
"The top-down [development] approach [in Made in China 2025] is helping, and the government is doing the right thing in promoting the protection of intellectual properties," said Angus Muirhead, senior portfolio manager for Credit Suisse's global robotics equity fund in Zurich.
The opening of the government tap is a bonanza for robotics makers. The 400 companies of the Guangdong industry guild could expect "double-digit" sales growth for their robots for the next few years, Ren said.
A skilled factory worker earns about 36,000 yuan a year in wages and benefits in China's poorer provinces and second-tier cities, away from the coast. Total remuneration can exceed 60,000 yuan in cities nearer the coast and along the eastern seaboard, like in the Pearl River and Yangtze River deltas.
A 200,000 yuan robot that can do the job of three humans can recoup its capital cost in 22 months in central provinces, or in a little over a year in coastal cities. In the face of rising prices pressures for labour, energy and rents, such a cost advantage would be attractive to many manufacturers.
Jaten is one of the biggest makers of self-navigating robots used on assembly lines and warehouses. With
nicknames like Bumble Bee and White Dolphin
, each robot – which can navigate autonomously along a grid in any factory space or warehouse and can lift between 500 kilograms to 40 tonnes of load – costs between 100,000 yuan and 1 million yuan.
Company vice-president Chen Hongbo said that with the help of the generous subsidies and incentives, Jaten was aiming to increase its annual sales by 150 per cent, to surpass 1 billion yuan by 2021, when half of its production would be exports.
It would happen because of the "irreversible trend" of automation, and the "vast amount of subsidies" for upgrading, he said.
A rising tide lifts all boats, and China's impending robot revolution will also benefit the suppliers of components like optic sensors, servo motors and gears, particularly those imported from Japan and Germany.
To be sure, Chinese component makers have been trying to localise their components, but it's easier said than done.
Martin Wang, an engineer who formerly worked for a Shenzhen-based tech start-up as a robotics integrator, said his team spent years studying and dismantling robot-related core parts in the hope of understanding them.
"But we failed and could not even re-assemble and restore [the robot's] function because it's not simple – it takes technological know-how and talent accumulated over decades," Wang said.
China's total spending on research and development is estimated to have risen 14 per cent last year to 1.76 trillion yuan, according to the Ministry of Science and Technology.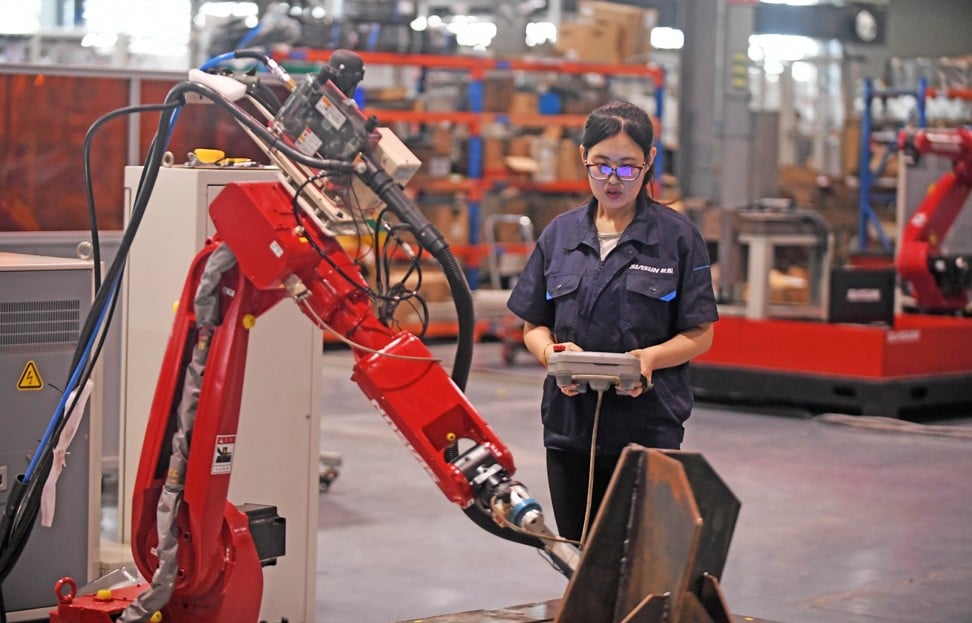 But mass manufacturing was still out of the range for most China's robotics producers, said Luo Jun, chief executive of the International Robotics and Intelligent Equipment Industry Alliance, a government think tank on smart manufacturing.
"Among the thousands of so-called Chinese robotics companies – including robot and automated equipment producers as well as those who only provide automation integration solutions – only about 100 firms could mass produce the main body and core components of high-end and middle-market industrial robots, such as servo motors, robot controllers and speed reducers," he said.
"We lack original research and have already tried to catch up by copying advanced technology. But neither technology-related mergers and acquisitions nor copycat [production] can close the gap in the short term."
It is this opportunity that has prompted
F&P Robotics, a pioneer in robotic arms
, to expand its Chinese operations: it has offices in Beijing and Shanghai, in addition to Stuttgart, Germany, and its head office in Glattbrugg, Switzerland. The Swiss company even added the Chinese language to its corporate website.
"We believe the gap [between China and Europe in the robotics sector] is narrowing," F&P's chief financial officer Michael Früh said, citing a large number of recent engineering graduates with robotics training and gains made by Chinese robot component manufacturers with quality and price. "Europe still has a competitive advantage through a deeper understanding of robotics and all its aspects including AI, [and] its integration and collaborative interactions with humans."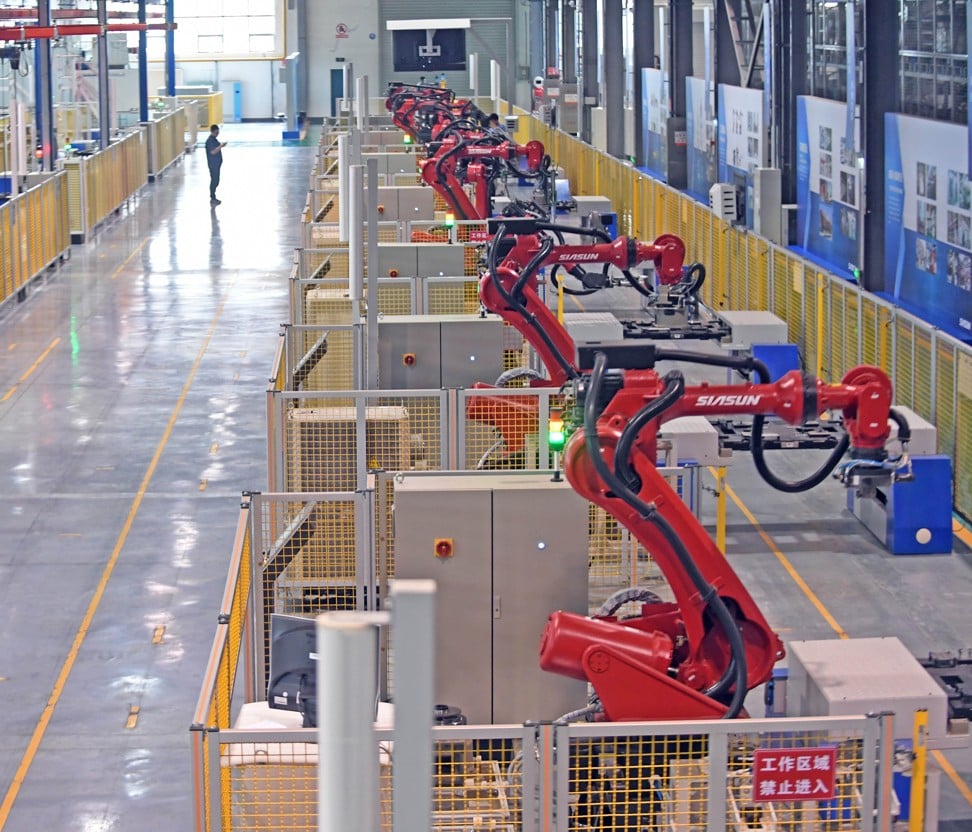 Some Japanese companies such as Mitsubishi Electric and Fujitsu had also been forging strategic partnerships with Chinese firms, showing how eager they were to take advantage of the push towards advanced manufacturing in China's huge market, said an analyst with a Japanese financial firm.
But Luo warned that most robot makers and local governments in China were pursuing short-sighted plans that focused on investing in existing technologies or setting up industrial estates to attract foreign robot manufacturers, rather than supporting original core research on the next generation of robots.
He said many domestic robotics manufacturers were still developing the traditional core parts of robots, like servo motors, robot controllers and speed reducers. But these parts would not be the core components of the future, he said.
"In the near future, new technologies for AI robots will begin to emerge at leading [foreign] tech companies," Luo said. "That's the real direction of smart manufacturing."
Nevertheless, China's efforts to wean itself off imported components are unlikely to be affected by the trade war with the United States.
In the first salvo of the US-China trade war, US President Donald Trump's administration imposed a 25 per cent tariff on 818 categories of Chinese exports, including China-made robots.
Industry players agreed that China's strong domestic demand and the sourcing of most of its core robot parts from Japan and the European Union, rather than from the US, meant the trade war was likely to have little, if any, impact on the sector.
"The trade war, as far as robots are concerned, could even be good for Chinese companies," Muirhead of Credit Suisse said. "I do not think it will hurt China's robotics industry. The US is not a major player in industrial robotics."
Ren of the Guangdong Robotics Association agreed.
"The export scale of China-made industrial robots to the US is too small [for the trade war] to have an effect on Chinese robot makers," he said.
Instead, the focus now for Chinese authorities was on improving the quality of domestic robots to claw back some of the 70 per cent share of the home market taken up by imports, industry officials and analysts said.