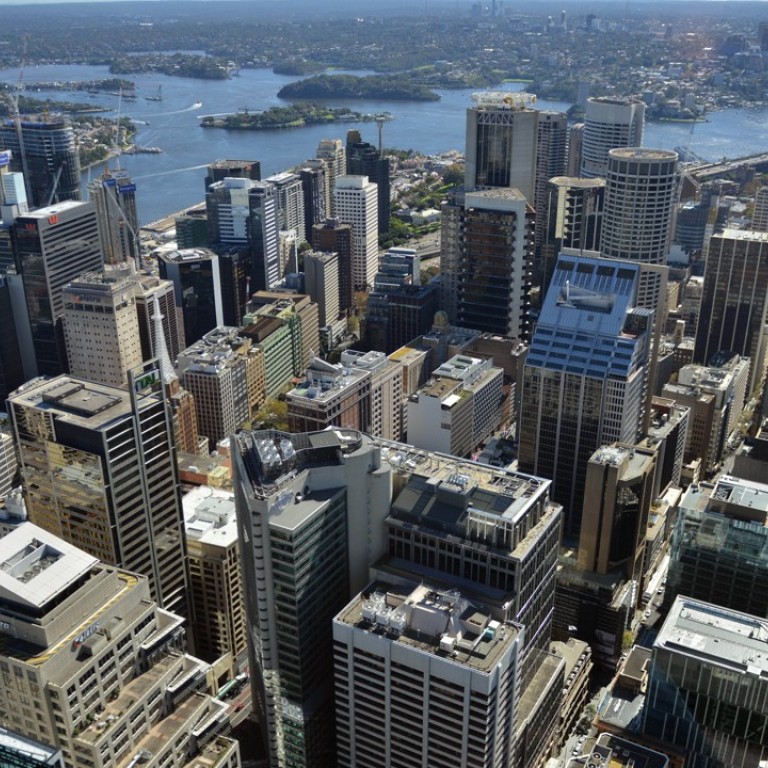 Desperate Chinese middle class take big risks to move money, and themselves, overseas
Growing worries are pushing more wealthy mainlanders to seek property and long-stay visas overseas – but for some, it has turned into a nightmare
China's middle class is something of a mythical entity, with wide-ranging estimates of its size and economic power. Optimists believe a large and growing middle class has the ability to lift China and even the world to a more prosperous level, while pessimists foresee an increasingly burdened group that could cause the economy to stagnate and even lead to political chaos. In this, the third of a four-part series, The South China Morning Post continues to examine the myth to reveal the economic and political implications of its evolution.
Chinese citizens Xin Piao, Raymond Zhang and Wendy Wang were strangers until August, when they joined a group on social media platform WeChat dedicated to "getting refunds on Australian housing".
Like the rest of the group, which has more than 300 members, they were worried about the slowing Chinese economy and had tried to safeguard their wealth by buying properties in Australia.
But what seemed like a smart idea at the time has turned into a nightmare – their money has vanished, allegedly misappropriated by an investment adviser well known for offering property and brokering mortgages in Australia to wealthy Chinese investors.
In China, the 17 luxury offices of that property agent, Ausin China, were suddenly shut down in August. Left behind were a trail of missing deposits and failed settlements worth more than A$70 million (US$49.6 million) from some 200 Chinese buyers of yet-to-be-built flats and houses at 15 Australian property projects, the South China Morning Post has learned from some of the investors.
Their painful experience is the latest cautionary tale highlighting the growing risks as demand from wealthy and upper-middle-class mainlanders to protect themselves and their assets abroad has surged. A growing number of Chinese have rushed to obtain long-stay visas or property in friendly foreign countries as an insurance policy against a worsening of domestic conditions. Spurred by a lack of investment options at home and rattled by the sweeping anti-corruption campaign of President Xi Jinping, those with significant assets are looking for ways to move their money overseas, by legal means or otherwise.
Fear and frustration
Citizens of developed and many developing countries move money around the world to take advantage of investment opportunities. Their decisions are defined by their personal choices on risk and reward, rarely by domestic political factors. Nor are their financial movements restricted in any significant way – they are free to move money out of their home countries and back again at will.
In contrast, an increasing number of Chinese citizens are motivated by fear and frustration – fear that their quality of life is deteriorating and frustration that there are so few investment opportunities at home. They want much of their money out of the country where they feel it will be "safe" and where they can find a less fraught life for themselves and their families.
The biggest problem for these upper-middle-class citizens is that the government severely restricts capital flows out of the country. Beijing wants money earned in China to stay in China to help fund further development, regardless of the financial consequences this might have for individuals.
In the past few years, middle-class investors who built their wealth through the booming mainland property market – the best of the investment options available to most Chinese – have found it hard to feel financially secure, as continued government efforts to rein in rising prices and the financial system that supports them suggest the property bubble looks increasingly unsustainable.
In addition, heavy air pollution, food safety and vaccine scandals, a rigid education system and an increasingly authoritarian political climate give those who can afford it incentives to look abroad.
It was with this in mind that Zhang, in his early 40s, said he and 14 others from across China paid to join an Ausin investment tour to Australia in May, thinking "it won't hurt if I just have a look at the project."
"It had been arranged for us to visit a dozen property projects in Melbourne, Sydney and Brisbane, including flats, villas and houses with land packages. I loved Australia as soon as I landed there. The [prices of the] properties and living costs were quite affordable for us, not to mention the good air, legal system and education system for my family," Zhang said.
In its advertising in China, Ausin told the investors that the tour was free but asked for a 200,000 yuan (US$29,000) deposit. It promised to return the deposit 35 days after the investors went back to the mainland, but Zhang said they never got the money back.
"I'm actually not so rich that I can afford property in New York or London, but I was very interested in buying an apartment abroad for my child's education or possibly to emigrate in the future," said Wang, who is in her 50s and sold one of her two flats in Shanghai to pay for a two-bedroom apartment in Melbourne worth about A$900,000.
Will the door slam shut?
But the door for Chinese to shift assets abroad seems to be closing. At home, Beijing is increasingly ruthless about punishing illegal outflows. The State Administration of Foreign Exchange (SAFE) has dramatically increased its policing of such cases and "names and shames" the individuals involved in an effort to warn China's middle class not to challenge Beijing's capital control regime.
In a statement at the end of August, SAFE disclosed 23 such cases, five of them involving Chinese individuals trying to buy property overseas. A person surnamed Wang in Zhejiang was fined 1.45 million yuan for using "underground banks" to remit 15 million yuan abroad to buy property; another individual surnamed Sun was fined 1.37 million yuan for remitting A$5.74 million by borrowing other people's annual foreign exchange quotas. Beijing grants every individual an annual US$50,000 foreign exchange quota, and buying beyond that amount requires special approval from SAFE.
Property buyers from China have also had an impact on local economies and politics, breeding resentment and causing countries from Australia to the United States to become increasingly unfriendly towards Chinese money in their housing markets.
Australia is one of a growing number of countries that have tightened their foreign investment rules in response to record levels of Chinese capital inflows in recent years. Since August 2016, the government has banned the country's four major banks from lending to foreign property buyers who do not have domestic incomes.
Earlier this year, New Zealand prohibited foreigners from buying property altogether after strong foreign demand, mostly Chinese, pushed property prices out of the reach of many locals. And Canada terminated its popular Canadian Federal Immigrant Investor Programme – created to attract wealthy foreign businesspeople and their families in exchange for permanent residency – because of a huge backlog of applications from Chinese and the influence of scheme beneficiaries on local housing prices, particularly in cities like Vancouver and Toronto.
In late August, panic spread among hundreds of Chinese private, mostly middle-class, investors who had bought or put down deposits on homes in a property development in Johor, Malaysia after Prime Minister Mahathir Mohamad said the government would not allow foreigners to buy residential units in the US$100 billion project, which is being developed by a Chinese firm.
He said the project's focus on selling to Chinese was undermining Malaysia's sovereignty. Chinese investors were enticed to buy units in the project because they would be able to apply for long-stay, non-permanent visas in the country.
"Our objection is because it was built for foreigners, not built for Malaysians. Most Malaysians are unable to buy those flats," Mahathir was quoted by Reuters as saying.
Those remarks worried Chinese investors like Laura Zhang, who has already bought a home in the project. "What Mahathir said has definitely had a negative impact on the demand from and aspirations of middle-class investors from China. We feel we are not welcome here and there is growing uncertainty and risk for our long-stay visas and investments," she said.
In the United States, Chinese demand for the EB-5 investor visa seems to be waning given heightened uncertainties surrounding the programme, and immigration law in general, under US President Donald Trump. Approval for the visa can now take up to 10 years, resulting in a huge backlog that has further dampened interest and led to a significant dip in individual investment inflows into the US.
"We are seeing the growing economic disputes [between the US and China] affecting the Chinese EB-5 process, with the American government intensifying scrutiny of EB-5 applications," said Liu Zhenbiao, head of Jixi Group, which helps wealthy Chinese emigrate and buy property overseas.
'Easy way out'
In the case of Ausin China, the company had been soliciting Chinese investor funds for projects being developed by a number of Australian firms, including Stockland and Mirvac, since 2009. It sold over 8,000 Australian properties in the past decade and launched an aggressive expansion in 2016, setting up luxuriously decorated branches in more than a dozen of China's largest cities and offering free investment tours for rich mainlanders to inspect show homes in Melbourne, Sydney and Brisbane.
Based on the promise of an easy way to buy foreign exchange to pay for their Australian properties and an annual rental return of 5 per cent for up to five years, Xin and other Chinese clients said they agreed to pay deposit and settlement fees to Ausin China, which promised to transfer the payments to Australia.
"The reason we gave the money to Ausin was the difficulty in making capital transfers from China to Australia … so Ausin helped us send the money to the developer," said Xin, who is in her early 40s, acknowledging that this circumvented restrictions on capital transfers out of China.
As well as the annual cap on foreign exchange purchases, Beijing also limits individuals' overseas withdrawals using a Chinese bank card at 100,000 yuan (US$14,400) per year.
"After talking with other affected buyers, I realised we had been deceived because we were too eager to buy a house, an apartment or whatever property in Australia," said Raymond Zhang, who runs a trading company.
"I sensed that the risks and uncertainties on the mainland – both economic and political – were rapidly rising. There was a dramatic stock market collapse. Inflation was increasing more and more, signifying a decline in the value of money. Turnover in the property market in first-tier cities has slumped," he said, adding that the recent scandal over faulty vaccines for children was the final straw, so he decided to shift some of his assets abroad by buying property.
"Ausin was very popular for Chinese looking to buy property overseas, and their offices were in the best location in every city. So it was the most reliable option for us – we are mostly ordinary Chinese – to buy property in Australia and get around the restrictions on transferring capital out of China," he said.
Wang agreed that it seemed like her best option. She signed a contract with the company in 2015 for a flat in Melbourne. "Some of my friends had already completed deals with the company and lived in Australia – that's why I didn't have any doubts and I paid the rest of the money in July when the settlement date was close," she said.
Last month, Ausin Group (Australia) removed from its website all references to the 17 offices in China and announced it had terminated its relationship with the China unit. It alleged the Shenzhen-based company and its operator, Jin Tianyou, had violated company procedure and misappropriated client funds.
"Mr Jin and his company have been reported to Chinese and Australian authorities regarding allegations of the fraudulent collection of settlement monies. Ausin Group (Australia) has ceased its relationship with Mr Jin and his company and is working with authorities to ensure the matter is thoroughly investigated," Ausin Group (Australia) said in a statement.
Despite the increasing difficulties and risks, a growing number of middle-class mainlanders are looking for ways to realise their ambition to own an overseas property and diversify their assets offshore.
Kong Shaoshi, whose small firm caters to buyers in the Pearl River Delta looking for property in Southeast Asia, said South Asia was becoming more popular.
"Properties in booming South Asian cities have high returns and are more profitable and practical for middle-class mainland buyers," Kong said. "We receive dozens of calls every day from individual investors across the delta."
Xin, Zhang and Wang all said they planned to sue both Ausin China and Ausin Group (Australia).
And even if he cannot get his money back, Zhang is still keen to buy property abroad. "I'm really worried about the worsening economic situation on the mainland," he said, "so that is really my main driver to have another go."