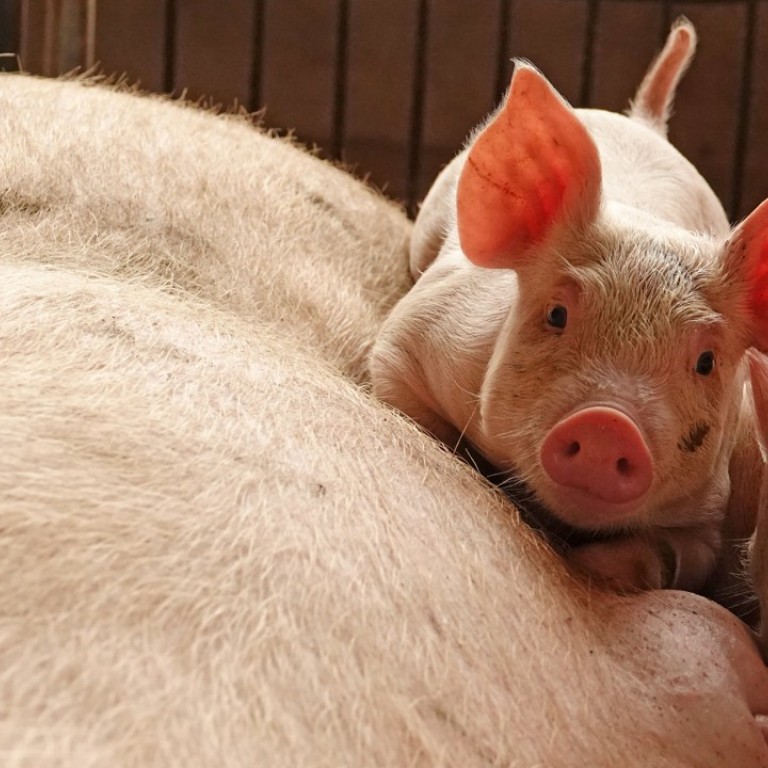 US-China trade war becomes a hog's dinner, as Beijing considers reducing soybean rations for pigs
Slump in imports of key ingredient of animal feed forces industry group to consider serving up smaller portions
Chinese pigs might soon be dining on a lower protein diet after an industry group recommended reducing the amount of soybeans in their feed to offset rising costs and dwindling supplies as a result of the US-China trade war.
The China Feed Industry Association published a proposal on its website at the end of September suggesting the minimum content of soy meal in hog rations be trimmed down. The meal, which is made from soybeans, is a principal source of crude protein in animal feed.
China imported 87 per cent of its soybean requirement last year, about a third of which came from the United States.
While the proposal, which will remain open for public comment until Monday, did not mention the trade war directly, the association said in a separate statement its aim was to reduce the country's reliance on foreign suppliers.
"China's protein feed has long relied on imports, which has become a bottleneck for the feed industry and aquaculture industry," it said.
The association, which is affiliated with the Ministry of Agriculture and Rural Affairs and responsible for setting feed industry standards, declined to comment on the proposal.
Beijing imposed 25 per cent duties on imports of soybeans from the US on July 6 in retaliation for Washington's punitive tariffs on US$34 billion of goods it imports from China.
The crop was chosen possibly because Beijing thought it would be damaging to farmers in states such as Iowa, Nebraska and Ohio, which all voted for US President Donald Trump in the 2016 election.
However, the tariff-induced price rise led to China's soybean imports in the first eight months falling by more than 2 per cent from the same period of 2017, while the price of soy meal was 10 per cent higher last month than it was in December.
The price of soy meal price is expected to continue to rise on the back of lower soybean imports from the US and an insufficient domestic supply, the feed association said.
Also, while mainland China accounted for just 2 per cent of the United States' soybean exports in August – from 57 per cent in the same month of 2017 – America's total exports of the crop – including sales to Taiwan – have been growing, according to figures from the US Census Bureau.
Even Rogers Pay, lead agriculture analyst at consulting firm China Policy, said that while Beijing's attempt to damage US exports with tariffs on soybeans might have appeared to have fallen flat, the government might have had other reasons for the move.
"If demand for imported soy is somewhat reduced and trade partners diversified in the long run, that would be considered a win by many in China's government," she said.
"This is something policymakers have been keen to do for a while, but couldn't under normal trade conditions. Trump's escalation gave China's policymakers an excuse to constrain US soy, forcing the Chinese industry to adjust."
Beijing tried to boost domestic soybean output earlier this year by granting more subsidies to farmers, but a frost in Heilongjiang province – the country's biggest producer – badly damaged harvests.
As for possible pig feed adjustment, Qiao Shiyan, director of the National Feed Engineering Technology Research Centre, was quoted by Economic Daily as saying it would reduce China's demand for soybeans by 13.7 million tonnes a year.
The proposed change to pig feed even inspired some of the nation's wits to join the trade war debate.
"Even pigs have to make their contribution to overcome the hard times," a person wrote on Weibo.
This article appeared in the South China Morning Post print edition as: Soybean rations for pigs face cutbacks as trade war bites