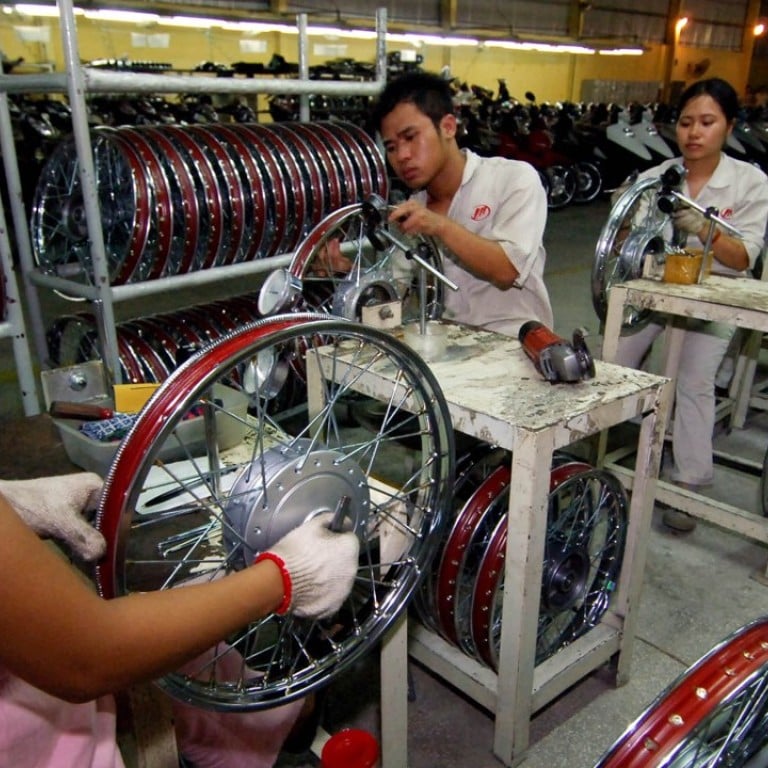 Is China's decoupling from the US 'inevitable' due to the trade war?
The speed and extent of the divorce will depend on negotiations
Author encourages US to pursue Anglophonic trade alliances with other liberal economies in Pacific Rim
Decoupling of the United States and Chinese economies is "inevitable", and the US should pursue an Anglophonic alliance to soften the blow, the author of a new book on China's economic rise said on Friday.
The speed and extent of the decoupling will depend on negotiations between the world's two superpowers, but it is already under way, with the shifting of US companies' supply chains out of China and into other, cheaper Asian manufacturing hubs.
Stewart Paterson, a partner at fund management company Tiburon Partners and the author of China, Trade and Power, said that in future trading blocs could be based on ideology and could be similar in structure to the Five Eyes security grouping, an intelligence alliance consisting of Australia, Canada, New Zealand the UK and US, formed after the Second World War.
"I think an element of decoupling is inevitable," Paterson said at the book's launch in Hong Kong. "What is fairly certain is that the [Chinese Communist Party] is not prepared to give up control of the commanding heights of the Chinese economy. When you read [US Trade Representative Robert] Lighthizer's criticisms of China, going back a decade at least, he would take a view that I would share, that a trade economy like this produces unfair outcomes," he said.
Decoupling would involve disentangling complex supply chains established over many years. Most of these were set up after China's accession to the World Trade Organisation (WTO) in 2001 opened the floodgates for western companies to established low-cost manufacturing bases there.
Research from US-based firm Rhodium Group shows that US companies invested US$256.49 billion in China between 1990 and 2017. Fully 71 per cent of this went towards developing greenfield sites.
Over the same period, Chinese companies invested US$139.81 billion in the US. However, this was largely through acquiring US firms.
"Total US corporate profits are about US$1.9 trillion. The profits that are made by US companies making and selling in China are less than 2 per cent of that. Then there are profits made on exports to China, but again you're talking a fairly 'de minimis' amount compared to overall GDP. So America is not that vested in China directly. China is itself moving production out of China at the low end," Paterson said.
Paterson's book argues that China's rise has come at the expense of western economies and societies and was facilitated by the governments of the time, notably the Clinton administration in the US.
The rise of populism throughout the West today can be directly traced to China's WTO membership, which was achieved after "pernicious" lobbying by US corporations around the turn of the century, it says.
Paterson said that the only two winners from China's accession were "the [Chinese Communist Party] and the 1 per cent [wealthiest] in the West". The US' "naive" pursuit of low inflation at the same time led to lower wages and poorer societies, "stimulating the Chinese economy by taking on greater levels of debt" while "China got everything it wanted".
As the US and Chinese Presidents Donald Trump and Xi Jinping prepare for a meeting after the G20 Summit in Buenos Aires on Saturday, China will be looking for a moratorium on the planned tariff rise due to affect US$200bn of Chinese exports from January 1. The US' strategy has brought China to the negotiating table and, according to Paterson, this shows that it has worked to a degree.
"The Chinese have been surprised by it and wrong-footed by it, but America needs to do some relationship building around the world to ensure they're not isolated. The good news for the US at this juncture is that China's Belt and Road Initiative has alienated a lot of people. The Europeans have similar complaints to the US in terms of [intellectual property] theft, lack of market access and lack of reciprocity. It should be possible to build a global alliance to support this."
"Poorly handled, wholesale decoupling will do little to advance Washington's resolve to compete against an illiberal peer competitor on the world stage. To the contrary, it may only entrench China's growing gravitational pull," they wrote.
There will be some economic downturn as a result, with many analysts predicting a global recession as a result.
"Whether or not a recession is avoidable in any circumstances, I don't know. It might well not be," Paterson said. "My point would be if the choice is between a continuation of the status quo or a recession but by standing up to China liberalism survives, I would go for that option."