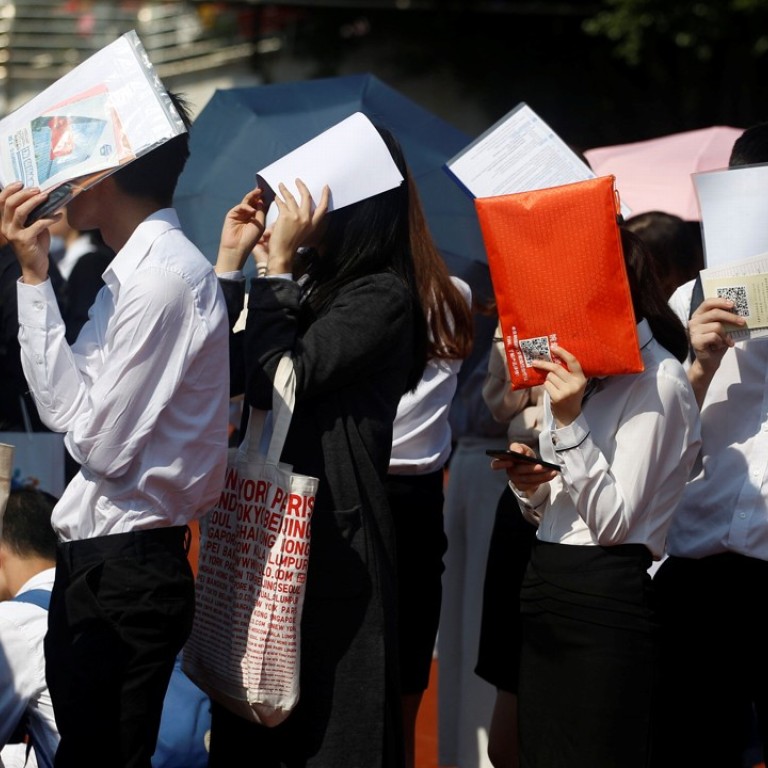 China takes steps to support jobs as trade war starts to hit employment
Cabinet unveils measures including unemployment insurance refunds for firms that do not lay off staff and subsidies for all jobless young people aged 16 to 24
Beijing is now officially worried about unemployment, as the US-China trade war continues to weigh on the world's second largest economy.
On Wednesday, the State Council unveiled policies ranging from refunding unemployment insurance payments to companies that do not lay off staff to giving subsidies to jobless young people aged 16 to 24 rather than only to college graduates without jobs, according to a document on the government's website.
The cabinet's policy paper, which was drafted on November 16 but only made public this week, had already been passed down to local governments last month. The local governments were told to draft their own versions, taking account of local conditions, within 30 days.
Beijing has prioritised employment stability over other economic targets in various meetings, but the document offers the first sign of unease within the central government leadership over whether it can fight off unemployment pressure, as the trade war continues to reduce corporate hiring demand, particularly from export manufacturers.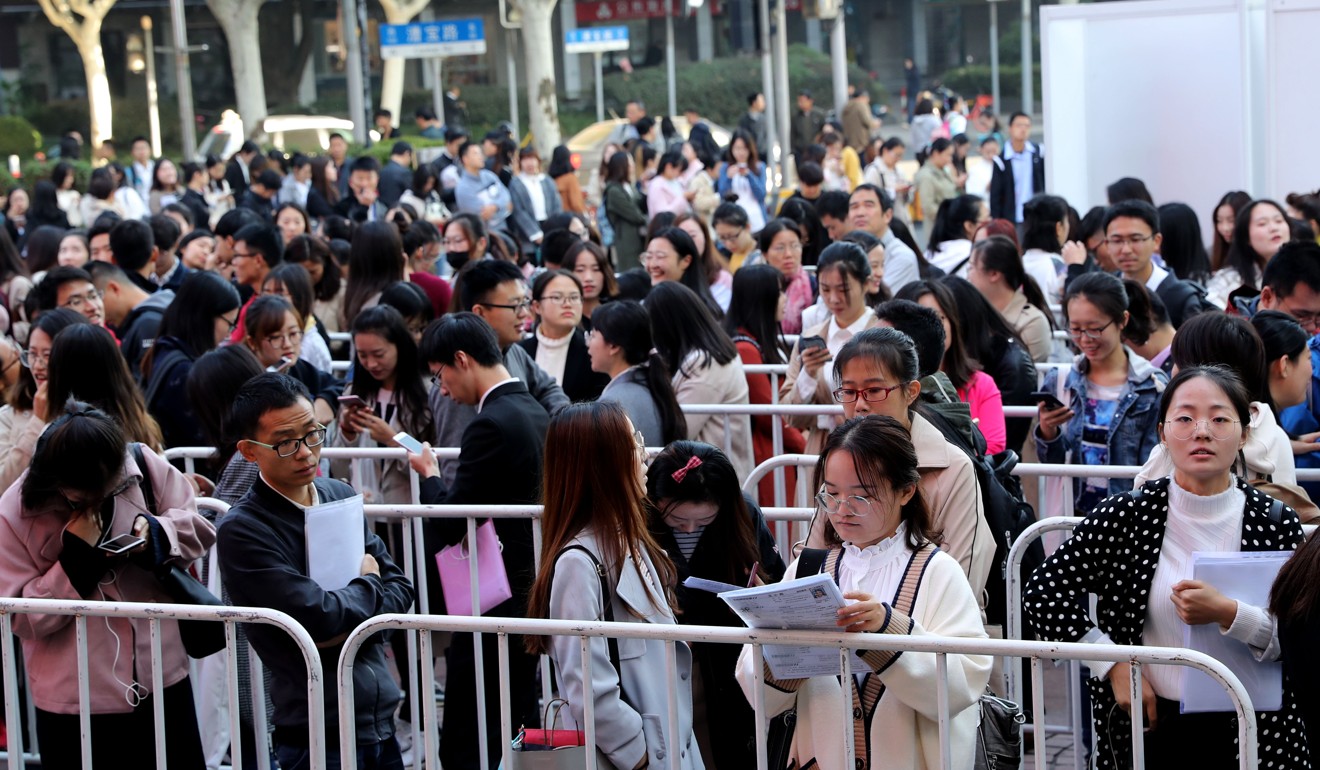 While the official survey-based unemployment rate remained stable at 4.9 per cent in October compared to September, other indicators point to a weakening jobs market. The employment sub-index in both the official and Caixin purchasing managers' index for the manufacturing sector showed factories have started to cut their workforces during the past few months because of weak overseas demand.
In the export sector, hiring demand fell by more than half in the third quarter, according to the China Institute for Employment Research, with the supply of new jobs declining even more in coastal cities such as Ningbo and Suzhou that rely heavily on international trade.
"Employment is facing new challenges this year, particularly since the start of the trade conflict," Zhang Yizhen, vice-minister of human resources and social security, said at a press conference on Wednesday. "These [firms] operating mainly in import and export trade, particularly those exposed to and concentrating on US trade, are facing greater pressure [on employment]."
According the State Council policy paper, companies that do not lay off staff or only scale down their workforce mildly can get a 50 per cent refund of unemployment insurance payments made on behalf of their employees last year. And for firms that face temporary operational difficulties but have had few lay-offs, the refunds could be higher.
Companies in China are generally required to pay 2 per cent of their total payroll in unemployment insurance every month, but local governments often have their own policies.
Beijing also called for local governments to increase their financial support for individual entrepreneurs and small private-sector enterprises, which are the main driver of urban employment in China. These entrepreneurs and firms should be offered government-guaranteed loans of between 150,000 yuan (US$21,900) and 3 million yuan (US$438,200).
Southern Guangdong province, a major hub of China's export economy, is one of the first regions to heed Beijing's call to lay out a detailed subsidy plan to stabilise employment, based on a notice dated last Friday but published on the government's website on Monday this week.
In the Guangdong plan, third-party recruitment agencies will get a subsidy of up to 800 yuan from the provincial government for each rural worker they help find a job, through which the worker contributes to the social security fund for more than six months.
A small company that was registered within the last three years can get up to 30,000 yuan in total subsidies depending on the number of workers they hire. The government also offered subsidies – from hundreds to thousands of yuan – to encourage people who start new business in rural areas, college graduates who go to work for rural governments, and small enterprises that hire workers living below the poverty line.
At least for now, Beijing remains confident it can keep the job market under control.
"Even though key indicators have shown that employment remains stable, of course, we are concerned about the uncertainty surrounding the domestic economy and external markets," Zhang said. "These new measures from the State Council will further stabilise and stimulate employment. We are confident [that they will do that]."
This article appeared in the South China Morning Post print edition as: Mainland takes steps to support jobs as unemployment fears rise in trade war