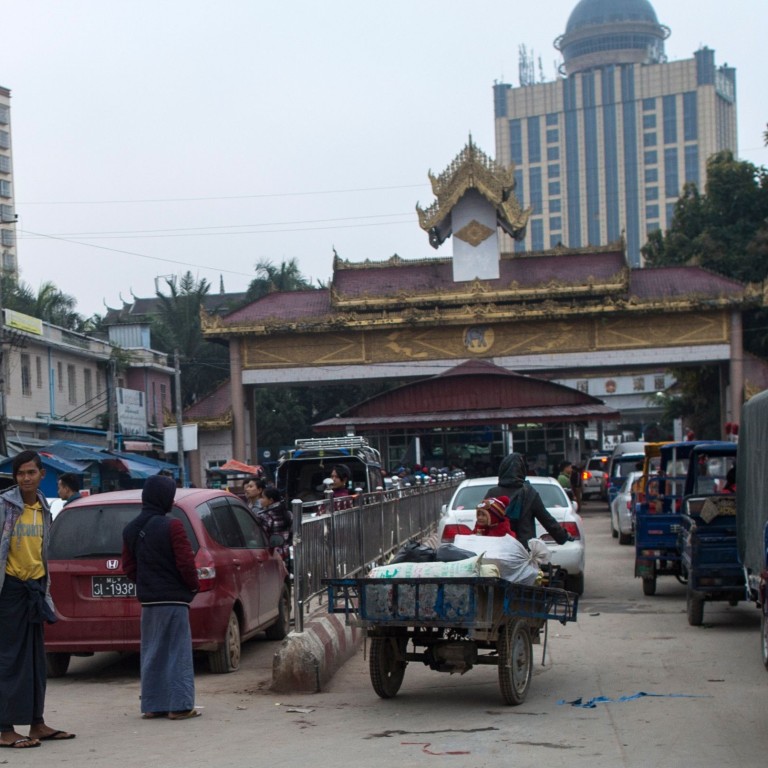 Myanmar next stop in China-Japan rivalry as frontier market opens doors to yuan and yen payments
Yuan and yen join the euro, the US Dollar and the Singaporean dollar as designated currencies for settling international trade in Myanmar
Economic future of Southeast Asian country will be determined by the giants to the north, analyst says
Myanmar has officially permitted the use of the Chinese and Japanese currencies in cross-border payments, as the Asian giants vie for dominance in one of the region's last frontier markets.
The directive means that the yuan and yen join the euro, the US Dollar and the Singaporean dollar as designated currencies for settling international trade in Myanmar, where the central bank is desperate for foreign investment after years of economic sanctions and financial mismanagement.
China, which shares a 2,200km (1,360-mile) border with Myanmar, has been keen to draw its southern neighbour into the "Belt and Road Initiative", Chinese President Xi Jinping's grand infrastructure plan for Eurasia.
China is Myanmar's biggest trading partner, with bilateral trade topping US$700 million last year, according to Myanmar's Ministry of Commerce.
Japan is also a big trade and investment partner, with Japanese companies maintaining a steady presence in the country since the end of British colonial rule in the 1940s, right through its economic isolation due to Western sanctions from 2003.
With the United States reimposing sanctions last year, due to the treatment of the Rohingya Muslim minority in Rakhine state, Myanmar is back in the financial wilderness, frozen out of international capital markets yet again.
Dane Chamorro, a senior partner at the political and security consultancy Control Risks, said Myanmar's economic future would be dictated by northeast Asia.
"The money is going to come from China, Japan and Korea," Chamorro said.
"Japanese companies are very well regarded in Myanmar, they are viewed as liberators from [the days of British] colonisation. There's a lot of good will to play on."
But Tokyo is well aware not only of the rival interest in Myanmar's abundant energy resources and potential consumer market but also of how geographically important the country is to China.
Myanmar lies between China and the Andaman Sea, access to which would offer a quicker route for Middle Eastern oil and gas to reach China's industrial hubs.
To this end, China and Myanmar plan to build a US$7.3 billion deep-sea port in Kyaukpyu.
It's the cornerstone of China's belt and road ambitions in Myanmar, but like some other headline projects on the scheme, there are concerns over the level of debt the government in Naypyidaw would incur.
China has also been lobbying Myanmar's government to push forward with a giant hydropower dam project that would service an area twice the size of Singapore and cost US$3.6 billion to build. The project was suspended in 2011 over environmental concerns, much to the ire of Chinese officials.
Chamorro said Myanmar understood the geopolitical tug-of-war it was inspiring, and the central bank's currency play is a way of capitalising on this.
"It's very much up for grabs. The Burmese are not ignorant of this, they do a good job of playing both sides against each other to get the best of both," he said.
Du Jifeng, a Southeast Asia specialist with the Chinese Academy of Social Sciences, said: "As the two biggest economies in Asia, China and Japan will continue to vie for influence in Southeast Asia, including in Myanmar."
This article appeared in the South China Morning Post print edition as: myanmar opens door to yen and yuan payments