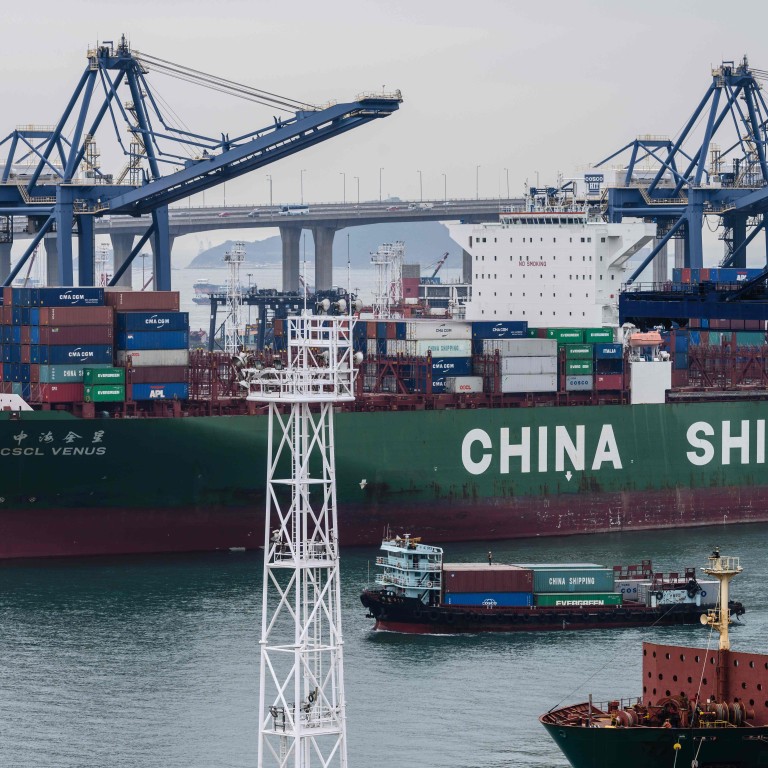 China's exports shot up dramatically in January boosted by EU and Asean orders, despite US trade war
Import and export figures better than expected as front-loading ahead of the Lunar New Year boosted sales, beating a median forecast of economists by Bloomberg
January's exports rose 9.1 per cent from a year earlier in a significant improvement on December when they fell by 4.4 per cent
China's exports shot up unexpectedly in January because of a surge in exports to the European Union and Southeast Asia, and the front-loading of orders ahead of the Lunar New Year holiday.
Data from China's General Administration of Customs released on Thursday showed that January's exports rose 9.1 per cent from a year earlier, beating a median forecast of economists by Bloomberg, which had predicted a 3.3 per cent decline.
It is a significant improvement on December, when exports fell by 4.4 per cent, and will offer some comfort to policymakers in Beijing, as the US-China trade war continues to fester.
Manufacturers have accelerated the relocation of their production bases out of China, which pushed up China's exports to other countries like in the Association of Southeast Asian Nations (Asean), said ANZ senior economist Betty Wang.
Exports to the European Union jumped 14.5 per cent in January from a year earlier, while exports to Asean improved by 11.5 per cent.
The surge in exports to the European Union and Asean offset weakness in China's exports to the US, which fell 2.8 per cent year on year in January after a 3.5 per cent drop in December.

MK Tang, senior China economist at Goldman Sachs, however, warned that the trade data was probably distorted because of seasonal factors, given that Lunar New Year falls on different calendar dates each year.
This year's week-long public holiday began on February 4 compared to February 15 in 2018.
Strong January data should therefore not be a sign of strong underlying export growth because exporters typically front load their shipments ahead of the holiday, Tang said.
Imports dropped 1.5 per cent from a year earlier, beating the analysts' prediction of a 10.2 per cent decline.
Imports had plunged 7.6 per cent in December, while January's figure shows the deterioration in domestic demand ahead of the Lunar New Year.
Business activity typically slows down one to two weeks before the holidays, as migrant workers return to their hometowns.
China's overall trade surplus narrowed to US$39.16 billion in January from US$57.06 billion in December after economists had predicted a surplus of US$34.30 billion.
Julian Evans-Pritchard, senior China economist at Capital Economics, said that adjusting the trade data for seasonal volatility in January, China's exports and imports both picked up but remain weaker than a few months ago.
"Even if the latest recovery in trade is genuine, the outlook for this year is still downbeat," Evans-Pritchard said. "Cooling domestic demand and easing commodity price inflation will remain a headwind to imports in the near-term."
Nick Marro, analyst at The Economist Intelligence Unit, said that contractionary pressures in exports in South Korea and Taiwan reflected headwinds in the global consumer electronics industry and to regional economic growth.
That pointed to downward pressure in Chinese shipments sooner or later regardless of "what happens with the trade negotiations this week," Marro said.
The Lunar New Year front-loading was also felt in other parts of the world.
Container cargo levels at the Port of Long Beach in Southern California posted near record volumes ahead of the holiday. Dockworkers handled 657,286 twenty-foot equivalent units, only 0.1 per cent less than the port's all-time January record, set in 2018.
However, weakness in China's underlying export growth is likely to become more visible soon because of the trade dispute, analysts have warned.
Market observers may need to wait until the first quarter figures are released in mid-April to obtain a clearer reading of the underlying momentum.
The data comes at a crunch time in the trade negotiations between the US and China.
Chinese President Xi Jinping and Vice-Premier Liu He are expected to meet a top US delegation, including US trade representative Robert Lighthizer and US Treasury Secretary Steven Mnuchin, in Beijing on Friday in pursuit of a deal to end the trade war.
A 90-day moratorium on escalation in the trade war is set to expire on March 1.
If the two sides cannot reach a deal by this date, US tariffs on US$200 billion worth of Chinese imports are expected to increase from 10 per cent to 25 per cent.
US President Donald Trump this week said that he may consider pushing back the March 1 deadline if both sides are close to finalising a deal.
Earlier in February, the US Department of Commerce released trade data for the month of November, which showed that the US trade deficit with China had narrowed.
The data, the release of which was delayed due to the US government shutdown, reflected an overall slump in bilateral trade between the US and China, with the US buying and selling less to China in November.
The decline in US imports, mainly in consumer goods such as cars and mobile phones from China, was greater than the drop in exports.
However, full year data for 2018 showed that China posted its biggest ever trade surplus with the US, news which is unlikely to please the Trump, who is determined to see the imbalance eradicated.
This article appeared in the South China Morning Post print edition as: surprise upturn in exports fed by Asia, e . u.