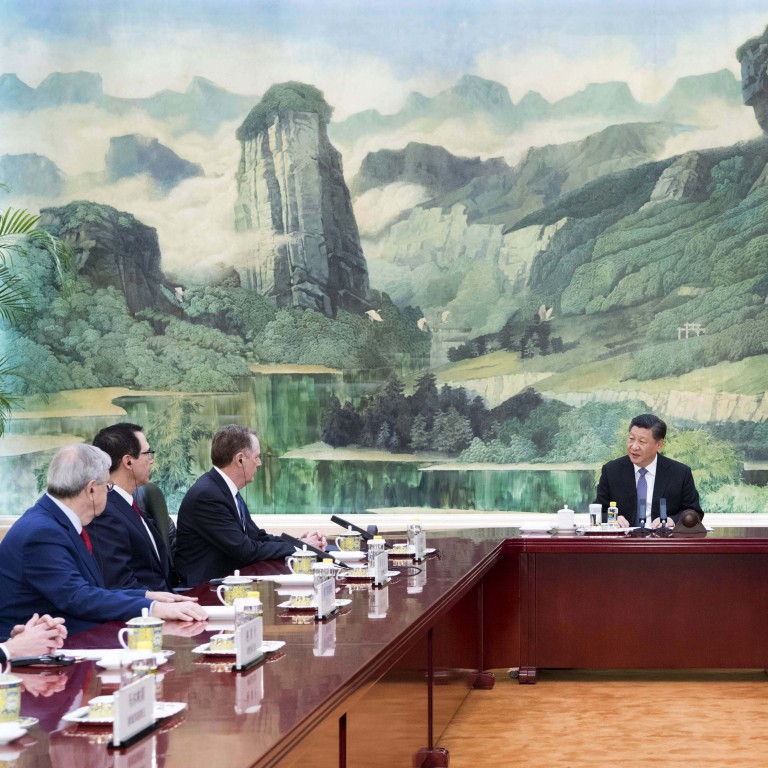 China and US make 'progress' in Beijing but trade war talks to continue in Washington next week
Chinese Vice-Premier Liu He met US counterparts including Trade Representative Robert Lighthizer and US Treasury Secretary Steven Mnuchin
Truce deadline agreed between Xi Jinping and Donald Trump in December is set to expire on March 1
China and the United States have agreed to continue talks in Washington next week after two days of negotiations in Beijing produced "progress", but not enough to finalise a deal to end the trade war.
Chinese President Xi Jinping on Friday urged for a mutually beneficial deal in next week's talks, while seated at the head of a long table of Chinese and American negotiators including US Trade Representative Robert Lighthizer and Treasury Secretary Steven Mnuchin.
"I hope you can make persistent efforts to push forward an agreement that can benefit both sides," Xi was quoted as saying by Chinese state broadcaster CCTV. "We all think that in terms of maintaining the prosperity and stability of the world, as well as promoting global economic prosperity and development, our two countries share broad mutual interest."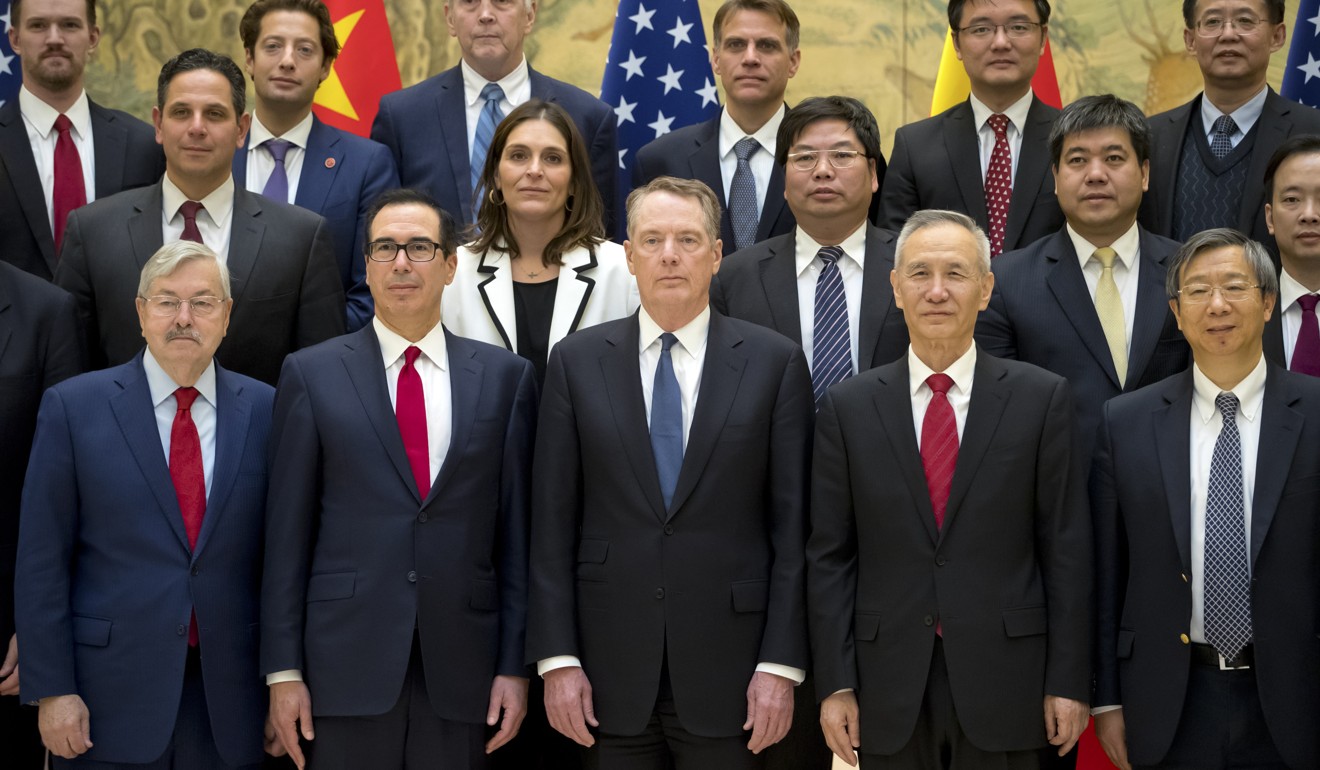 He said officials from both sides should properly manage their differences and step up communications to ensure the healthy development of their trade relationship, but added that "principles must be adhered to".
"We are willing to resolve the issues through cooperation and seek an agreement acceptable to both sides," Xi said.
Officials from both nations sounded positive notes on the latest discussions, despite the two sides remaining far apart on key structural issues.
"These detailed and intensive discussions led to progress between the two parties. Much work remains, however," the White House said in an announcement on Friday. "Both sides will continue working on all outstanding issues in advance of the March 1, 2019, deadline for an increase in the 10 per cent tariff on certain imported Chinese goods."

Lighthizer said at the start of the meeting with Xi that "very difficult issues" remained after two days of talks.
"We feel we have made headway on very, very important and difficult issues," he said. "We have additional work we have to do but we are hopeful. So thank you very much for this meeting and we look forward to the main road."
The South China Morning Post earlier confirmed that the two sides would continue talks in Washington next week, since the negotiations in Beijing were "made progress, but not enough to seal a final deal", according to a source briefed on the talks.
The source, who declined to be identified, added that the Chinese delegation may leave Beijing on Tuesday.
Xi and US President Donald Trump agreed to a 90-day truce when they met in Buenos Aires on December 1.
If China and the United States fail to reach a deal or agree to an extension of the deadline, the US could increase tariffs on US$200 billion worth of Chinese products from 10 per cent to 25 per cent.
Trump said earlier this week that he could extend the March 1 deadline and that he was looking forward to meeting Xi in the near future. A meeting between the two leaders is seen as key to cementing a deal, which US officials have said will need to include structural reform from China as well as an enforcement mechanism to ensure commitments are followed through.
Sources close to the discussions earlier told the Post the two sides remained at odds over major US requests including those relating to intellectual property protection and reciprocal market access. One person described Beijing as making only "cosmetic, non-impactful offers" on issues such as industrial subsidies, saying it was "like pulling teeth".
"The United States delegation focused on structural issues, including forced technology transfer, intellectual property rights, cyber theft, agriculture, services, non-tariff barriers, and currency," the White House announcement said.
"The two sides also discussed China's purchases of United States goods and services intended to reduce the United States' large and persistent bilateral trade deficit with China."
The possibility of eliminating the 10 per cent punitive tariffs Washington has imposed on US$200 billion of Chinese products was also part of the negotiations, according to two other sources. Twenty-five per cent tariffs on US$50 billion of Chinese imports would remain unchanged, they said.
China's trade talks team has been led by Vice-Premier Liu He, who also met Trump in the Oval Office after earlier discussions in Washington at the end of January. At the time, he said China would buy 5 million tonnes of US soybeans, a move US business leaders called "low-hanging fruit".
This article appeared in the South China Morning Post print edition as: 'progress' in talks, but not enough to finalise a deal