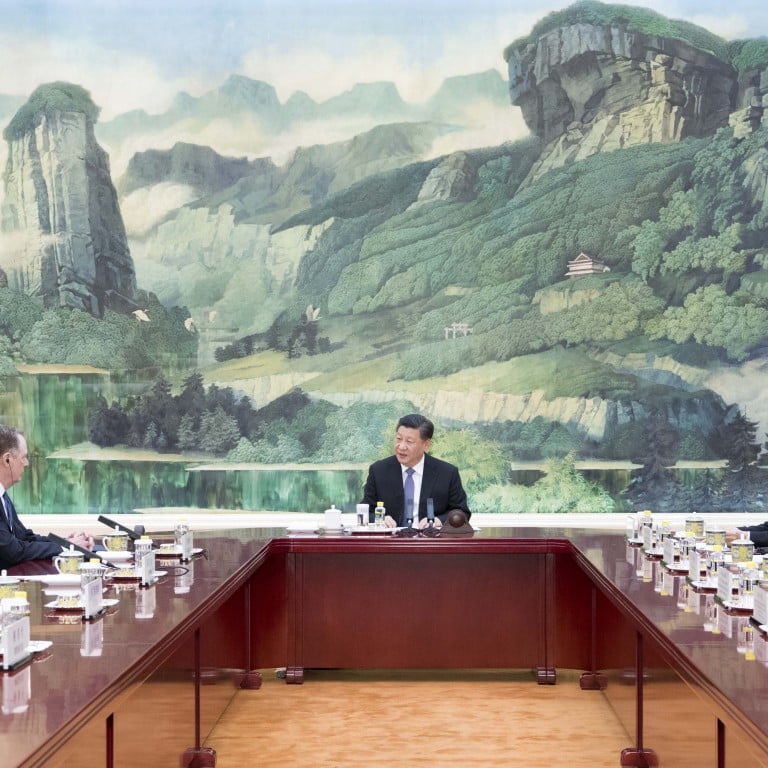 China applauds 'positive' Donald Trump tweet, hopes for US trade war deal ahead of Washington talks
Opinion piece in major state media outlets is seen to be part of Beijing's efforts to reassure its citizens that the tariff war with the United States will soon be over
A Chinese delegation led by Vice-Premier Liu He is expected to leave on Tuesday for the American capital after last week's trade talks in Beijing produced 'progress'
A tweet by US President Donald Trump on the ongoing trade war is a "positive" signal, brightening prospects of a deal from this week's talks in Washington, according to an opinion piece published by China's major state media outlets on Monday.
Monday's opinion piece was published the day before a Chinese delegation led by Vice-Premier Liu He is
expected to leave
for talks in Washington.
In the tweet on Sunday, Trump said: "Important meetings and calls on China trade deal, and more, today with my staff. Big progress being made on soooo many different fronts! Our country has such fantastic potential for future growth and greatness on an even higher level!"
The opinion piece, which was published by the official Xinhua news agency, the People's Daily and the Global Times under the pseudonym Niu Tanqin, is seen to be part of Beijing's efforts to reassure its citizens that the trade war with the United States will soon be over.
It did contrast previous columns on Trump by the same author, who in March last year argued that China dislikes the American president for his "insatiable demands, greediness and lack of trust worthiness".
Last week's trade talks in Beijing produced "progress" ahead of the March 1 deadline, which could see tariffs on US$200 billion worth of Chinese products increased from 10 per cent to 25 per cent if the world's two largest economies fail to reach a deal.
The outcome of the talks in Washington, which are likely to be the last before March 1, will largely decide whether China and the United States can reach a pact, likely in the form of a memorandum of understanding, to suspend the tariff battle that has been roiling global markets and clouding growth prospects since last year.
According to the opinion piece, Trump's use of "soooo" instead of "so" indicated that the US president was excited when he heard reports from his trade envoys following the talks in Beijing, which Chinese President Xi Jinping attend on Friday.
"The US side is attaching great importance [to the trade talks]. Although Trump is on vacation, he listened to relevant reports and he definitely will make specific instructions," it added.
Trump has been upbeat about the prospects of reaching a trade deal with China, and said on Friday at the White House: "It's going extremely well."
Chinese President Xi urged for a "mutually beneficial" trade deal in this week's talks when he met US trade representative Robert Lighthizer and US Treasury Secretary Steven Mnuchin in Beijing on Friday, according to Xinhua.
Stocks in China and Hong Kong surged on Monday, partly bolstered by the increased likelihood of a trade deal between China and the United States.
Monday's opinion piece fits into the latest official line that an agreement is very likely to end the tariff war after the Global Times said over the weekend that the bilateral trade talks are "sprinting" towards a positive end.
Meanwhile, reports in China suggest differences between Beijing and Washington still remain over forced technology transfer, intellectual property rights, cyber theft as well as a verification system to ensure China keeps its promises.
Xi told the US trade envoys that China is willing to "cooperate" but "cooperation has principles", a statement showing that Beijing will not entertain US demands if it finds such demands violate China's principals.
A White House statement on Friday said that "much work remains", showing gaps still exist.