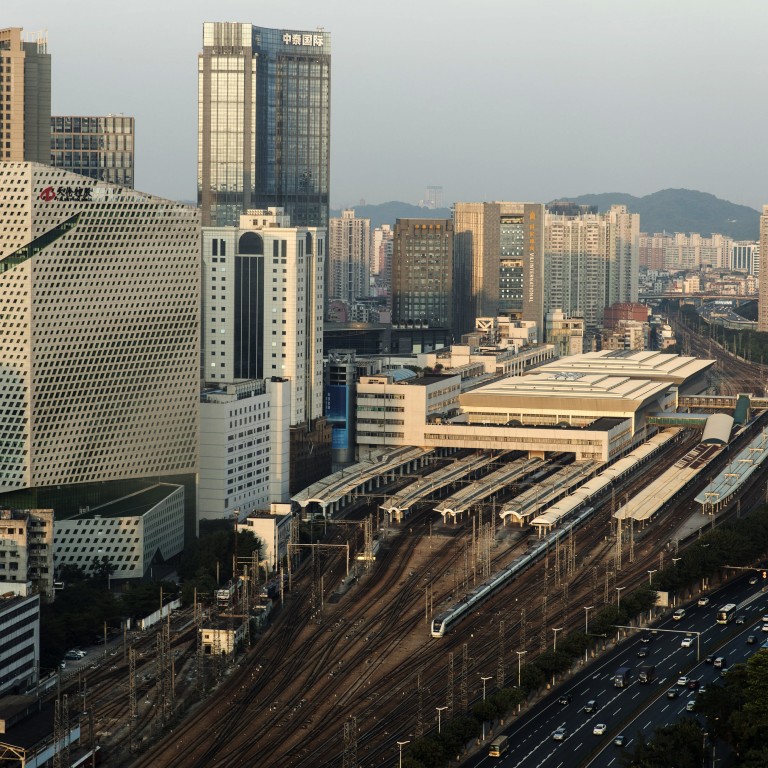 China's Greater Bay Area push could worsen Guangdong inequality and usher in new ageing crisis
Massive infrastructure investment in 12 regional cities has yet to boost growth, where per capita GDP is just a third of the average in richer regions
The focus on Greater Bay Area development has sparked fears that resources will not be evenly spread through Guangdong
After a bumper year of sales in 2018, young entrepreneur Daniel Zeng wanted to give something back to his hometown of Yingde, a backwater city in the north of China's Guangdong province.
Eager to help students from lower income and rural families improve their education, the founder of a Shenzhen-based tech start-up that sells online learning programmes offered his products to Yingde primary schools at 30,000 yuan (US$4,460) a set, a fraction of the 500,000 yuan (US$74,000) it would cost in Shenzhen.
The schools were interested, but even with the discount, they could not afford to pay the price.
Yingde's weak consumption power, an indication of its economic strength, partly explains why young people like Zeng leave their hometowns in search of a middle-class lifestyle in Guangdong's bigger and more prosperous cities like Shenzhen and Guangzhou.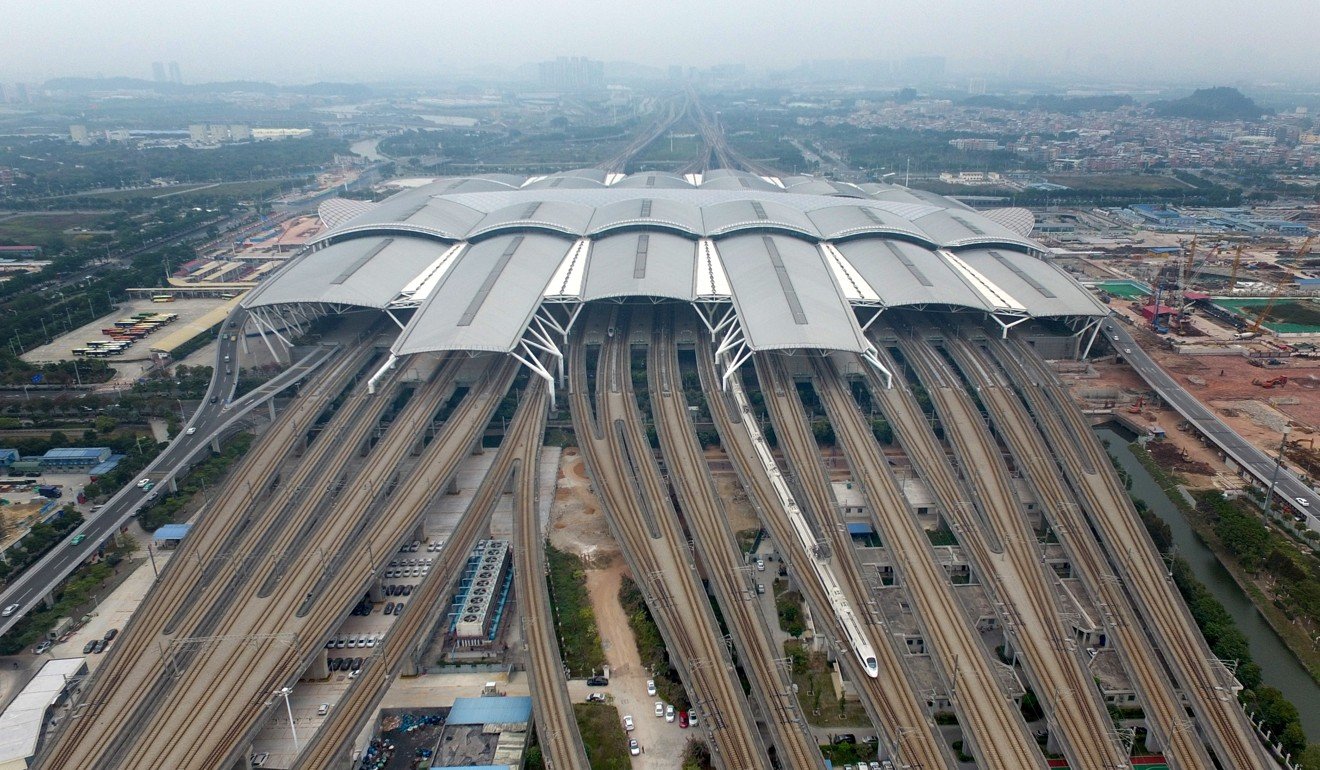 The city's gross domestic product climbed 5.1 per cent to 20.8 billion yuan (US$3 billion) in the first nine months of 2018, according to the most recently available data from Yingde's statistics bureau.
By comparison, the gross domestic product (GDP) for provincial capital Guangzhou in the same period rose 6.3 per cent on the year to 1.67 trillion yuan (about US$248 billion), almost 100 times larger.
As China's and Guangdong's economies both slow, this wealth gap is coming into sharper focus.
Guangdong is China's technology and manufacturing powerhouse and for decades was a prime beneficiary of China's opening up to the outside world.
The province which borders Hong Kong to the south prided itself on leading the country's economic transition at a breakneck growth pace that surpassed the national rate year in, year out.
However, as the national economy slows, Guangdong is also experiencing weakening growth, missing its 7 per cent growth target last year, when it expanded by just 6.8 per cent.
Now though, Guangdong has a central role in development of the "Greater Bay Area" (GBA), which aims to knit nine cities in the province's Pearl River Delta together with Hong Kong and Macau into a hi-tech megalopolis, rivalling Silicon Valley.
But amid the economic downturn and fallout from the US-China trade war, Chinese political and economic observers fear that the GBA – which Guangdong officials have earmarked as a priority – will exacerbate the province's inequality problem, further isolating the province's poorer people in the province's north, east and west from the resources-rich south.
"We feel that the opportunities for narrowing the [wealth] gap in Guangdong have closed, and the problem of economic imbalance will increase in future," said Simon Zhao, founding director of the International Centre of China Studies at the University of Hong Kong.
"On the one hand, the time when globalisation was at it its peak is over, and the industry is shifting. It's unlikely that equipment manufacturers will invest in new manufacturing [facilities] in Guangdong's backward cities. Low-end manufacturing has moved to Southeast Asia, Africa, and only high-end manufacturing will stay in the Greater Bay Area.
"On the other hand, private investors will be also hesitant to invest in the hinterland areas because of the current uncertain political and business climate for the private sector in the mainland," he added, referring to the shift in China back
towards state capitalism
, as noted by many analysts, and the financing difficulties now being experienced by many private-sector businesses.
Guangdong's regional imbalance underscores the broader urban-rural divide across the nation, the result of 40 years of reform, which has seen industries cluster around the port cities of Dongguan, Guangzhou and Shenzhen.
Provincial authorities' efforts to increase connectivity within the province and with its prosperous neighbour Hong Kong predate the GBA concept, which was incorporated into China's 13th five-year plan in 2016.
In 2013, Guangdong's government said it was pumping more than 672 billion yuan (US$100 billion) into modern transport infrastructure connecting new industrial zones, cities and towns in each of its 12 economically underdeveloped cities.
The aim was to help them absorb some of the export-led industry from the Pearl River Delta, which had experienced rising costs and declining orders.
Provincial authorities had hoped that the investment in the cities – Qingyuan, Meizhou, Maoming, Jieyang, Yangjiang, Shanwei, Shaoguan, Zhanjiang, Chaozhou, Shantou, Yunfu and Heyuan – could double or triple provincial economic output by 2018.
So far, the spending splurge has done little to boost growth.
On average, the dozen cities grew by 5.1 per cent last year, weighing on the provincewide figure of 6.8 per cent.
Their average GDP per person – about 39,300 yuan (US$5,847) – languished well below the national level of around 64,600 yuan, despite the fact that Guangdong as a whole has topped the list of the wealthiest mainland provinces for more than two decades.
In contrast, the Pearl River Delta, including some of China's most developed cities like Shenzhen and Foshan, covers only about 30 per cent of the province's area but in 2018 accounted for more than 80 per cent of its economic output.
The average per capita GDP – a metric considered to be a key indicator of an area's standard of living – for the delta was about 117,700 yuan, well over double that in Guangdong's minor cities.
Li Qi, a photographer working at a local media outlet in Shantou, a city of more than 5 million people in Guangdong's east – said well-paid jobs were scarce, despite the city's accessibility to Shenzhen and Guangzhou via high-speed trains.
"A fresh graduate who works as an office clerk in a local firm only earns between 2,000 and 3,000 yuan a month," said Li.
Ma Qingliang, a member of the provincial Chinese People's Political Consultative Conference from Shantou, conceded that not only had the sizeable infrastructure investments not paid off, but said fears are also mounting that the GBA's development will draw resources further away from the poorer regions of Guangdong.
"We are concerned that the rapid development of the Greater Bay Area will see young workers and capital leaving the poorer rural regions in the province's north, east and west," Ma said.
"The poorer areas of Guangdong feel powerless about trying to catch up with the GBA. It's not possible for them to attract enough capital and talent."
To address the regional imbalance, Guangdong is, once more, placing its hopes on infrastructure.
The government is rolling out a new round of investment designed to further integrate the whole province, including the expansion of several airports and intercity high-speed rail projects.
In northern Guangdong, the head of the Guangdong Provincial Commission of Development and Reform, Ge Changwei, said the government was planning to increase financial subsidies and grants to ensure that local governments have the basic financial capacity for development.
But government financial support, critics pointed out, could hurt more than help. Again, there are fears that this could sharpen the inequality picture.
"Doing so will result in increased imbalance in regional development in Guangdong, which will lead to a redistribution of the population," said Yi Fuxian, a scientist at the University of Wisconsin-Madison and author of Big Country with an Empty Nest, a book about China's family planning policies.
The fact that elderly people are less inclined to leave their rural or minor city homes means there will be a serious ageing crisis in Guangdong's poor regions, Yi said, skewing the population balance in favour of the GBA.
"And meanwhile, if young people were reluctant and cannot afford to have children due to soaring living costs in the GBA, the current fertility rate does not ensure the population remains stable, which will in turn, affect the sustainability of the economy," Yi said.
After a recent visit home over the Lunar New Year holiday earlier in February, Zeng, the start-up founder, could not see any signs that the regional imbalance was improving.
"There aren't many newly-invested factories, at least fewer than what officials anticipated," he said.
"Civil servant jobs are the best choices for the young people. Otherwise, most of them would flock to the delta to seek a living."