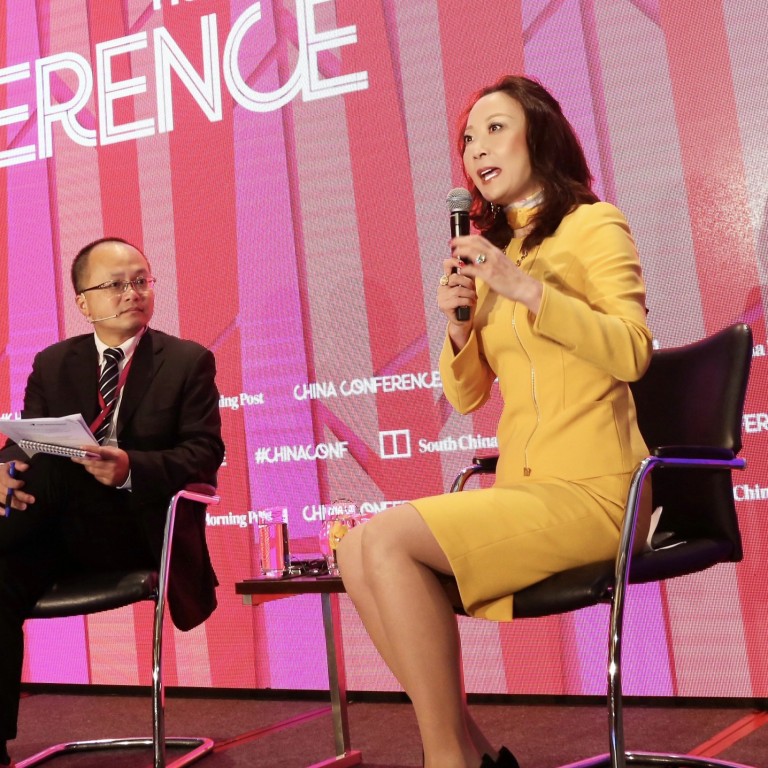 The future of China's economic growth is personal, JPMorgan's Jing Ulrich says
Consumption and services will continue to drive expansion, taking over where investment and exports left off, executive predicts
China's economy may be slowing but the bigger issue is where the growth is coming from, according to Jing Ulrich, managing director and vice-chairwoman of Asia-Pacific at JPMorgan Chase.
China's economy grew 6.4 per cent year on year in the fourth quarter, according to official data released in January. The rate has been falling steadily over the past decade, since its high of 14.2 per cent in 2007.
JP Morgan has forecast China's economy to expand by 6.2 per cent this year.
Ulrich said personal consumption contributed to about 75 per cent of the fourth-quarter growth in 2018, while investment made up much of the rest. Some analysts saw net exports contributing nothing to growth, she said.
"[For] China's growth, the trajectory is definitely on the softening trend because the sheer size of the economy means that it cannot continue growth at double-digit rate," she said.
"In future years the growth can be 6 or even 5 per cent ... but we must look at where the growth actually comes from.
"Today, personal consumption has been so much more important in driving China's GDP growth and this transition will continue – [with China] becoming less reliant on investment and exports and more reliant more on personal consumption and services."
But Ulrich said consumption was a mixed picture.
Car sales fell 13 per cent year on year in December, going against the 3 per cent annual growth forecast at the start of the year and the first fall in the sector in China since the 1990s.
However, sales at the premium end of the car market were up by 10 per cent, she said.
"Certainly we see some downgrade in certain [consumption] areas ... but despite the near-term economic uncertainties, we still have young people in China especially, earning good incomes and buying luxury goods for self rewards and travelling overseas," she said.
In terms of infrastructure investment, Ulrich said local governments had tightened financing for construction projects, but the central government was making more money available.
At the same time, multinational and Chinese manufacturers were consideringalternatives for their supply chain, shifting production from China to countries like Vietnam, she said. That shift meant thatproblems such as excess capacity and excessive leveraging would not grow rapidly.
In terms of real estate investment, Ulrich said it was highly policy driven and the government had cut commercial banks' reserve requirements several times to boost investment.
"Investment in the property market or construction will rebound mildly in second half of 2019," she forecast.