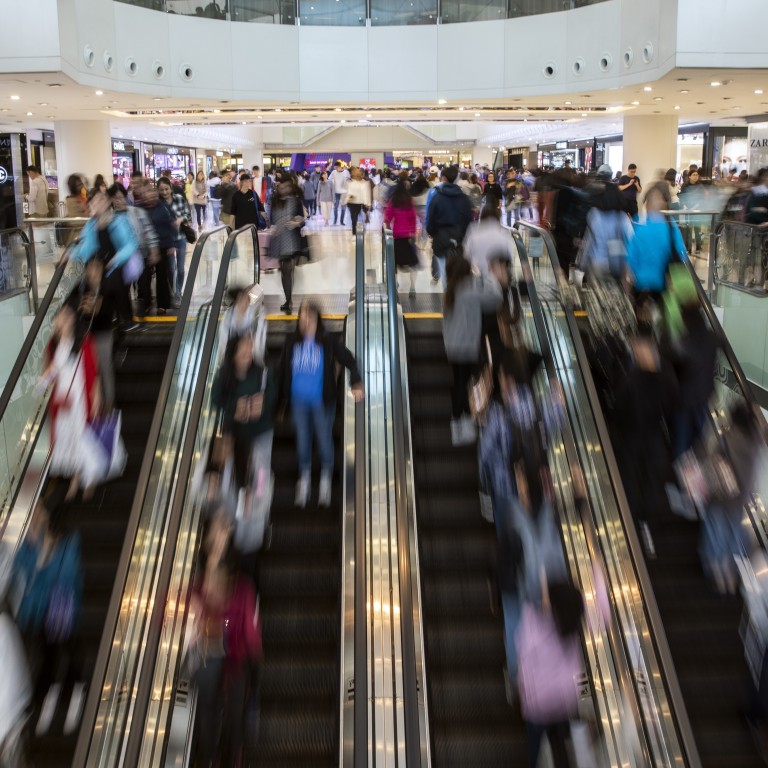 China's bad debts may worsen if growth falters below 6 per cent, warns US rating agency
Moody's estimates China's gross domestic product growth will be 6 per cent in 2019
Beijing has launched a series of measures to offset the trade war with the United States in a bid to boost growth and aid its slowing economy
China's bad debts may become worse if its growth falls below 6 per cent, according to US rating agency Moody's.
The respected ratings agency said that the trade policy of the United States will be a significant risk to business growth and trade and supply chains, not just in China, but globally.
Facing a trade war with the US, along with economic growth at the slowest in decades, China has launched a series of measures aimed at providing better support to private enterprises, which have struggled to find funds as costs of borrowing skyrocketed, with corporate defaults hitting a record high last year.
China's private sector contributed more than 60 per cent of the nation's gross domestic product (GDP) growth in 2017.
Beijing has attempted to unwind debt accumulated in its financial system, in particular through the shadow banking system, on which small and medium-sized companies have relied on for credit.
However, most shadow banking activities have been curtailed by moves to reduce risky lending, leaving smaller, private business with sharply reduced access to credit.
"What we have seen in the last two years is that there's been a gradual shrinkage of shadow banking assets relating to GDP," said Stephen Long, Moody's managing director for financial institutions for Asia-Pacific in Beijing on Tuesday.
"I don't think we see that decline at the same pace as it's declined in recent times."
Last month, Moody's said that China's debt burden has stabilised in 2018, although local state-owned enterprises and household debt has continued to mount.
But China has softened its stance on debt curbing in recent months and in a bid to boost growth, the government has already cut personal taxes, strengthened investment in infrastructure and encouraged more lending to the ailing private sector by cutting the amount of money that banks must hold in reserve at the central bank four times last year and twice in January.
Chinese banks granted 3.23 trillion yuan (US$482 billion) in new loans in January, while total social financing, which includes bank loans, bond and other financing vehicles, reached a record 4.64 trillion yuan (US$692 billion) last month, an amount equal to 5 per cent of China's GDP output last year.
However, if these policies fail to sustain GDP growth at 6 per cent, Moody's estimate of China's GDP this year, asset quality will be damaged as banks are told by regulators to increase their risk profiles to lend to less credit worthy companies, according to Long, who said even if such measure can boost economic outlook in the short term, it would elevate bad debt risk.
There are also growing concerns whether Beijing will change tactics with regards to shadow banking after the China Banking and Insurance Regulatory Commission said on Monday that debts emanating from shadow banking and real estate financing are now under control.
Hu Kai, senior vice-president at Moody's corporate finance group, said debt growth is likely stay relatively stable this year.
"The deleveraging of corporate and local government debt are going to continue," he said. "We forecast there will be constraints on corporate debt growth this year."
Beijing has never announced a specific target for its deleveraging campaign and does not release detailed figures for debt levels by economic sector, meaning there remains debate over the actual scale of the debt problem.
According to Zhang Xiaojing, a senior researcher at the Chinese Academy of Social Sciences, the nation's debt ratio fell to 241.8 per cent of GDP in 2018, from 242.1 per cent a year earlier, which was two percentage points higher than in 2016.
However, the Institute of International Finance, a Washington-based think tank, estimated that China's total debt surpassed 300 per cent of GDP in the third quarter of 2018.
In the last report by Moody's, the rating agency estimated that China's shadow banking sector contracted by 3.6 trillion yuan (US$537 billion) in the three quarters, hitting 62.1 trillion (US$9.3 trillion) at the end of September 2018.
The broad shadow banking sector in China made up 70 per cent of the nation's GDP last year compared with 79 per cent at the end of 2017, and the peak of 87 per cent at the end of 2016.