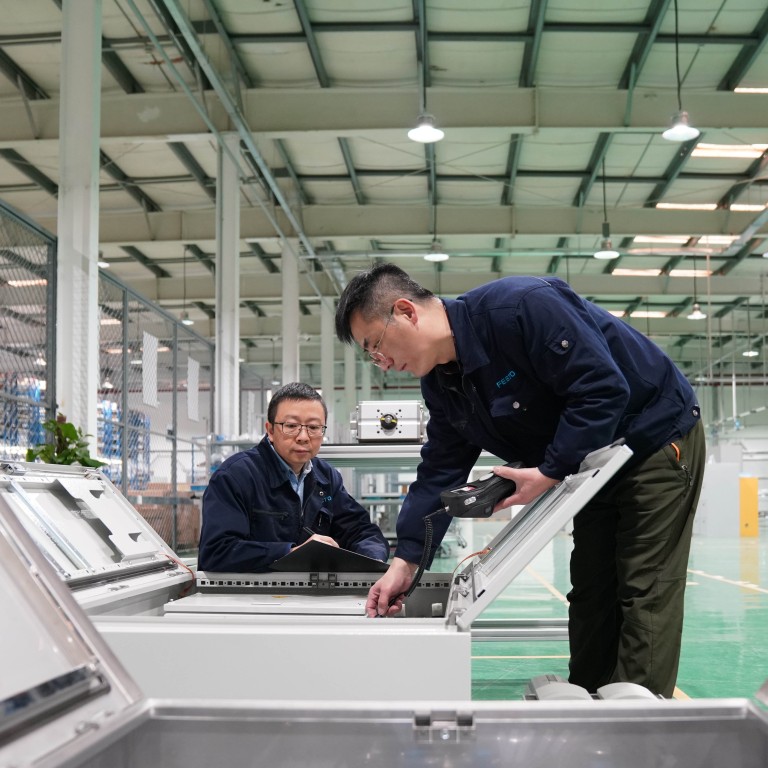 China economy slows further as manufacturing sector PMI contracts for third straight month
February's manufacturing index drops to 49.2 from 49.5 in January after analysts had predicted an unchanged reading
Composite purchasing managers' index falls to its lowest level in two years at 52.4 from 53.2
China's economy slowed further in February with manufacturing activity contracting for a third straight month, while services and construction activity eased further in a month cut short by the Lunar New Year holiday.
The composite purchasing managers' index (PMI), published by China's National Bureau of Statistics on Thursday, fell to 52.4 in February from 53.2 in January.
The latest reading is the lowest since the bureau started publishing the composite index in January 2017.
The decline was led by factory activity, which fell further into negative territory in February as the manufacturing index dropped to 49.2 from 49.5 in January.
The drop was larger than expected, with analysts forecasting an unchanged reading of 49.5, according to a Bloomberg survey.
A reading below 50 means the manufacturing sector contracted in February.
Growth in activity in the non-manufacturing sector, which includes services and construction, also slowed, with the sector index dropping to 54.3 in February from 54.7.
"Admittedly, we are wary of putting too much weight on the official PMIs given that they have provided false signals in the past. We will have a better idea of how the economy has performed recently when the February reading of the Caixin manufacturing PMI, a better guide to cyclical trends than the official index, is published," said Julian Evans-Pritchard, senior China economist at Capital Economics.
"But for now, the official PMIs suggest that growth remains under pressure and we expect conditions to weaken further in the coming months. While there are tentative signs that credit growth is now starting to bottom out, we don't think that will put a floor beneath growth until the middle of this year at the earliest."
The non-manufacturing decline was also larger than expected, with analysts projecting a drop to 54.5, according to a Bloomberg survey.
"This suggests that either policy efforts to support infrastructure spending are falling short or that they are being offset by weaker property construction," Evans-Pritchard added.

February's PMI readings could potentially be skewed by the timing of Lunar New Year, which began on February 4, during which activity in the manufacturing and services sectors is typically cut back, or halted altogether.
"To avoid the distortion caused by the Lunar New Year holidays, which occur on different days in either January or February each year, the usual practice is to combine the January and February data. The average PMI for January-February 2019 was 49.25, which is below the 49.4 reading in December and the 50.0 reading in November," said Nomura chief China economist Lu Ting.
The trade war continues to have a clear negative impact on Chinese factories, with export demand contracting at a faster rate in February as the new export orders index slumped to 45.2, its lowest level in 10 years, from 46.9 in January.
"The decline in new export orders, together with the rise in new orders, means new domestic orders rose at a faster pace and suggests Beijing's policy stimulus might be starting to have an impact," Nomura's Lu added.

US President Donald Trump announced at the weekend he would delay a deadline for increasing tariffs on US$200 billion worth of Chinese goods from 10 per cent to 25 per cent because of productive trade talks so far.
"We see in the case of China that after four successive quarters of sequential slowdown, the Chinese economy is still slowing with no sign of stabilisation yet. Our model is suggesting around 6.24 per cent growth in the first quarter of this year, and perhaps about as low as 6.1 per cent in the second quarter," said Taimur Baig, chief economist at DBS Bank.
"Of course, if there is a resolution in the US-China trade war, and if there is a pickup in global electronics demand, things might get a little better and this might be the bottom part of the estimate."

The trade war, combined with Beijing's deleveraging campaign aimed at reducing overall debt and risky lending, remains the main obstacle to a resumption of growth.
"From China's perspective, the trade war with the US has inflicted severe growth damage, especially because it escalated at a time when economic deleveraging was the main policy focus," said Salman Ahmed, chief investment strategist at Lombard Odier Investment Managers.
"More strategically, the trade dispute with the US exposed the dependencies of a trade-based growth model, and its vulnerability when it comes to China's ambition to become a global superpower.
"We expect a more concrete resolution – even if it only lasts until the next US presidential election – to come through by spring."
Both consumer and producer price (PPI) inflation slowed in January, suggesting that domestic demand remained sluggish.
PPI, the price producers charge wholesalers at the factory gate, rose by just 0.1 per cent in January, the lowest since September 2016 and down from 0.9 per cent growth in December.
Analysts said the low rate was likely to feed through to weaker profit growth among industrial firms over the coming months.
In response to slowing growth, the government has been trying to pump more money into the economy, which led to a record high level of Chinese bank lending last month.
The People's Bank of China in January cut the amount of cash banks are required to hold at the central bank, the first time it had cut the rate for all commercial banks since 2016.
Analysts expect the government to lower its gross domestic product growth target for this year to a range of 6 per cent to 6.5 per cent from the "about 6.5 per cent" targeted for 2018 as the National People's Congress, its annual parliamentary meetings, which will start next week.
This article appeared in the South China Morning Post print edition as: Slump continues in factory output an asdfjlajflkajfdslk;aSlump continues in service sector and manufacturing