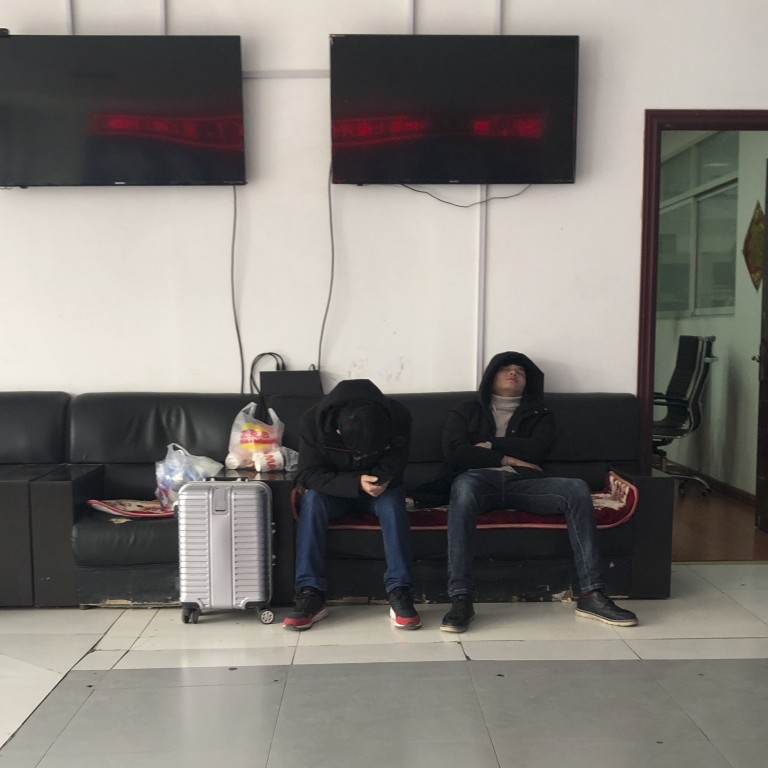 iPhones cost US$800, I was offered a job at Foxconn to assemble them for US$1.7 per hour, 40 hours per week
A South China Morning Post reporter's experience visiting Foxconn's huge facility in Zhengzhou, in China's Henan province
Foxconn desperate for new hires as weak iPhone demand has led to less overtime, prompting workers to quit
The gate to Foxconn's huge Zhengzhou facility is enveloped in a grey haze, pollution constantly hanging in the air.
Outside a man is smoking, his luggage at his side. He has been squatting on the ground for more than 10 minutes.
"Are you looking for work here?" I asked him. "Yes," he replied, "you too?"
He stubbed out his cigarette, threw his bag on his shoulder and asked me to follow him to the plant's reception area, where jobseekers can apply for work.
The man had previously been a worker at Foxconn's Zhengzhou plant, which is the biggest iPhone assembling facility in the world.
He was invited to come back after the Lunar New Year holiday, lured by another permanent position by a 1,000 yuan (US$149) bonus, which will be paid in two monthly instalments.
We walked about 100 metres to the reception. After showing the text message invitation on his mobile phone, the man was ushered onto a green bus for further registration, while I was taken to meet two Foxconn recruiters.
There are few requirements for being a production line worker at Foxconn. As long as you are educated to the age of 15, are aged between 16 and a half and 40, and are not Uygur or Tibetan, you're welcome to apply.
These conditions on ethnicity do not appear on the Foxconn website, but do adorn the walls of private job agencies hiring directly for the technology giant.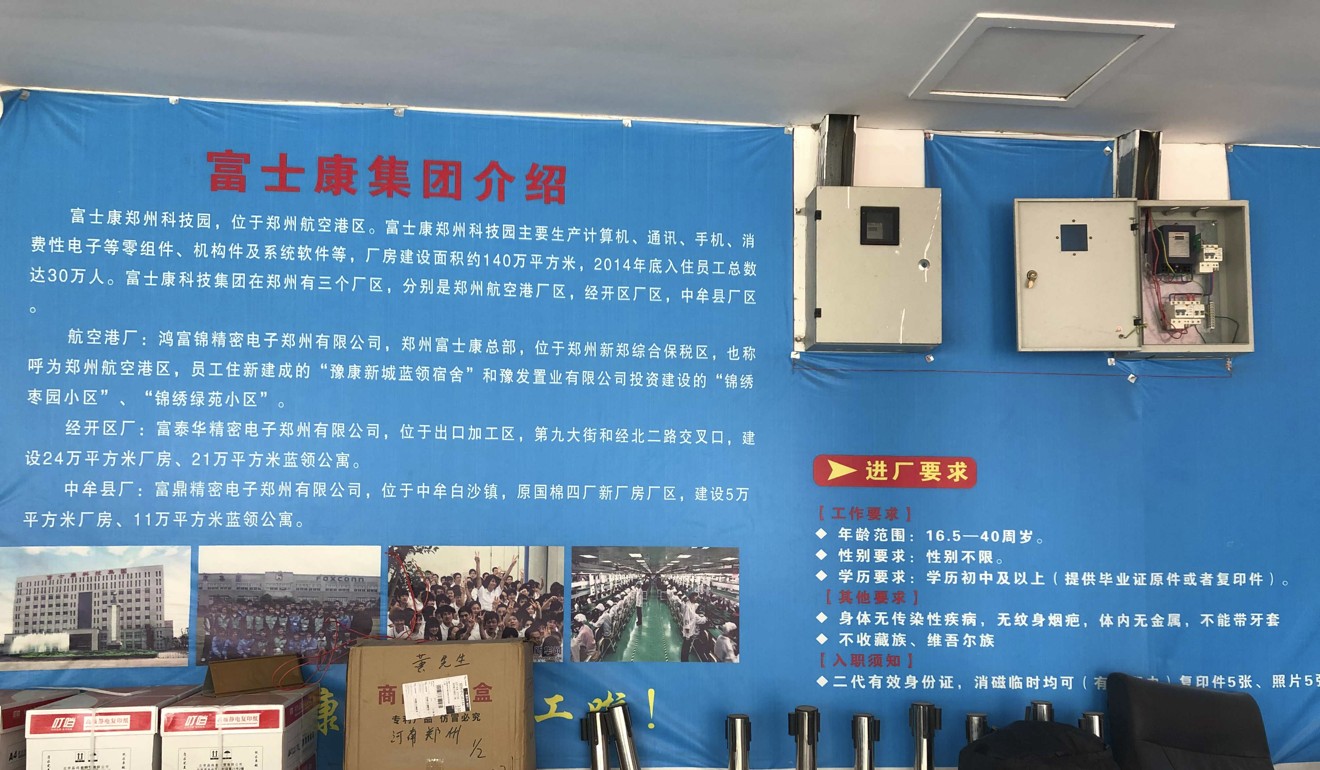 After a glance at my Chinese ID card, the two recruiters said I could start work that very afternoon.
I was told I would be assigned a dormitory later that day. As a Foxconn migrant worker, this would be my home.
If I wanted to earn more money, I could work on a temporary contract through a recruitment agency, the recruiters said. That way, they said, I wouldn't have to pay tax and mandatory social insurance fees.
"Deal", I said.
"We are desperate for workers, we have to recruit 50,000 workers within two months," one of the recruiters told me.
He made a quick call to a job agency that would grant me a temporary contract and told me the agency would pick me up for a further interview. The whole process took no more than 20 minutes.
Ten minutes later, I was in the car of an agency representative, who was briefing me on the interview process.
On the drive to her office, she said the process "was quite simple". I had a sense that she was coaching me to get a job – maybe she was on commission.
"Before the interview, you will be asked to do a psychological test," she said. "The questions will be like: 'Have you been prone to insomnia recently', [the process is] just to test whether you are depressed. You just say: 'NO!'"
In another five minutes, we reached the agent's office.
There are a dozen recruitment agencies located just outside Foxconn's campus, which also recruit for Foxconn plants in other provinces.
Jobseekers from all over Henan province were scattered in front of the different agency offices, with their suitcases in tow.
Some were taking naps before being sent to work in Foxconn facilities far away, others were chatting with new friends, killing time on a cold February afternoon.
The agent told me that if I worked for Foxconn for 55 days, I would get a bonus of 1,600 yuan (US$239).
"After lunch, we will take you to be interviewed," she said, in a business-like manner.
"Then you will do a quick blood test to make sure you do not have an infectious disease. The test fee is 50 yuan and you have to pay it yourself," she said.
Each worker is assigned to a dormitory with four bunk beds – eight workers share a room and each pays 150 yuan per month, the recruiter told me.
Compared to the average monthly rent in downtown Zhengzhou – 1,625 yuan – this sounded like a bargain.
At this point, however, I became uncomfortable with the thought of taking a random blood test. Although I wanted to learn more, I terminated the process.
I told my recruiter that I needed to make a call and after that made an excuse about not wishing to work so far from my family and said my goodbyes.
My chances of manning the production line were over, but I returned the next day, following a flock of workers, in the hope of getting a first-hand look at the Foxconn dorms.
I walked into Yukang, a workers' dorm complex of at least 10 buildings, without showing any identification. There were posts at which ID was supposed to be checked, but nobody asked for mine.
Job posters at the agencies say the dorms are equipped with air conditioning, independent bathrooms and free laundry services.
However, the actual living conditions were not as good as advertised.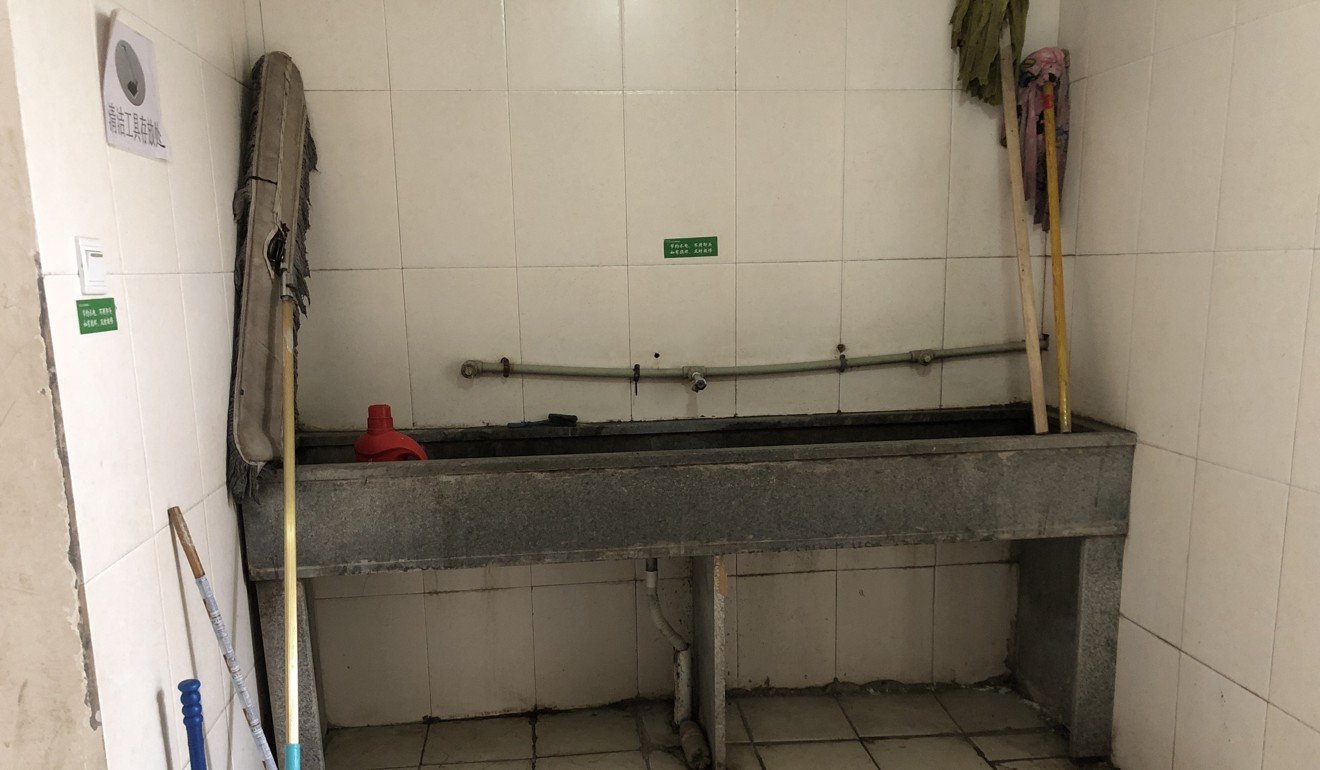 The dorm complex was like a well-equipped tiny town at first glance: supermarkets, ATMs, karaoke bars, playgrounds, internet cafes, pool rooms, skating rinks and lots of small hotels. The dorm complex has everything you can imagine in a modern community.
But Foxconn's boom times appear to be behind it, along with the fortunes of Henan province, to which Foxconn factories are the biggest contributor to exports.
After a drop in iPhone sales, Henan's mobile phone exports plunged 23.7 per cent in January compared with a year earlier, according to Zhengzhou Customs.
Foxconn is known for its high staff turnover, largely because of the low monthly salary of 2,100 yuan per month (US$313) in Zhengzhou. By comparison, the average salary in the city of Zhengzhou in 2018 was 6,929 yuan (US$1,035) per month.
But more recently, plunging overtime works has led to a mass exodus of workers.
If Foxconn employees do not work overtime, they can take home only 1,500 yuan after deductions, meaning many workers struggle to make ends meet.
I observed queues of workers, lining up to hand in their resignations and being barked at by one aggressive woman to "behave well or you will not be able to resign".
With the large numbers of workers who have left the factory since October, those that remain have been consolidated into a few dorms to save costs. Two-thirds of the dorm buildings are now empty.
I made my way through the dormitory building, hoping to remain undiscovered.
The long, dim passageway on the second floor of the building was unnerving. Some of the light bulbs were broken, others flickered out their last signs of life.
A notice near the bathroom said that free laundry service would no longer be provided after January 1, 2019.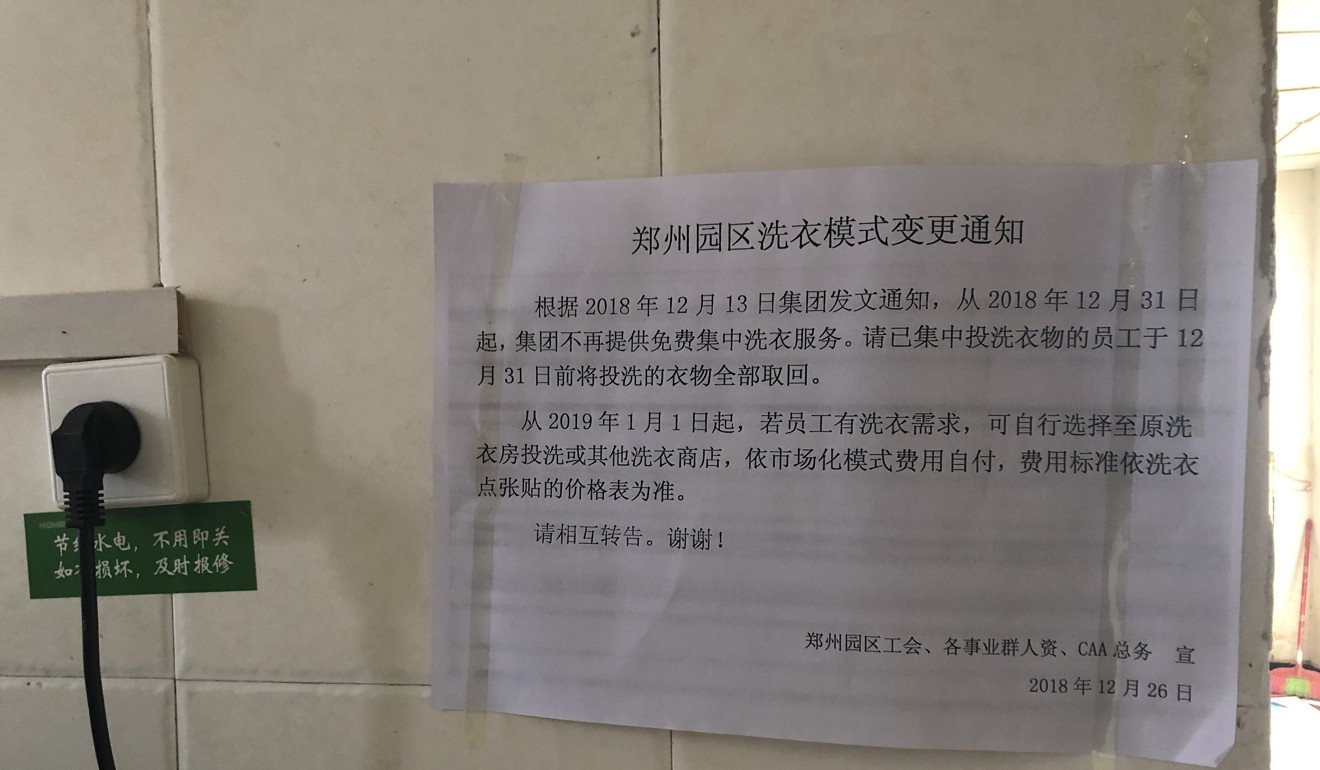 The recruiters' signs clearly needed to be updated.
Dozens of signs warned that there was "no climbing" on the balcony.
China Daily and Xinhua, both state-owned media outlets, reported that 14 Foxconn workers jumped to their deaths in 2010 in the company's Shenzhen plant.
The Wall Street Journal reported that a 31-year old worker committed suicide in 2016 in the Zhengzhou facility.
Downstairs, as workers formed up in a long line to quit their jobs, workers told me that the queue was equally long every day.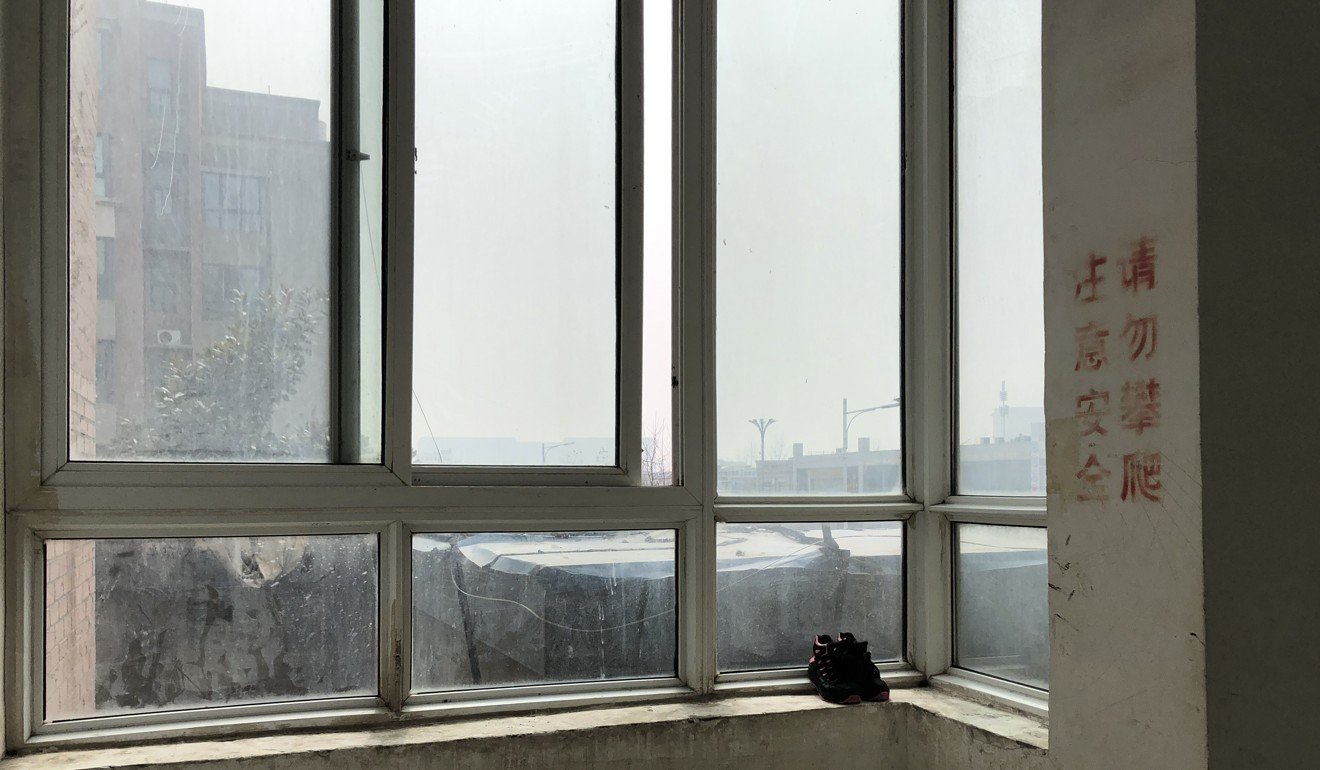 "The salary is too low, I just want to go," said one.
The high level of resignations means the job agencies are even more desperate to recruit new workers.
The agent who told me that I could get a bonus of 1,600 yuan if I worked 55 days called me two days later and asked me to start as soon as possible because "the bonus has increased to 2,200 yuan".
In previous peak seasons, the bonus could be as high as 9,000 yuan (US$1,342). During these times, Foxconn spared no efforts in finding workers.
Now though, one of the world's biggest employers has fallen on harder times – a downturn that is evident in every creaking part of the once booming part of Zhengzhou that sprang up around Foxconn's factory.
Foxconn did not respond to a request for comment on this story.