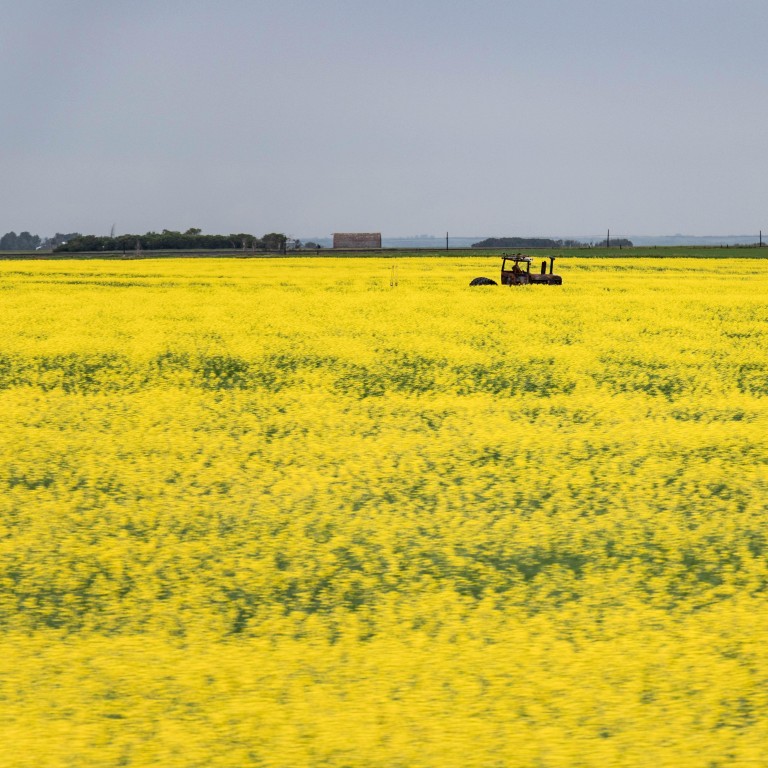 China denies block on Canadian canola firm is retaliation for Meng Wanzhou case
No scientific basis for alleged contamination of oil-seed crop, Canada says after China revokes company's permit
Canadian government 'working very, very hard' with Chinese counterparts on the issue, with 40 per cent of Canada's canola exports going to China
Beijing has said its decision to revoke an import permit for one of Canada's largest grain processors is "well-grounded", denying speculation that it was a retaliation against the arrest of Huawei executive Meng Wanzhou. 
Foreign ministry spokesman Lu Kang said at a regular press conference on Wednesday that Richardson International's canola imports were contaminated with pests or bacteria, after Canadian foreign affairs minister Chrystia Freeland said officials in Ottawa "do not believe there's any scientific basis" for the ban.
"The Chinese government's decision is well-grounded," Lu said. "Recently, Chinese customs has repeatedly found harmful organisms in Canadian imported canola, and the problem found in one company's products was particularly serious."
A document listing approved exports on the website of the Chinese customs administration on March 1 showed it had cancelled Richardson International's registration to ship canola to China.
"Just like any other country in the world, the Chinese government needs to protect the health and safety of its citizens," Lu said.
The cancellation of the permit followed non-compliance notices alleging that some imports from Canada were contaminated with pests or bacteria – claims Canada disputed.
"I am very concerned by what we've heard has happened to Richardson. We do not believe there's any scientific basis for this," Freeland said in Montreal. "We are working very, very hard with the Chinese government on this issue."
Meng, Huawei's chief financial officer and the daughter of the Chinese telecoms company's founder, could learn the date of her looming extradition hearing when the case returns to court on Wednesday. She was arrested by Canada at the request of the US, where she is wanted on fraud charges.
Beijing had warned of serious consequences if Meng is not released. China arrested two Canadians on December 10 in what was widely seen as an attempt to pressure Canada to release Meng.
On Monday
, it accused one, Michael Kovrig, of spying and the other, Michael Spavor, of supplying him with intelligence.
After Meng's arrest, a Chinese court also sentenced a Canadian to death in a sudden retrial, overturning a 15-year prison term handed down earlier.
Some Chinese experts sought to play down
the connection
between the action against Canadian canola exports and the Meng case.
"I personally think it has got to do with the quality of products," said He Weiwen, a senior fellow at the Centre for China and Globalisation. "It is still unclear whether this is related to the China-Canada diplomatic relations and we should not casually draw the linkages."
Mei Xinyu, a researcher at the commerce ministry's International Trade and Economic Cooperation Institute, said China had alternatives to Canadian canola.
"Canada needs to work harder on improving the product quality," Mei said. "There are many substitutes, and Canada's loss of permit could be good news for American soy beans or Malaysian palm oil."
China's General Administration of Customs did not respond to a request for response on Wednesday.
Canola is a vital crop for western Canada, and comes after prices had already been hit by China's retaliatory tariffs on US agricultural exports. The industry should be concerned because if China cuts back on buying it would hit prices further, said Neil Townsend, senior market analyst at FarmLink, who said there was a definite link to the Huawei case.
"There's no doubt China is mad at us," he said. "Because they're mad about the Huawei thing, they're basically saying, 'We're not going to buy any more.'"
He said he suspected Richardson was targeted since it is the largest exporter that is fully Canadian-owned.
It would not be the first time Beijing has retaliated against nations that offended it. China suspended its trade deal with Norway and restricted imports of Norwegian salmon after the Nobel Peace Prize was awarded to Chinese political prisoner Liu Xiaobo in 2010.
Britain and other countries were retaliated against over meetings with the Tibetan spiritual leader the Dalai Lama, considered a dangerous separatist by Beijing.
Canadian agriculture minister Marie-Claude Bibeau said in a statement that the government was closely monitoring the situation and any potential impact on Canada's agricultural trading relationship with China.
She said the Canadian Food Inspection Agency conducted further investigations after China issued the notices of non-compliance on canola seed imports, including nine since January, and said the agency had not identified any pests or bacteria of concern.
China is the destination for about 40 per cent of Canada's canola exports, and the revocation of Richardson's permit hurts the entire value chain of industries involved in the market, the Canola Council of Canada said.
"We are aware of challenges our exporters have faced shipping to China – these are concerning as they create instability and add costs," council spokeswoman Heidi Dancho said by email.
Dancho said that although the diplomatic frictions between China and Canada were concerning, there was no clear evidence they were related to the canola dispute.
Additional reporting by Associated Press