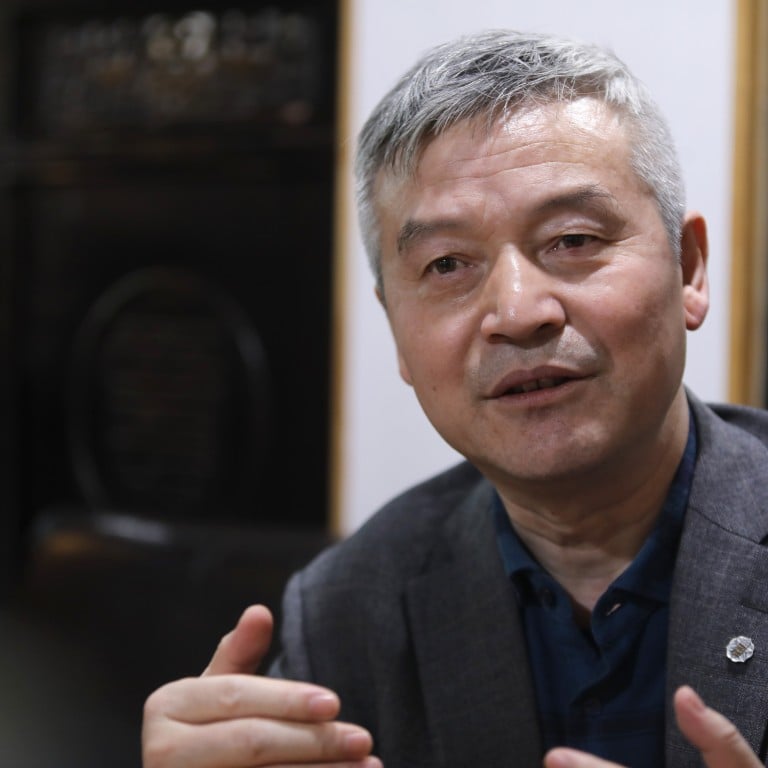 China risks 'the legitimacy of the Communist Party's regime' without changes, says law professor
Peking University law professor He Weifang calls for China to fulfil the commitments it made when it joined the World Trade Organisation in 2001
The outspoken critic of China's legal system made the comments during the ongoing trade war with the United States which has led to an economic slowdown
China risks a "downturn that will fundamentally shake the legitimacy of the Communist Party's regime" if it does not make structural reforms and fulfil the commitments it made when joining the World Trade Organisation, according to outspoken law professor He Weifang.
Central to the ongoing trade war with the United States have been issues raised by US President Donald Trump surrounding forced technology transfer, intellectual property theft and market access, all of which are areas China promised to correct when it joined the World Trade Organisation (WTO) in 2001.
China passed a new
foreign investment law
this month in a bid to level the playing field for overseas investors and reassure the global community it remains an attractive investment destination, but many other issues including reducing export subsidies, fair treatment for foreign banks and a commitment to join the WTO Government Procurement Agreement have yet to be fulfilled, according to He.
"The trade war is an opportunity for China. It is not that China has to succumb to the US, but it is time for China to fulfil its solemn commitments it made when it became a member nation of the WTO. If there is no structural reform, China cannot sustain its economic growth and the economic downturn will fundamentally shake the legitimacy of the Communist Party's regime," 59-year-old Peking University law professor He told the South China Morning Post in a rare interview.
"There is a strong correlation between current US demands in trade negotiations and the commitments that China made in 2001. Back then, Chinese legislators were excited about the then upcoming law changes, but ultimately nothing definite ended up happening."
Under the pressure of the trade war, China's economy grew by just 6.6 per cent in 2018, the slowest growth rate since 1990.
"The economy is the only tool for the Communist Party to win the people's support. However, the government has been prioritising ideological control rather than economic development, which doesn't and won't work. We need this external force [from the trade war] to get us back on track," He said.
A key sticking point in the ongoing trade negotiations is the US demand for an enforcement mechanism to ensure China lives up to its commitments this time.
US trade representative Robert Lighthizer and Treasury Secretary Steven Mnuchin will travel to Beijing next week to continue the negotiations, with Chinese Vice-Premier and chief trade negotiator Liu He then travelling to Washington in early April, Chinese officials announced on Thursday.
"The trade war is not only about tariffs, it is also about the governing structure of the country and its relationship with businesses. The invisible hand of the government is generally behind forced technology transfer and intellectual property theft, which is a big risk for foreign investment, as it is hard for a foreign company to withdraw immediately after the investment," added He, an outspoken critic of China's legal system and a prominent Chinese law professor.
Company Law in China states that companies established within China must set up a branch of the Communist Party within their business to "carry out the activities of the party", although the new foreign investment law failed to mention the "party" or demand foreign companies set up a Communist Party branch.
However, in a press conference in October 2017, Qi Yu, the then deputy head of the Organisation Department of the Communist Party, said 70 per cent of foreign firms had established a party branch, which has raised concerns among foreign enterprises about the influence such branches could have on corporate decision making.
"A board of directors is supposed to be the top management team and policymaker on company issues. A party organisation can cause terrible chaos [within in the company] which can trigger terrible consequences," said professor He.
"There are different levels of shareholders in joint ventures, but the party organisation having a role among them is ludicrous. This is also a crucial structural problem."
In February, Qiushi, the Communist Party's main theoretical journal, published a speech made by President Xi Jinping in August, in which he said that China "must never follow the path of Western constitutionalism, separation of powers, or judicial independence."
This stance is at odds with China's WTO commitments and is "why we need judicial independence," said professor He.
Last year, China also launched a nationwide crackdown on workers trying to form labour unions.
Human Rights Watch reported that more than 30 labour activists, factory workers, college students and trade union officials had been detained as of mid-2018 after campaigning for workers rights' in the southern Chinese city Shenzhen.
"In developed western economies, companies must protect labour rights. China used to compete due to its advantage of inexpensive labour, which resulted from inadequate protection of labour rights. WTO requires that all member countries allow independent labour unions, but China has never fulfilled its commitment on this," professor He added.