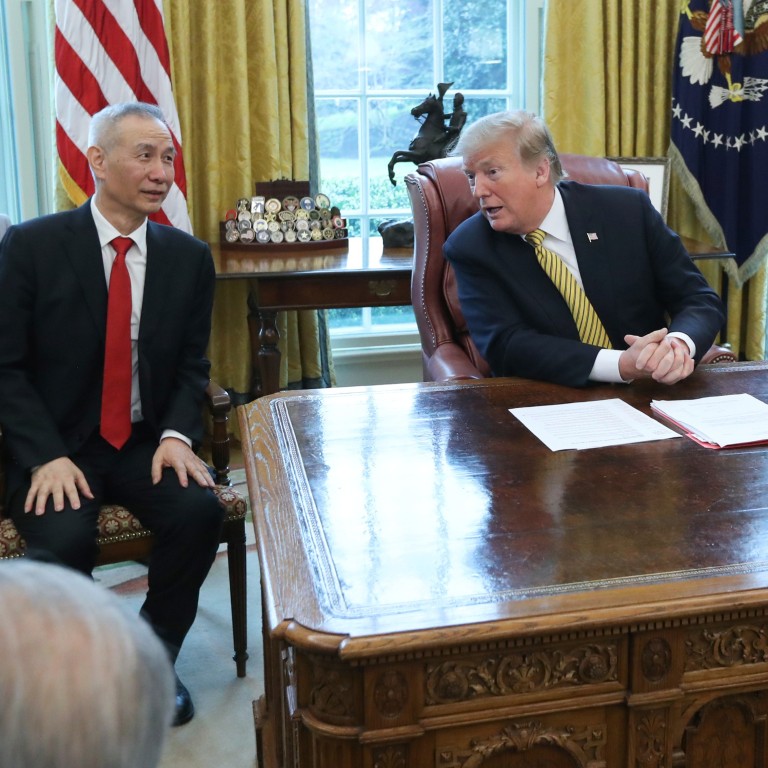 US-China trade war 'still within control', Beijing says, as trade gap widens due to soaring Chinese exports
March data shows exports soared while imports crashed, with analysts suggesting the government is subsidising exports to counter the effect of US tariffs
Exports grew by 14.2 per cent in March, a big jump from the 20.8 per cent fall in January and February, while exports contracted by 7.6 per cent
The US-China trade war is "still within control", said a Chinese government spokesman, as the country's trade surplus widened significantly in March.
Exports soared while imports crashed, new data released on Friday showed, with analysts pointing to the seasonal distortions of the Lunar New Year holiday, as well as possible Chinese government intervention in the economy.
"The China-US trade frictions have caused certain impacts to the operations of Chinese companies, but we think the overall impacts are still within control," said Li Kuiwen, a spokesman for China's General Administration of Customs.
He described trade relations between the world's two biggest economies as a "ballast stone" of support. "We believe the trade relations between China and the US will surely achieve better mutual benefit and win-win results because of the joint efforts of the two countries," Li said.
Exports grew by 14.2 per cent in March, a big jump from the 20.8 per cent fall
in January and February
, the data for which was combined due to the Lunar New Year holiday in February. This beat analysts' expectations, with a poll of economists conducted by Bloomberg forecasting growth of 6.5 per cent.
Alicia Garcia-Herrero, chief economist for Asia-Pacific at Natixis, said that this figure suggested Beijing is using export subsidies to counter the effect of tariffs on Chinese companies. "It shows that the government is trying very hard to export," she said.
The US-China trade war has seen around US$400 billion of goods from both China and the US subjected to excess duties ranging from 10 per cent to 25 per cent. It is thought that a deal to end the trade war is within reach, but analysts have moved to cool expectations that this would give a major boost to China's exports.
"Exports have yet to fully recover from a sharp slowdown late last year. And while a US-China trade deal looks increasingly within reach, the reversal of US tariffs would only provide a small boost to exports of around 1 to 2 per cent. With global growth set to remain weak in the coming quarters a strong rebound in exports therefore looks unlikely," said Julian Evans-Pritchard, China economist at Capital Economics.
Imports also surprised, this time on the negative front. They contracted by 7.6 per cent, a much greater dip than predicted by the Bloomberg poll, where analysts had forecast a 0.1 per cent growth. This is despite the fact that rising oil prices should have added to the value of China's imports, given that it buys most of its energy overseas.
The poor import figure raises concerns about consumer demand in China, with the stimulus measures taken by the Chinese government yet to filter into the real economy. It is also a sign of systemic weakness in the economy, given that a large part of the drop was due to lower imports of components used in manufacturing.
"The economy was quite weak, so the data is not very shocking. We saw China's imports of automotive components for example come down aggressively. That shows deceleration," Garcia-Herrero added.
The cumulative effect is that China's trade surplus is on the rise. In March, the surplus grew to US$32.64 billion, up from US$4.08 billion. In news that will no doubt cause consternation in the White House, US$20.5 billion of that surplus was against the United States, according to Chinese customs data.
US President Donald Trump has repeatedly railed against the US' trade deficit with China. China has, for decades, sold more goods to the US than it bought, leading Trump to declare on the presidential campaign trail in 2016: "We can't continue to allow China to rape our country, and that's what they're doing."
This article appeared in the South China Morning Post print edition as: Trade war 'still within control', as exports rise