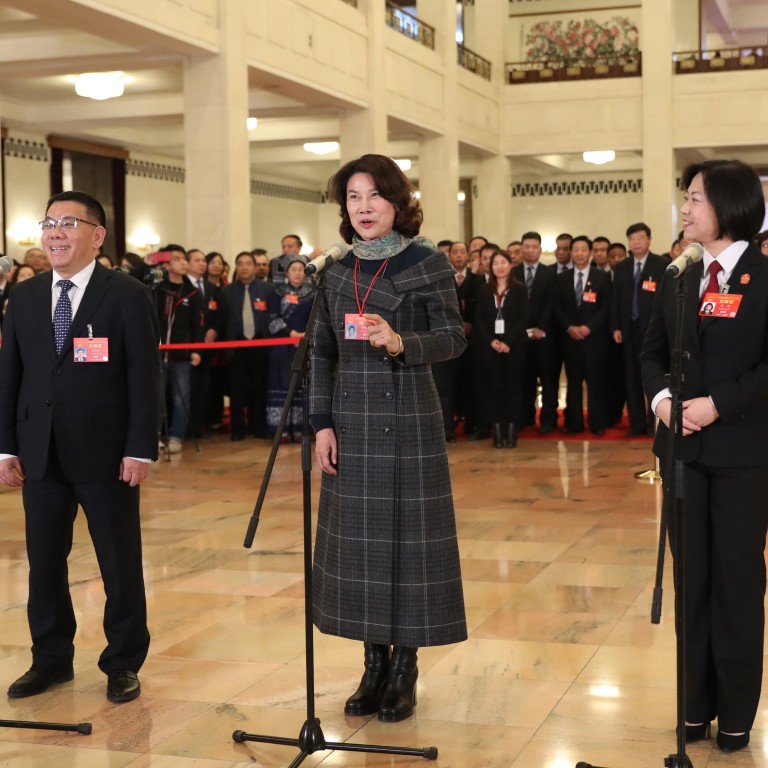 Gree Electric and China's home appliance queen Dong Mingzhu seeking to lead way on SOE reform
Beijing is seeking private entrepreneurs to invest in state-owned companies to help improve their efficiency, while also reassuring the private sector of its value
Gree has became the backbone of China's economy along with other national brands including Huawei and Geely
Appliance queen Dong Mingzhu may soon become the standard bearer for China's effort to its reform state-owned businesses.
Outspoken chairwoman Dong is widely known to the Chinese public because she appears in many of the adverts for Gree Electric, the listed, state-owned company that is the world's largest manufacturer of residential air conditioners.
Dong is now at the forefront of a highly anticipated deal that will shift the ownership, and the actual control of the company, that she had helped to develop from a little known factory owned by a local Chinese government into a US$300 billion white goods giant through three decades of fight in China's rapidly growing but fiercely competitive home appliance market. The deal, in essence, involves the privatisation of Gree Electric.
If it takes place, it will be a high-profile endorsement of the government's new "public-private partnership" programme that looks for private entrepreneurs to invest in state-owned companies to help improve their efficiency. The programme is also an attempt to reassure the private sector that the government still values them and wants their help to improve the economy.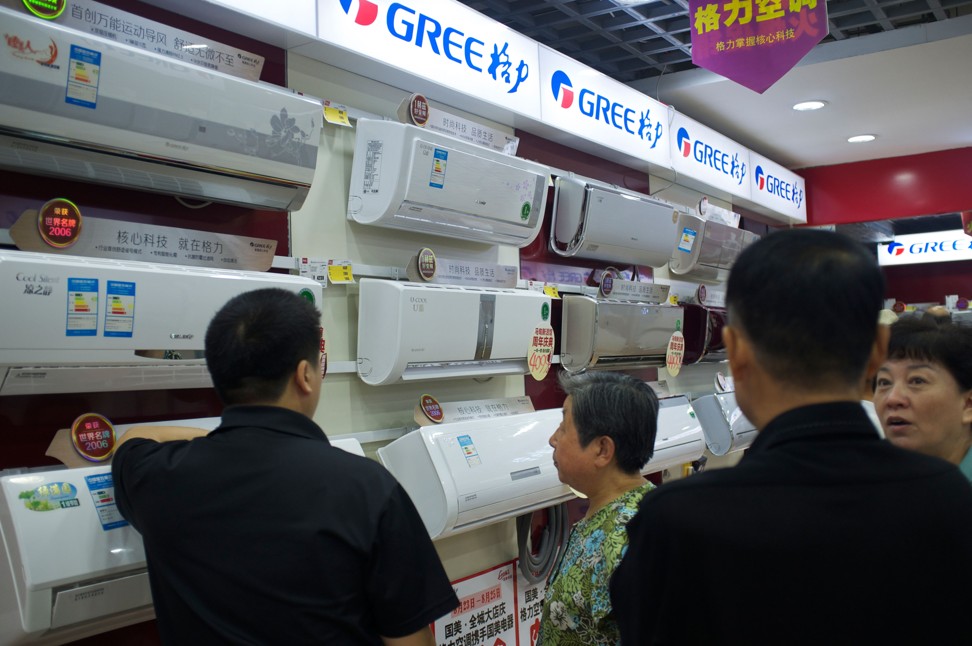 The deal is still evolving with many details undecided, but Dong, who has clear support from Beijing as a representative of a group refereed to as "example entrepreneurs", is keen to finalise the agreement.
"Dong has been a woman in the headlines, and Gree Electric has been successful under her leadership," said Lin Jiang, a professor of economics Sun Yat-sen University in Guangzhou. Lin added that a privatisation deal for Gree, which would hand Dong both management and ownership control of the company, will be a positive move for the company, the shareholders as well as Dong.
With the blessing of Xi Jinping
In China, it is often difficult and complicated to change the ownership of a profitable state-owned enterprise into private hands. Wang Shi had similarly helped to develop the state-owned Vanke into the country's largest property developer, but after reaching the retirement age, the former government official and People's Liberation Army veteran stepped down after a long struggle for boardroom control which eventually led to the Shenzhen government taking the reins.
In October 2018, during a tour of Guangdong province to underline China's commitment to reform and opening up, Xi visited Gree. He toured the exhibition hall, modelling room and a laboratory, with Dong accompanying him every step of the way. It was during the visit that Xi stressed that China must have its own powerful manufacturing industry, relying on innovation and the control of its core technologies.
Gree Electric has became the backbone of China's economy along with other national brands including Huawei and Geely, with Dong now the face of the company having began as a sales manager 29 years ago and the face of China's push to support the "real economy" of machinery and manufacturing as opposed to the virtual economy of finance and financial markets.
Powerful woman
At the age of 65 – 10 years beyond the official retirement age for women in China – Dong remains relentlessly aggressive. She is already one of the most recognised faces in China's male-dominated business world due to her extensive media exposure and online celebrity status.
She is not afraid of being involved in controversy, having openly criticised China's car industry and also bet publicly against Xiaomi's founder Lei Jun. In 2013, Lei said that Xiaomi 's sales would exceed Gree Electric's in five years, backing up his claim with a wager of 1 yuan (US$0.14). Dong accepted the challenge but escalated the bet to 1 billion yuan (US$149 million). Five years later, Dong won the bet, although in March at the Boao Forum for Asia she confirmed that she has not asked Lei to settle the bet.
She has refused to cede any of her corporate authority having fought a series of high-profile boardroom battles and defeating one of the country's most formidable hostile takeover bids in November 2016 from Baoneng Group chairman Yao Zhenhua using funds raised from his insurance firm. Dong resisted and rallied support from shareholders and policymakers.
But while Dong has made herself into the household image of Gree Electric, she is a manager hired by the state who only owns 0.74 per cent of the company. Gree Electric's biggest shareholder is Gree Group, a state-owned firm which is owned by Zhuhai State-owned Assets Supervision and Administration Commission, the state-owned asset watchdog.
A drama over Gree Electric's future, however, started this month when the Zhuhai government agency, which holds a 18.22 per cent stake as of the end of September last year, said it would sell 15 per cent stake to give up its major shareholder position. According to the stock market price on the day of the announcement, that stake would be worth at least 41.2 billion yuan (US$6.14 billion).
Gree Electric's stock price surged after the announcement, rising around 30 per cent to a historic peak amid wild speculation over a potential buyer. The announcement also increased hope that Dong could finally take control of the company with which she is so integrally associated.
"If Dong and her management team are interested in taking over, they are the best buyers from the perspective of the sustainable operation and development of Gree Electric," said Zhou Fangsheng, a vice-chairman of the China Enterprise Reform and Development Society think tank.
State sector reform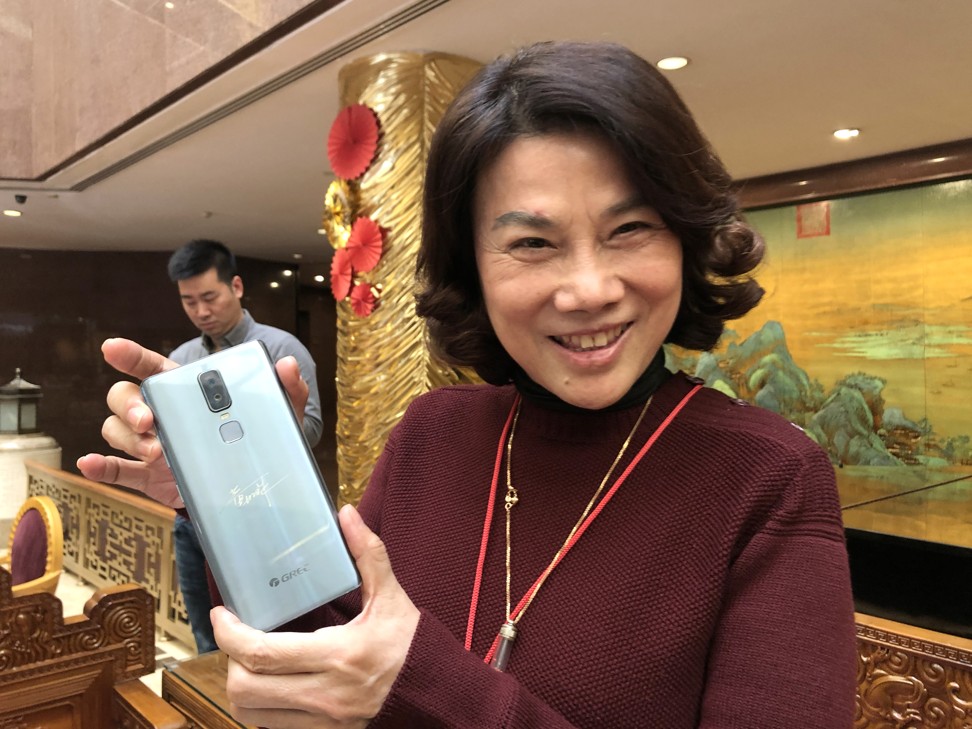 Zhou believes that the Zhuhai government is making the right move to put most of its stake in Gree Electric up for sale as it fits China's "mixed ownership reform", referring to a policy that seeks to encourage private firms to buy stakes in state-owned enterprises to improve state sector efficiency.
Many eyes are on the deal as it not only matters to Gree Electric investors, but is also a test case of Beijing's attitude toward the roles of state and private corporate ownership. If Dong is successful, the transfer of a state-owned enterprise to a capable entrepreneur will be seen as a milestone case in China's corporate reform effort, signalling that Beijing is sincere in encouraging private entrepreneurs.
The timing of any such transfer of power could be auspicious for Beijing, which is trying hard to show the world that it is friendly to private-sector investors, both foreign and domestic, despite the government's long-standing practice of favouring state firms, especially in sensitive industries.
Dong has publicly stated that she believes in markets and competition. At this year's Boao Forum for Asia, Dong said she was not concerned about the question whether Gree is identified as a state-owned or a privately-owned enterprise, but insisted that the government had to create a fair environment for all types of enterprises.
"The keys to success are the internal corporate culture and the external legal system," she said. "If a company doesn't do well, it means its structure and internal management are wrong."
New ownership
According to the ownership structure of Gree Electric, its second biggest shareholder is Hebei Jinghai Guarantees and Investment Corp, which held a 8.98 per cent equity stake at the end of September. It is owned by local Gree Electric sales dealers and has a very close relationship with Dong, who has managed the sales network over the last several decades, putting her in an ideal position ahead of any potential changes to the ownership.
There has been no official announcement about who will buy the 15 per cent equity stake being offloaded by the Zhuhai government.
A potential buyer is Hopu, one of the country's most mysterious private equity funds, according to reports by the Caijing and Caixin news services. However, Hopu is likely to just be the broker in the deal for unknown third parties. As a private equity investment firm, Hopu has no legal obligation to reveal the source of its funds. In fact, Hopu is known for going to great lengths to protect the identities of its limited partners.
The
China Securities Journal
, a newspaper affiliated with the official Xinhua news agency, cited an unidentified official within the Zhuhai government as having said that another potential buyer is Foxconn, the industrial supply chain firm controlled by
Taiwanese tycoon Terry Gou,
who announced this week that he will run in Taiwan presidential election.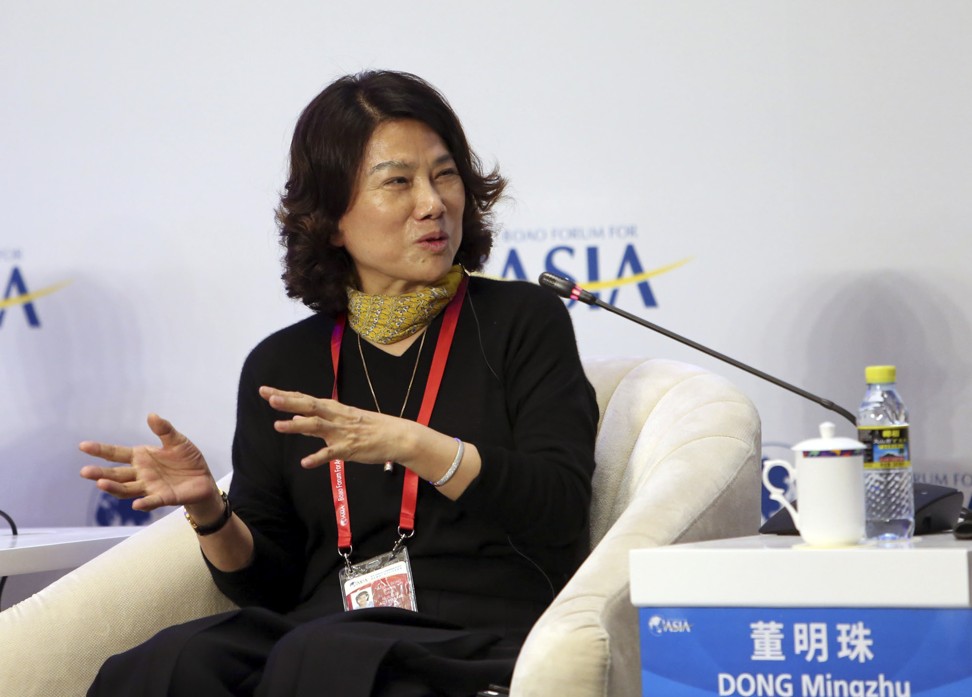 Gree Electric declined to comment on the reports, while a Foxconn statement said they did not comment on market rumours.
Whoever the buyer will be, Dong has demonstrated a long-term dedication to her company. She said on the sidelines of the National People's Congress in March that she is sticking to her target of tripling her white goods empire's annual revenue in the next few years.
"Our revenue target is 600 billion [yuan] (US$89.5 billion) in the future, which will depend on our quality and our technology upgrades. My personal goal is in line with the company's goal," said Dong, who is a National People's Congress delegate.
At the same time, in addition to securing the finances for any stock purchases, Dong's efforts to obtain control of Gree Electric will also come with risks, according to Deng Feng, a professor at Peking University who specialises in corporate governance.
"If Dong takes over, she would probably be under heavy pressure in the future. For her, failure will not be tolerated. If she makes a mistake, she will be labelled as the villain that ruined an otherwise good state-owned business," said Deng.
Additional reporting by Zhou Xin
This article appeared in the South China Morning Post print edition as: Gree chairwoman back in spotlight over stake saleGree chairwoman in spotlight over stake sale