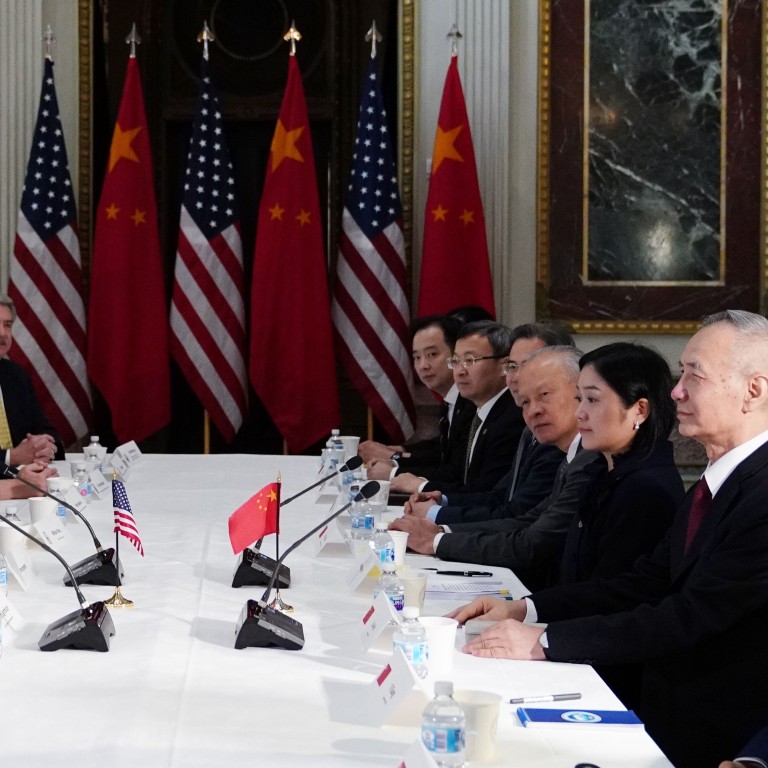 Ahead of US-China trade talks, veteran negotiators warn that deals can often get lost in translation
Former trade negotiators from Office of the US Trade Representative discuss 'making up words' to get a deal over the line and 'haggling over individual words'
Negotiators from the United States and China are believed to be closing in on a deal to bring an end to the US-China trade war
As negotiators from the United States and China grow closer to clinching a deal to end the trade war, both sides will be wary of the complications that can arise from issues of language, interpretation and translation during negotiations.
While both sides are negotiating in their native tongues with the help of simultaneous translation, the subsequent text will be translated into both English and Chinese. These translations will then be "scrubbed" by lawyers and technical translators in an effort to reach a final text that both sides are happy with.
But history shows that this is rarely straightforward as ambiguity is hard to avoid in international trade deals, while experienced negotiators have said that trying to iron out arguments over words, phrases or even grammar can be "worse than pulling teeth".
With relation to the enforcement of an agreement, the US is keen to avoid any uncertainty as it wishes to be able to unilaterally determine if China has breached the terms of the deal and decide on the punishment.
"The US is pushing hard under a political imperative that keeps changing. [US trade representative Robert] Lighthizer is rightly focused on an enforceable agreement. But it's very hard to enforce anything under the Chinese because their system is both complicated and relatively opaque, and there aren't that many Mandarin speakers around that have the requisite technical trade and legal skills," said Elena Bryan, who spent 17 years negotiating trade deals for the Office of the US Trade Representative (USTR), and who now runs consultancy Pilot Rock Global Strategies.
In an indication of some of the challenges that have been faced, on March 28, Taoran Notes, a social media account used by the Chinese trade delegation, published a note saying that the two negotiation teams were checking the final text "line by line and word by word".
The account said that the two sides had debated the suitability of a single word for two hours during agriculture talks via video conferencing. After failing to reach an agreement, they had to put it aside and move onto other topics. This is a common scenario in trade talks, which veterans say can be "frustrating and long".
"Haggling over individual words was 90 per cent of the game. How much of that was a language and translation issue and how much of that was just the actual negotiation over the substance is hard to say," said Bruce Hirsh, assistant USTR for Japan and South Korea under former US president Barack Obama.
In some cases, different languages simply do not correspond well enough to translate. Some phrases, concepts and terms that are accepted in one language, do not exist in others.
Mary Ryckman, who spent 30 years with USTR negotiating a host of trade agreements, recalled negotiating a bilateral trade deal between the US and Mongolia, with interpreters helping translate between English, Mongolian and Russian.
"They had words in English and they knew what the word meant in Russian, but they did not have the equivalent word in Mongolian. So we worked with a Mongolian-English-Russian interpreter in the Mongolian embassy and we were essentially making up words – it was fascinating," said Ryckman, who now works as a global markets adviser for Saratoga County in New York.
Negotiators will be mindful of the problems caused by China's interpretation of its terms of acceding to the World Trade Organisation (WTO) in 2001. Beijing maintains that it has honoured its obligations, by its interpretation, while the US and the European Union disagree. One article of the accession agreement stipulated that China would be treated as a market economy 15 years after it joined the WTO.
The Chinese government had taken for granted that this "sun-setting clause", also known as Article 15, would automatically kick in, and lobbied WTO members to "acknowledge" China's market economy status, even before the deadline. This interpretation was, however, disputed by the EU and US, and China has still not been granted such status.
"From the Chinese text of the clause, it is clear that China will receive market economy treatment in anti-dumping probes [15 years after it joined the WTO]," said Tu Xinquan, a professor at the China Institute for WTO Studies in the University of International Business and Economics in Beijing. "But there are different interpretations from Europe and the US. Maybe something is lost in translation."
Semantic misunderstandings between China and its trading partners are not new. When leading a Canadian trade delegation to Beijing in 1988 to discuss China's accession to the General Agreement on Tariffs and Trade (GATT), a precursor to the WTO, Michael Woods, now an international trade lawyer at LaFortune LLC in Ottawa, recalled raising the prickly issue of state-owned enterprises, which were technically against the rules of the GATT's Article 17.
"The vice-minister told us that this would not be a problem. We thought this was fantastic, we don't have to do any negotiating. He then said: 'We won't have to do anything for Article 17, as we don't have any state-owned companies – they are all owned by the people'. You can see why these talks took 15 years," said Woods, who made clear that he thought it was a cultural difference, rather than any attempt to bend the rules on the part of the Chinese.
Cultural differences are also not exclusive to dealings with China. The US is known to prefer precise and clear language in their agreements, with negotiators instructed not to use words such as "may" or "should" in their text, instead insisting on more decisive language.
"The issue of commas and where they're placed, and whether you use the words 'and' or 'or' were always big sticking issues," said Nicole Bivens Collinson, a textiles negotiator for the USTR in the 1990s.
"The other big thing was 'may' and 'shall'. In some languages, those words are the same – or maybe they would just tell us that. What we thought was 'shall', they translated into 'may' and we were told we can't use the word 'may'," she recalled.
The Japanese, on the other hand, prefer more "conceptual" text. "They don't want the exactitude that we're often looking for. So that's where you can kind of get into problems with some of the translations," said Jean Heilman Grier, who between the USTR and US Department of Commerce, spent 25 years negotiating and advising on trade agreements for the US government.
"The Chinese, overall, are much more straightforward in their negotiating approach than the Japanese," added Grier, now running law firm Djaghe's trade practice. "The Japanese, and this is a cultural issue, never want to say 'no', but they will say 'no' in a thousand ways, without saying the word "no". But the Chinese will just say 'no', if it's 'no'."
Bivens Collinson, now an international trade lawyer with Sandler, Travis & Rosenberg, recalled one heated, 22-hour negotiation in a US embassy, when she "just couldn't say 'no' any more ways than I already had".
"My counterpart stood up and slammed his hands down on the desk at which point I stood up. The marine on duty was in the doorway, with his gun, said: 'Is everything OK ma'am?' Everybody sat down very quickly!"
Ambiguity in trade deals, which can sometimes cause confusion further down the line, is often intentional. Deals which are open to interpretation can be easier to sell domestically. Sometimes, this is the only way deals can get completed, since it is unlikely that two nations can ever agree completely on every single term.
"You have the 'art of the being vague' and you agree to be vague because you want to come to an agreement. This is one of the issues that's holding up the current US-China talks, around enforcing the agreement," said Ryckman.
Andrew Shoyer led the US legal team that scrubbed the text of the North American Free Trade Agreement in the 1990s, which had been translated into English, French and Spanish. He recalled sitting in the Watergate Hotel in Washington during negotiations and the chief negotiators on intellectual property from Canada and the US finished an intense bout of talks.
"They had been negotiating bitterly over a particular provision. The US negotiators sat with us and said, in a very audible whisper: 'This is great because the Canadians don't know that I pulled the wool over their eyes and we've got a tremendous commitment from them, but they really don't realise it'," remembered Shoyer, who now co-leads law firm Sidley Austin's global arbitration, trade and advocacy group.
After the US side walked away, the Canadian negotiating team came and sat at the other end of the table.
"The Canadian chief negotiator said in a loud whisper that I could hear: 'This is great because we got an amazing commitment from the US but they don't know what we got.'
"I was fascinated that they were both looking at the same three words and interpreting them differently. This is often absolutely necessary to get beyond the negotiating table. You had to have this sort of creative ambiguity where both sides can claim victory."
Additional reporting by Zhou Xin
This article appeared in the South China Morning Post print edition as: Language barrier an extra hurdle for Sino-U.S. talks