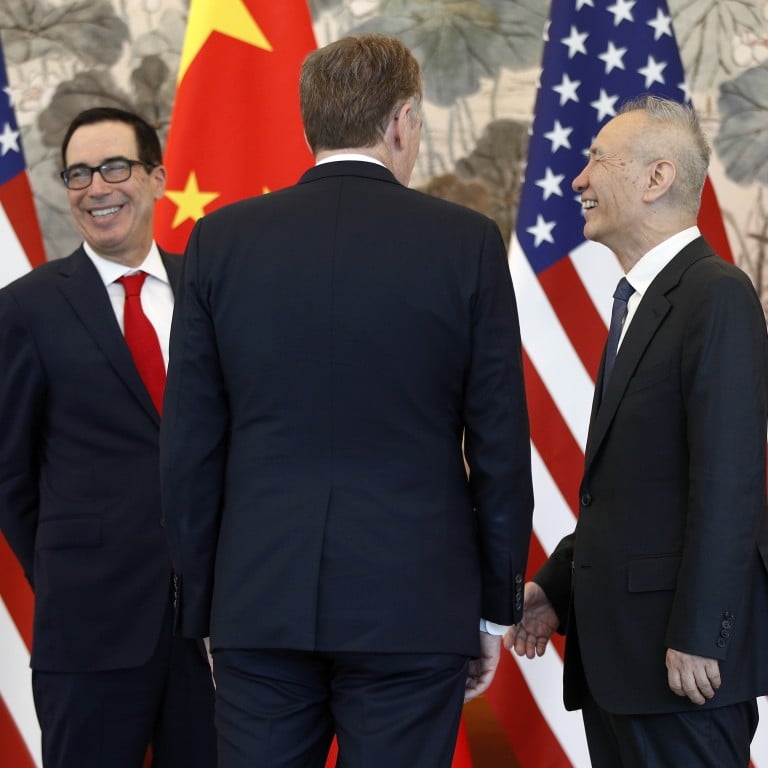 China tempers US hints that Beijing and Washington are preparing for the 'last round' of trade talks
Chinese Vice-Premier Liu He will head to Washington next week for the 11th round of talks to end the trade war that has hit the global economy for almost a year
White House spokeswoman Sarah Sanders suggests meeting between US President Donald Trump and Chinese counterpart Xi Jinping is closer than ever
Messages from the US camp that next week's talks in Washington with China could be the last round of negotiations in the months-long trade war have been tempered by Beijing's negotiators, who suggest the tactic to "generate pressure" should not be taken "seriously".
White House spokeswoman Sarah Sanders said on Thursday that US President Donald Trump and Chinese counterpart Xi Jinping will decide after the negotiations between delegates next week whether to meet to finish the trade deal, implying the upcoming talks could be the last before a possible summit between the two leaders.
"Certainly I think that at the end of the day you're gonna have to see the two leaders sit down and finalise some of the details of any major trade deal like this," she said.
But after US Treasury Secretary Steven Mnuchin said on Monday before the US delegation headed to Beijing for a 10th round of talks this week that the US side expected to "either recommend to the president we have a deal or make a recommendation that we don't" following next week's talks, reaction from the Chinese side did not echo the seemingly fixed deadline for a conclusion.
Taoran Notes, a social media account used by Beijing to release trade talk information and to manage domestic expectations, said the hints from the US side that next week's 11th round of talks are a deadline is merely a trick "to increase tensions and generate pressure on the other side".
"It's the same tactic as the US threatening to raise tariffs. It is merely smoke and mirrors to exert extreme pressure [on China]," the post said. "You don't have to take it seriously."
It warned that there is still a possibility that the two sides will end up in "an unhappy departure" if one side wants the other to make compromises and neglects "fairness in negotiation".
Exact details of the talks are shrouded in secrecy, although Beijing and Washington have hailed "progress" after every round over the last five months, with Mnuchin calling this week's negotiations in Beijing "productive".
Shi Yinhong, an international relations professor at Renmin University in Beijing, said both China and the US want to reach a deal but he believes the US asked too much from China at the beginning.
If the US had demanded that China totally abolish subsidies and end preferential treatment for the country's state-owned enterprises, for instance, it would have been unrealistic for Beijing to agree to the request, since state firms stand at the centre of China's political economic system, Shi said.
"It's impossible for China to dramatically change its political system within a short period," he said. He added that the US has shown signs of understanding on this point.
China is asking the US to lift all punitive tariffs on Chinese products launched since the trade war began in July, but the US has indicated it is unwilling to do so, with media even reporting that Trump wants to maintain some tariffs until after the 2020 presidential election.
This is "the biggest uncertainty" for a deal as it is uncertain whether China will accept this, Shi added. "It is hard for China to accept [that the US will maintain some tariffs], at least at this moment," he said.
There were reports the US was willing to compromise on the issues of cybertheft and state subsidies. The Financial Times reported on Thursday, citing unidentified sources, that Trump, eager to secure a final deal, had dropped a central demand that China formally pledge to halt alleged state-sponsored cybertheft for commercial purposes and would accept more modest assurances.
Myron Brilliant, head of international affairs at the US Chamber of Commerce, said on Thursday that a trade deal with China may fall short of addressing the issue of China's state subsidies.
"We're likely to get language that touches on transparency, but we're not likely to get the commitment that we want from the Chinese in terms of they're really cutting back and eliminating subsidy practises, not just in the steel and aluminium sectors but in a range of sectors," he said.
Yu Wanli, a senior fellow at the Charhar Institute, a Chinese think tank, predicted there would be a trade deal, although the agreement might be "weaker" than many expect.
"At this stage, to reach a deal is more important than the items in the deal," Yu said. "Trump needs a deal to help his 2020 re-election and Xi needs a deal to stabilise the Chinese economy."
The Chinese side has shown a willingness to entertain some of the US demands, and at the Belt and Road Forum last week in Beijing, Xi said China would open its domestic markets wider to foreign investors, buy more foreign products, prohibit forced technology transfers and honour its promises in international agreements.
Xi did not mention the US or the trade war specifically, but his comments did directly address specific US complaints and demands.
A source familiar with the matter told the
South China Morning Post
last week
that Xi is open
to the idea of travelling to the US immediately – as early as June – after the two sides reach the outline of a deal.
Trump said last week that Xi will be visiting the White House "soon", although he did not offer a specific date.
Since Trump levied the first punitive tariffs on Chinese products in July, and China, in a tit-for-tat manner, imposed additional duties on US items, the tariff battle has put added strains on the increasingly hostile bilateral relationship while also affecting investor confidence globally.
The tensions eased after Trump and Xi agreed in Buenos Aires in December to solve their trade dispute through negotiations.
Negotiators have since engaged in intense talks, shuttling between Washington and Beijing, and an initial deadline of March 1 was extended, with the US side postponing indefinitely a planned increase of tariffs on US$200 billion worth of Chinese products from 10 per cent to 25 per cent.
This article appeared in the South China Morning Post print edition as: Beijing tempers US hints that talks next week are last round