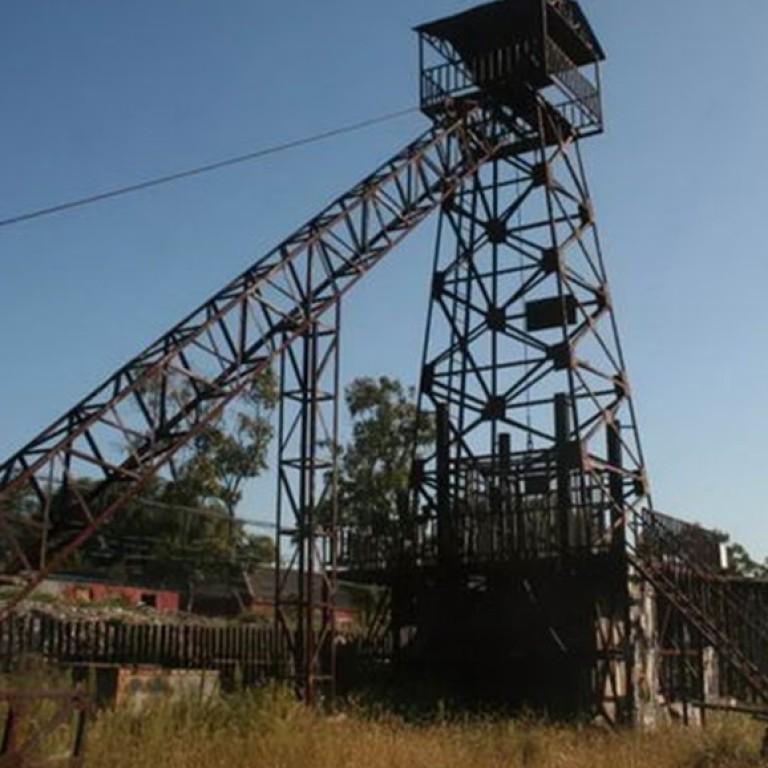 China's rust belt cities shrouded in uncertainty as exhausted natural resources shake China's foundations
With economically extractable coal exhausted and a lack of technology and capital to safely mine deeper underground, mines are shutting down one by one
Bureaucratic, state-run mentality that goes back to Japanese dominance early last century hindering efforts to revitalise China's earliest industrial success
The northeast rust belt, once the pride and birthplace of China's industrial development, is in its biggest economic slump as it struggles to shake off a deep-rooted planned economic mindset and dwindling resources, and a brain drain to regain competitiveness. This is the second article of a five-part series that examines the issues inhibiting reform and changes to revive growth.
The tiny shroud shop on a dusty commercial street leading to the abandoned Shengli Coal Mine in Fushun in China's northeastern rust belt is a cold reminder that death and the city's decline are never far away as the mining industry collapses.
For more than a century, coal was the centre of life for Fushun residents, with the mineral helping the backwater city near Shenyang, Liaoning's provincial capital, to rise to become a booming mining town.
But decades of exploitation have taken a toll. With economically extractable coal exhausted and a lack of technology and capital to safely mine deeper underground, mines are shutting down one by one. Along with their closure, a general neglect and the eventual abandonment of the neighbourhoods surrounding the mines has followed.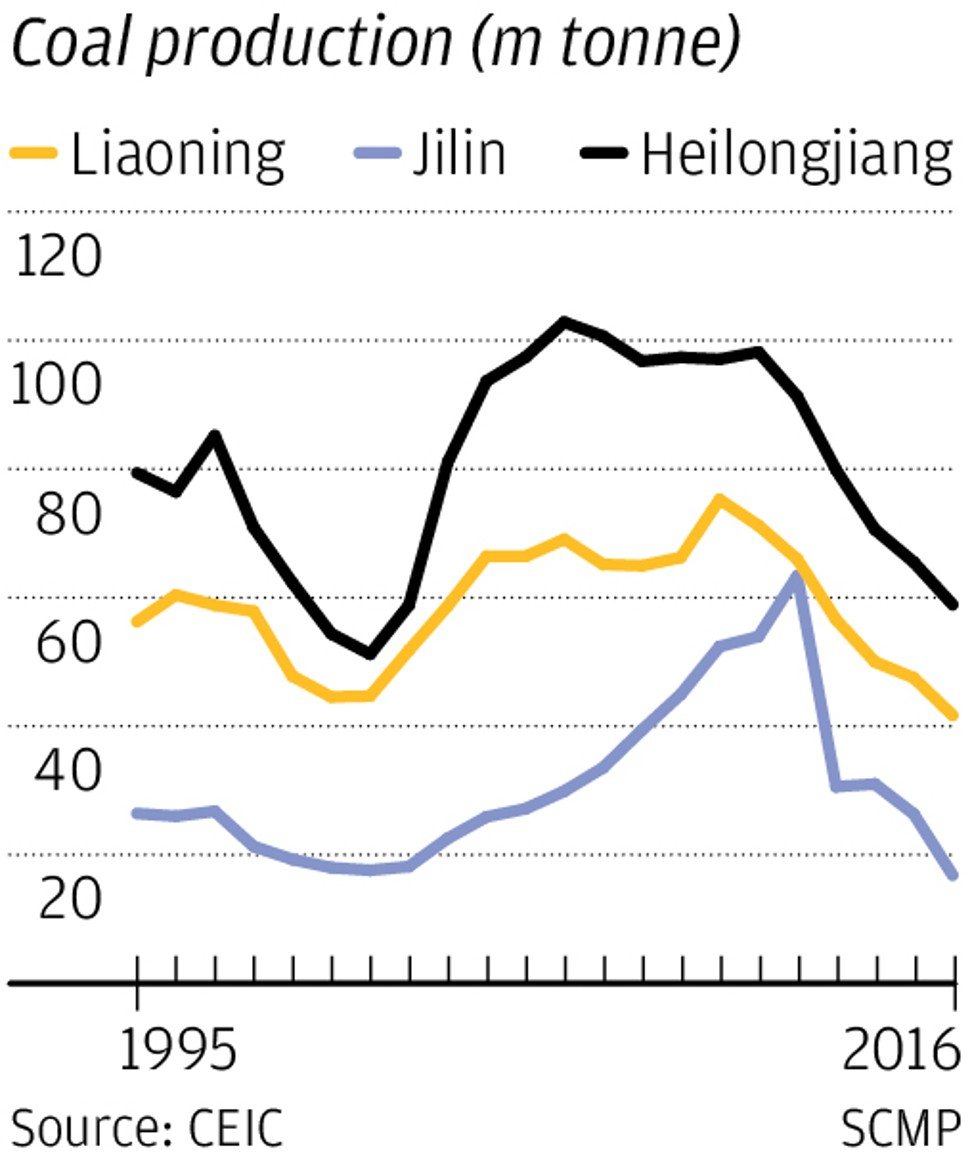 Fushun's coal production gradually fell to 5.29 million tonnes last year, a fraction of what was produced in the heyday of the 1960s and 1970s. The city's industrial output also shrank by more than a third between 2010 and 2018, according to official data.
Of that, the value of the output from its heavy industries plunged more than 60 per cent to 15.26 billion yuan (US$2.3 billion) between 2010 and 2016, with the city no longer even providing statistics for the last two years. The urban population fell in tandem as inhabitants left for other cities in search of better livelihoods.
"I went to Tieling [city] to be a miner after middle school in 1981, because [Shengli] mine was dying. I remember Shengli employed more than 10,000 people during the good times," said a retired miner who only gave his surname Li, who now manages a small vegetable garden on the site of the abandoned mine.
"Since there was no job here, my father took me to Tieling [about 66km north of Fushun], and I worked there as a miner until 2017."
A similarly grim picture is also seen in another resource-based Liaoning city, Fuxin, with the urban population falling by 2.7 per cent in the eight years up to 2017, while the value of its heavy industry has dropped nearly 67 per cent to 5.08 billion yuan (US$754 million) in 2017.
The fate of Fushun and Fuxin is representative of many more declining resource-based cities in China's northeast – made up of three provinces, Liaoning, Jilin and Heilongjiang. The region is China's earliest industrial success, but it is also one of its biggest problems today as a deep-rooted state planning mindset, dating back to the 40-year period of Japanese dominance after the end of the Russo-Japanese war in 1905, continues to obstruct change.
"The industrial structure is changing and resources are being depleted, the region is in a structural decline. It is heavily dependent on state support and vested interests have blocked the necessary focus on implementing cuts in overcapacity and fuelling new growth engines," said Allan von Mehren, chief China economist at Danske Bank.
Apart from holding the biggest state-owned enterprises, many of which are inefficient and in mining and heavy industries, the region boasts a rich concentration of basic materials including coal, oil and iron ore, which are the raw materials for producing steel and energy that drove the country's industrial growth, as well as fertile black soil that underpinned agricultural production.
More than half of the 85 cities in the three provinces have seen their populations shrink, and businesses, academics and analysts are warning that the outflow of people is exacerbating the region's problems, compounded by low birth rates and an ageing population.
Liang Qidong, vice-president of the Liaoning Academy of Social Sciences, points out that the exhaustion of resources is a characteristic of any ageing industrial base, and the northeast is no exception. He added that because it has the biggest concentration of resource-centred cities in China, the northeast is also burdened with a third of China's towns and cities with exhausted resources.
Long-standing bureaucratic inefficiency and corruption, coupled with political meddling, have been more destructive than constructive in efforts to revitalise these cities.
Resource-based cities developed in the early 20th century on the back of a single or a few core industries. Surrounding neighbourhoods with necessary facilities were built, then expanded into districts, towns and cities. But the development course deprived these cities of proper urban and economic development planning that is critical to ensure sustainable consumption and commercial growth.
With production output focused on churning out raw materials and low value-added materials for industries, with little attention paid to producing competitive high-value added products, many of the northeast state-owned enterprises (SOEs) have become increasingly uncompetitive despite their long histories. These firms' singular focus has resulted in failure to upgrade skills and nurture human capital over the years, causing an outflow of talent from the region.
The consequences became more pronounced when the global commodities boom ended earlier this decade, pushing down prices and SOEs' profitability.
State-owned Anshan Steel Group, first established in 1916 during the Japanese dominance of the region, is the economic pillar of Liaoning's Anshan city, known also as China's steel capital. The group only returned to profit in 2017 after five consecutive years of losses after global steel and iron ore prices dropped.
To return to profitability, Anshan Steel examined its production processes to raise efficiency, strengthened financial management and costs, while also developing new niche markets for its products, such as targeting speciality steel for the car industry, according to state media reports. It also established a hi-tech innovation unit to create new products and manufacturing processes.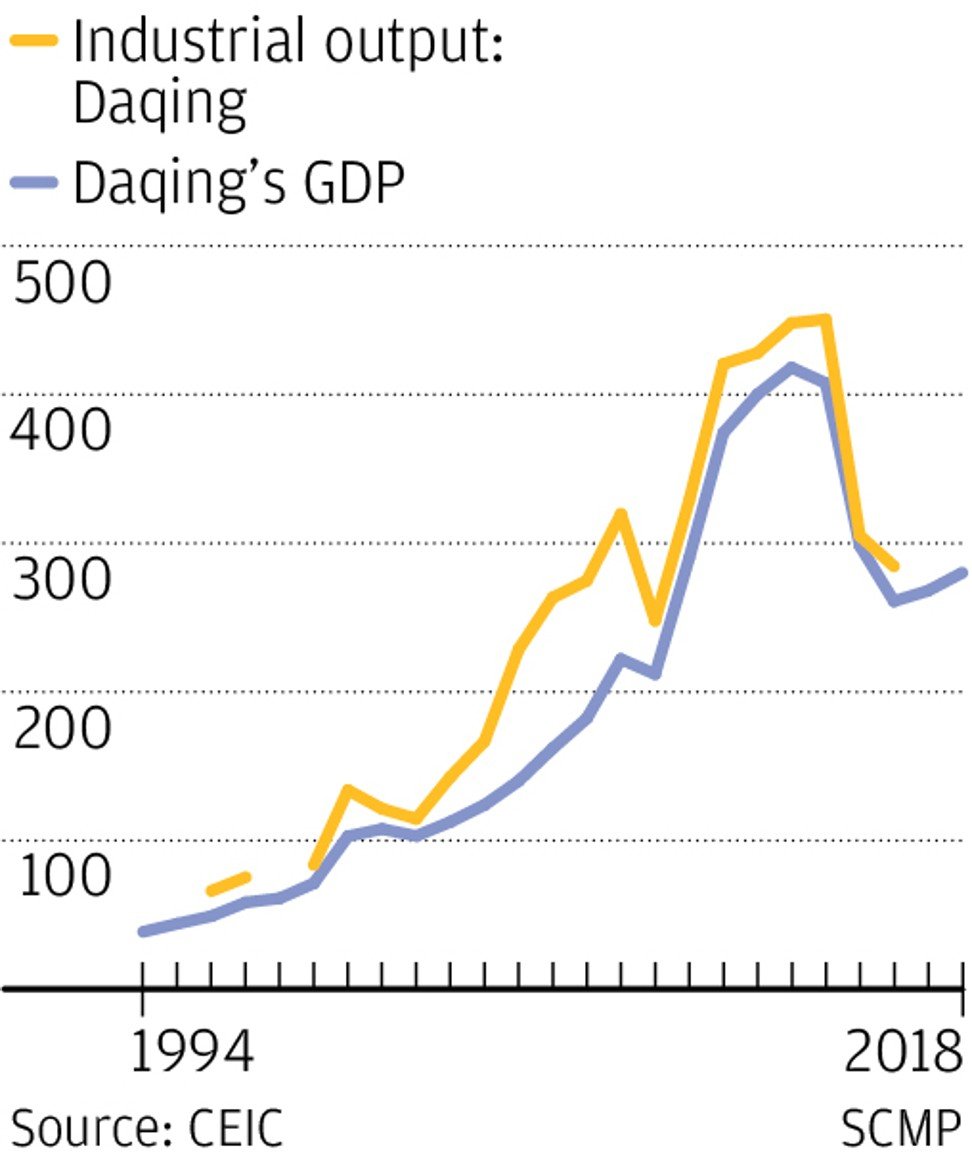 At Daqing Oilfield in the most Northeastern province of Heilongjiang, state-owned operator PetroChina has also turned to the state-of-the-art technology and reduced output to extend the life of the country's biggest oilfield, at the expense of higher costs and lower margins. Its crude output fell 19 per cent to 32 million tonnes last year.
As China's biggest agricultural producer, Heilongjiang has a strategic national security status, which has also limited its opening up as state control dominated over the past 40 years of economic reforms. Heilongjiang province's economic growth has hovered between 2 and 3.3 per cent in the past few years, lagging well behind the national rate.
Still, what has been harder to measure from the overexploitation of resources is the damage to the environment. Pollution and destruction to the earth's surface have been caused by decades of mining, including the loss of biodiversity, erosion, contamination of surface water, groundwater and soil, with little effort put into restoration.
Grounds around pits in China's coal heartlands like the northeast and northern Shanxi province are crumbling, creating sinkholes. In mined-out Jixi in Heilongjiang, subsidence has affected 353 sq km of the city, said a report from Xinhua new agency. The city's population shrank 6.8 per cent between 2010 and 2017 as economic growth slowed from 21 per cent to 0.8 per cent. Its gross domestic product growth recovered slightly to 2.4 per cent in 2018.
Economists say growth in the northeast began to decline after peaking in the 1980s, and while there have been efforts to reform and adjust to a market economy, they have largely been superficial, allowing state planning to dominate on a wide scale.
Houze Song, a research fellow at the US think tank, the Paulson Institute, said so far, no northeast resource-based city has managed to revitalise its economy.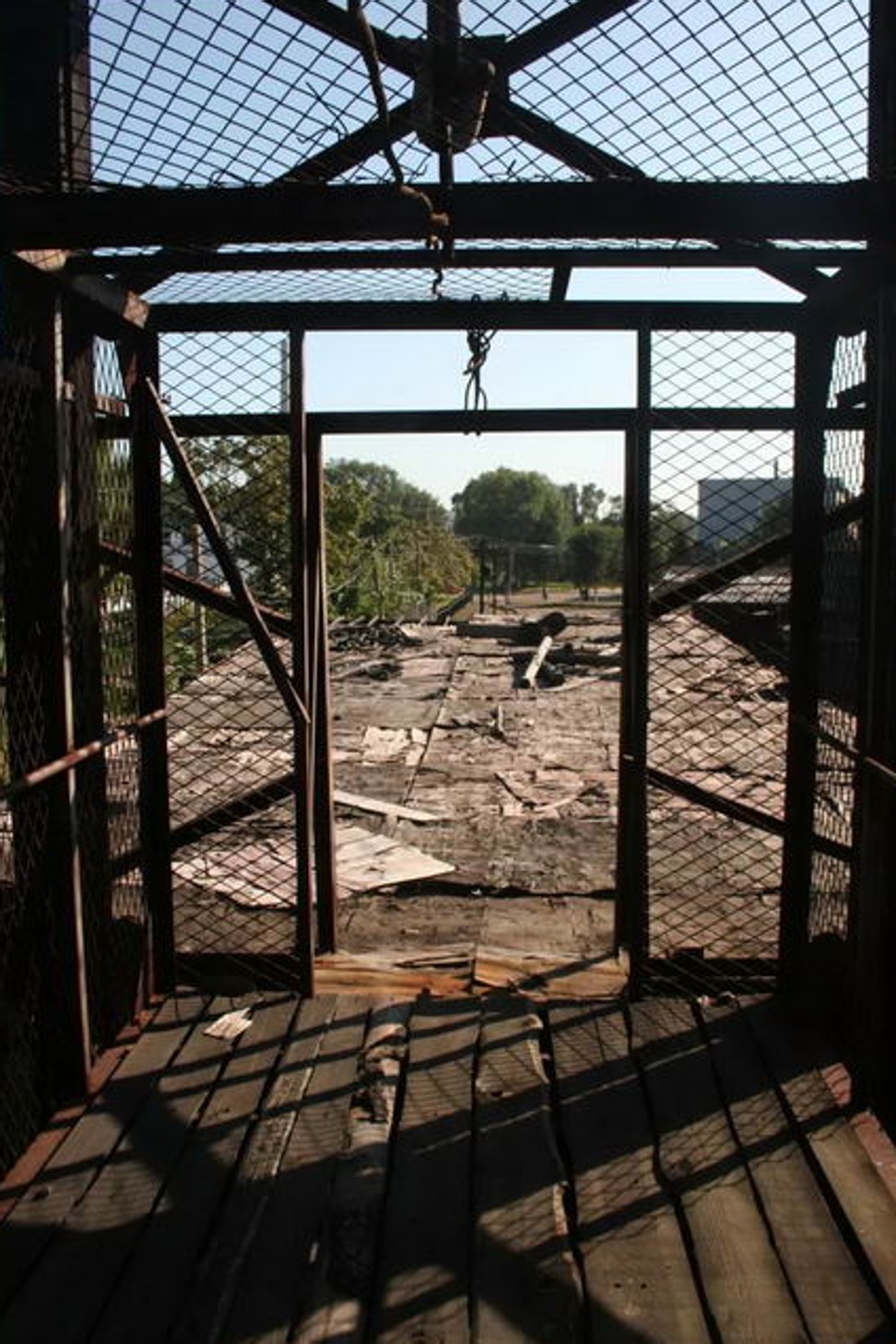 Academics at the Unirule Institute of Economics, an independent Beijing-based non-profit think tank, believe that to arrest the region's decline, authorities need to learn from China's southern and coastal regions, redraw the administrative jurisdictions that could help prune overcapacity and overlapping of industries, and innovate to create new economy sectors, while entrepreneurs need to discard the "feeling satisfied if one can make ends meet" concept and think bigger.
Beijing is also pushing the mixed public-private ownership reform to bring in private capital to revive declining SOEs. Some 52 northeastern SOEs with total assets of 200 billion yuan (US$29 billion) and a total workforce of 80,000 have been placed in the scheme, including Benxi Steel Group, on which iron ore-rich Benxi city in Liaoning province was built. The steel company said it began mixed ownership reform in September.
Privately owned steel firm Shagang Group bought indebted Dongbei Special Steel Group in Liaoning province last year, while Jianglong Group, also privately owned, acquired Xilin Steel in Heilongjiang province. It remains to be seen if mixed ownership can have a positive effect.
In March last year, the National Development and Reform Commission (NDRC), China's state powerful planning agency, paired the northeastern provinces with three of their richer southern counterparts to boost cooperation and share resources.
Liaoning, which was mired in an economic data falsification scandal involving years of inflated fixed asset investment numbers, will work with eastern Jiangsu province, Zhejiang province will take on Jilin province as an economic partner, while southern Guangdong will provide support to Heilongjiang.
Zhejiang and Jilin will establish government, business and social cooperation mechanisms over the next two years with the aim of making "significant improvements in the degree of economic integration".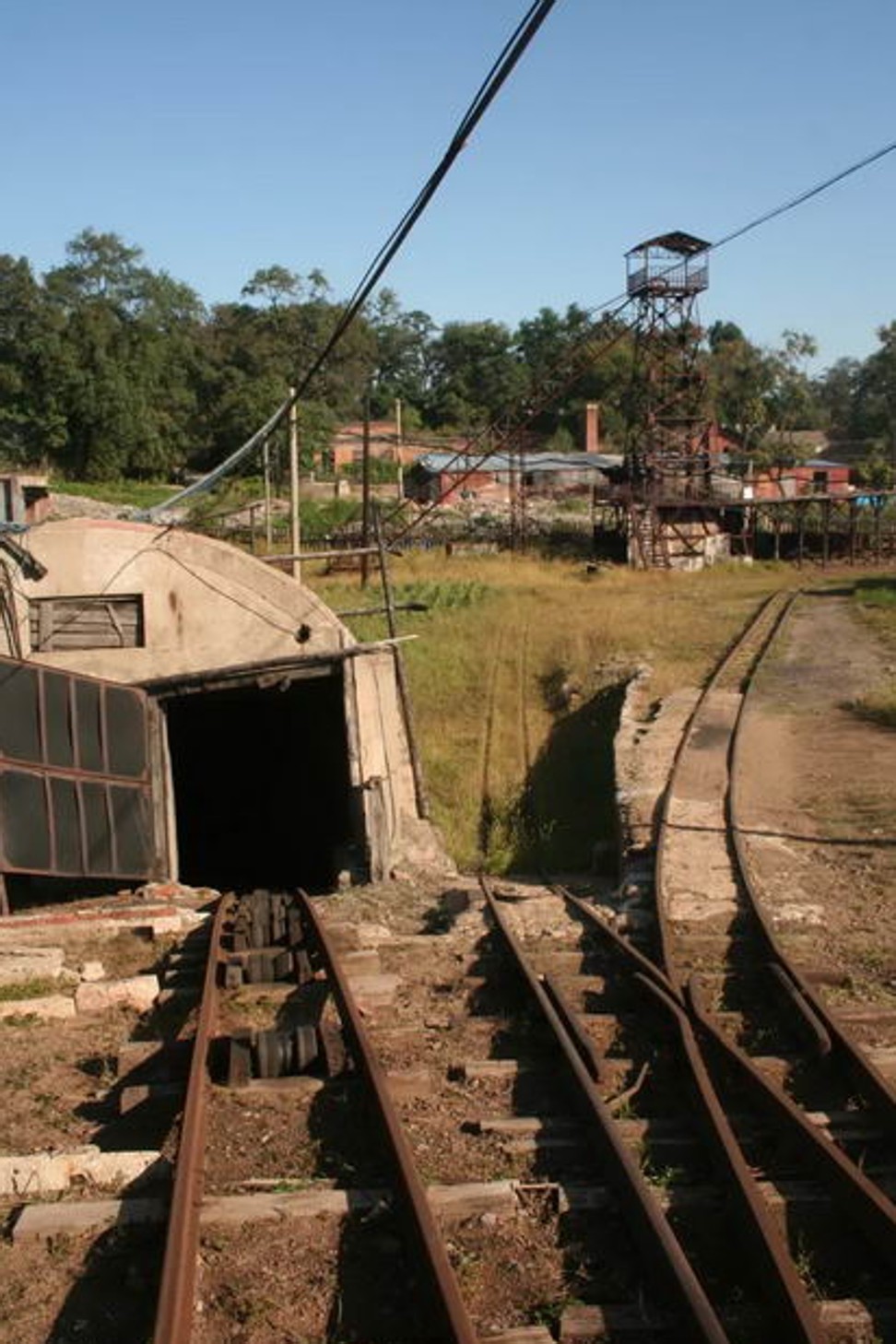 Liaoning and Jiangsu will develop joint industrial estates, while encouraging the use of cross-regional public-private partnerships and the establishment of investment funds, according to the NDRC.
In Fushun, Fushun Mining Group said it is the midst of a transformation. It turned to deep excavation to mine for oil shale, while simultaneously looking at the recycling sector to develop an industry value chain business, state media reported, citing the group's Communist Party chief and chairman Li Zhaofu.
The group may be racing against time. One of its gems, the West Open Mine, Asia's largest open pit mine, could be shut by 2030. Below the open mine is another 60m deep layer that was cut steeply into the ground without refilling. Such destructive mining techniques have caused landslides and are sinking the ground under the city.
To date, Fushun has extracted two-thirds of its estimated 1.5 billion tonnes of coal reserves – the struggle to survive is as pressing for companies as it is for the overall economy.
For economies like the Fushun's to revitalise, "a range of new sectors need to be invested in", Danske Bank's von Mehren said.
"Incentives could be strengthened via lower business taxes and free-trade zone advantages. Tourism and agriculture are other areas that could be developed."
Meanwhile, the neighbourhood around the abandoned mine, Shengli – which means victory in Chinese – exudes a sense of hopelessness, with a few inhabitants strolling aimlessly on a sunny spring day. Victory belongs in the past, before the mine shut down 20 years ago.
Additional reporting by Sidney Leng
The third article of this five-part series looks at two shrinking cities within China's rust belt.