Donald Trump's 25 per cent tariffs may be the difference between life and death for some US companies
US president sent shock waves through global markets when he announced the 10 per cent levy on US$200 billion of Chinese goods would increase to 25 per cent
Trade representative Robert Lighthizer set to kick in tariffs on Friday after the US accused China of reneging on some of its commitments during recent talks
In 25 years of working with American companies in the fashion industry, Karen Giberson does not remember a more challenging time – and it is about to get worse.
"We have had tough times before. 2008 when the markets crashed – we saw a number of our companies go through consolidation, some went out of business," said Giberson, president of the Accessories Council, a trade group.
"We had a lot of good friends and colleagues that were job eliminated. But I would say this last year, the pressure on our companies with tariffs [is worse]."
US President Donald Trump sent shock waves through global markets on Sunday when he announced that from Friday, the 10 per cent that had been levied on US$200 billion of goods made in China would increase to 25 per cent.
Further reports confirmed that US trade representative Robert Lighthizer would issue a Federal Register notice on Wednesday in order for the tariffs to kick in on "the first minute" of Friday, after accusing China of reneging on some of its commitments in the last round of trade talks in Beijing.
"We are feeling the 10 per cent and we're all hoping that there's not another 15 per cent added. A synthetic handbag coming from China is the highest tariffed product I think, period. If it was 25 per cent added on, it would be over 45 per cent tariff," Giberson added.
Sherrill Mosee, the founder of Philadelphia-based MinkeeBlue, a manufacturer of travel and work bags, is worried that she stands to lose her livelihood. She makes her bags in a factory in Guangzhou and has been struggling to deal with the 10 per cent duty that has been in place since last year.
"It is the difference between continuing my business and shutting it down, because I cannot afford the tariffs. There's been talk about increasing those tariffs even higher to 25 per cent," Mosee said.
"Well, I simply cannot do that. And so now it's this notion of me, of my dream being lost and not being able to continue my business which I have worked so hard over the last five years to build."
While some companies have been able to shift manufacturing away from China to avoid the extra duty, it is not always possible.
Mosee, for instance, is essentially a one-woman show as she subcontracts manufacturing to her partners in Guangzhou, but performs all the design and business functions herself. She cannot afford the time or financial resources required to search for a plant in Southeast Asia, nor can she afford to take her production back to the United States.
"The cost to make the bag was anywhere between US$98 to US$108, and that was for labour alone," she said, of looking for a production partner closer to home.
"Then I would have to buy hardware and the materials. And so I'm already upwards to almost US$200 just to produce the bag. So that means if I was going to make a profit, then I would need to sell for at least US$400 or US$500. And that was just not feasible to do as a start-up business."
Trump's actions caused consternation among trade and business groups and reaped confusion among many who thought that a deal to end the trade war was imminent.
US business groups have generally opposed Trump's trade war tariffs, with the argument that those who end up paying the price are consumers and importers.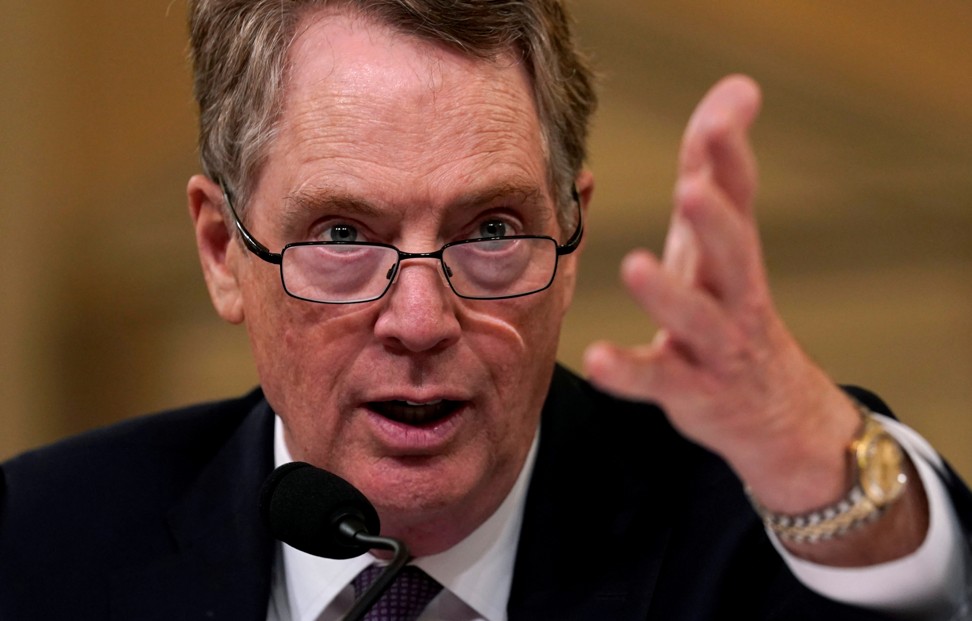 One former senior Office of the United States Trade Representative (USTR) member of staff said that Trump was "spun up" as a result of the briefing Lighthizer gave him over China's negotiation tactics and that the subsequent tweet-storm had caused concern among former colleagues.
"It may be the president's way of trying to create more leverage in the negotiations," the former staff member said. "But I sense frustration is growing."
Vice-president of international trade at the Retail Industry Leaders Association, Hun Quach, who worked as an assistant USTR under former president Barack Obama, described the planned tariff increase as "taxes American families pay", which she said has cost US consumers US$24 billion to date.
"Raising tariffs means raising taxes on millions of American families and inviting further retaliation on American farmers which jeopardises domestic jobs," Quach said.
"We want President Trump to successfully reach a deal with China that puts a check on anticompetitive behaviour. But a deal that increases tariffs on everyday goods will be a loser for middle class families."
Rick Helfenbein, CEO of the American Apparel & Footwear Association, estimated that a 25 per cent tariff on clothing and footwear would cost the average American family of four an extra US$400 a year.
"These taxes are not paid by foreign nations and they result in higher costs that are simply passed on to the American consumer. The tariffs described by the president will only hurt US families, US workers, US companies, and the US economy," Helfenbein said.
Arnold Kamler is the chairman and CEO of Kent International, which sells 3 million bicycles every year to American customers under different brand names through outlets such as Walmart.
Kent has a joint-venture production facility in Shanghai, but assembles and paints 400,000 bikes at a production facility in South Carolina – a figure he would like to increase, but is being restricted by the tariffs, which have made many parts more expensive to import.
"The 10 per cent was just the first level, the next step was 25 per cent and 25 per cent would be really quite devastating to the industry. Because bicycle prices are in the US, are very low. And so because of that, the volume is very high," he said.
"[The move to 25 per cent] would put a lot of companies in great distress. I know most of [Trump's] advisers were telling him not to go to 25 per cent. But, I mean, he likes playing Russian roulette, that's his style."
A large company like Kent has options. Kamler, who has been following the Asian supply chain for decades, having manufactured in the Philippines, Thailand, Taiwan and China, knows the region well.
His contingency plan for the 25 per cent tariffs is to move a chunk of production out of Shanghai and into Cambodia, but he realises that not everybody has that luxury.
"The most dramatic impact that this has had is on farmers. We held a meeting at our factory. We had companies, lots of companies from South Carolina come.
And this one farmer, who's a very big farmer, I mean, he has a gigantic farm. And because I've talked about potentially moving to Cambodia or somewhere else if the tariff had gone to 25 per cent, he said: 'I can't pick up my farm and move it'."
Jake Parker, vice-president of China operations at the US-China Business Council in Beijing, called for a "removal of all of the tariffs that are currently in place".
"We can say that the existing tariffs are damaging to American companies and consumers, and additional tariffs will compound those damages. Both sides need to use this week to make progress on the negotiations, rather than returning us to tariff battles," he said.
Trump renewed his aggressive rhetoric on social media on Monday, when he tweeted that the US "has been losing" US$500 billion on trade with China "for many years".
It has led some trade watchers to speculate that the president is gearing up for a trade-themed election battle with Democratic Party opponents who share his grievances on China.
"We can only speculate on what might be missing, but Trump is probably acutely aware that if he doesn't get commitments from Beijing to commit to fixing certain structural problems, he'll be vulnerable to attacks from Democratic presidential aspirants that he failed to deliver the no-frills deal he promised," said Dan Ikenson, director for trade policy studies at the pro-trade Cato Institute.
"Democrats have identified rust belt, anti-trade Trump supporters as important to their 2020 electoral success."
Stephen Olson, a former US trade negotiator who is now a research fellow at the Hinrich Foundation, another pro-trade group, added: "The conventional wisdom, is that President Trump needs a deal with China. I'm not entirely convinced that is the case.
"Certainly an agreement would be desirable, but if that is leaving him open to being criticised by his Democratic opponents for having been 'soft' on China, then there would be an overwhelming political imperative for the president to walk away from the field and position himself as the only US president willing to stand up to China."