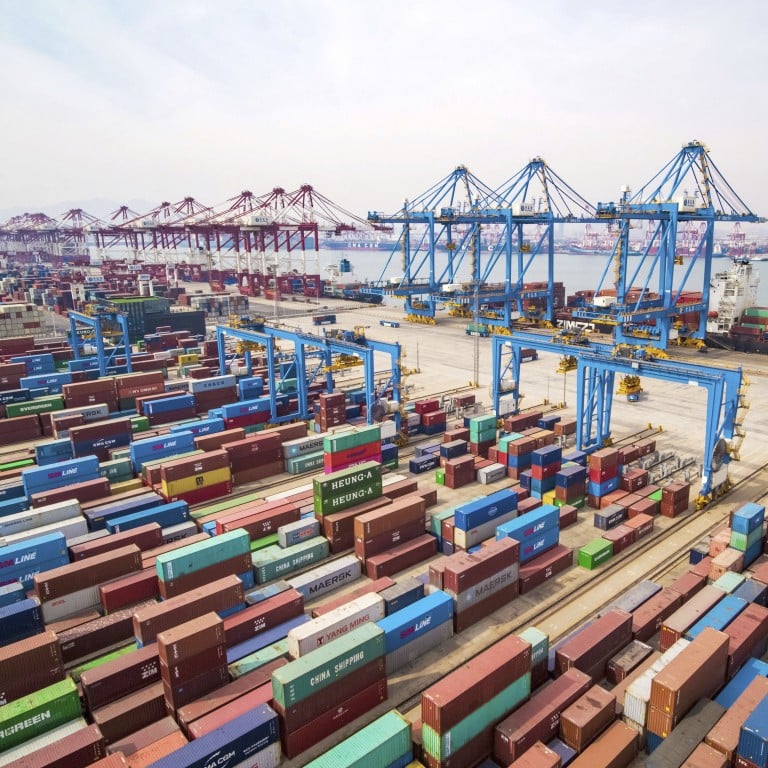 China's exports suffer surprise fall in April amid heightened trade war tensions with United States
Exports dropped by 2.7 per cent in April, countering a 14.2 per cent rise in March and an economic growth rate of 6.4 per cent in the first quarter of 2019
US President Donald Trump announced on Sunday that the 10 per cent levy on US$200 billion of Chinese goods would increase to 25 per cent this week
China's exports surprisingly shrank in April after a short-lived recovery as fears of an escalating trade war with the United States clouds the economic outlook for the world's second largest economy.
Exports fell 2.7 per cent last month compared with the same period in 2018, a sharp reversal from the
14.2 per cent rise
in March.
The decline was a surprise, with analysts having expected a 3 per cent increase in exports, according to a Bloomberg survey.
Imports, an indication of domestic demand, rebounded slightly in April by climbing 4 per cent, reversing part of the 7.6 per cent drop in March.
The latest data from China's General Administration of Customs also showed April's trade surplus narrowed by US$18.8 billion to US$13.48 billion overall.
Expectations that Chinese and US negotiators would complete a deal to end the bilateral trade war this week had increased recently until US President Donald Trump threatened to raise tariffs on US$200 billion of Chinese goods from 10 per cent to 25 per cent.
Despite Trump's tariff threat, a Chinese trade delegation led by Vice-Premer Liu He is preparing to travel to Washington for further talks on Thursday and Friday, the Chinese Ministry of Commerce announced on Tuesday.
China's trade surplus with the US, a source of tension – among others – with Washington, climbed 2.4 per cent last month to US$21 billion. The surplus with the US was US$20.5 billion in March.
While Chinese exports dropped 13.1 per cent in April compared to a year ago, China also bought less from the US as imports fell by 25.7 per cent in the same period, Bloomberg data showed.
"Weak growth in Chinese exports to the US will also be concerning to Chinese officials, particularly amid a potential escalation in the trade war," said Nick Marro, an analyst at The Economist Intelligence Unit. "The data will add more urgency to the trade negotiations this week and could push China more forcefully towards an agreement, despite its past reluctance to negotiate under threat."
The unexpected drop in exports will raise questions about the outlook for the Chinese economy, after economic growth had stabilised at 6.4 per cent in the first quarter of 2019.
The unexpected drop in exports will raise questions about the outlook for the Chinese economy, after growth had stabilised at
6.4 per cent in the first quarter
of 2019.
In a series of articles on Tuesday and Wednesday responding to Trump's tariff threat, China's official media stressed the resilience on the Chinese economy, citing in particular the large rise in exports in March.
"Export growth was disappointing last month, with Trump's latest tariff threats adding to the downside risks ahead," said Julian Evans-Pritchard, senior China economist at Capital Economics.
"If Trump follows through on his latest tariff threats, we think this would drag down export growth by two to three percentage points. And even if a last-minute deal is struck this week to avoid further tariffs, the downbeat prospects for global growth will probably mean that export growth remains subdued."