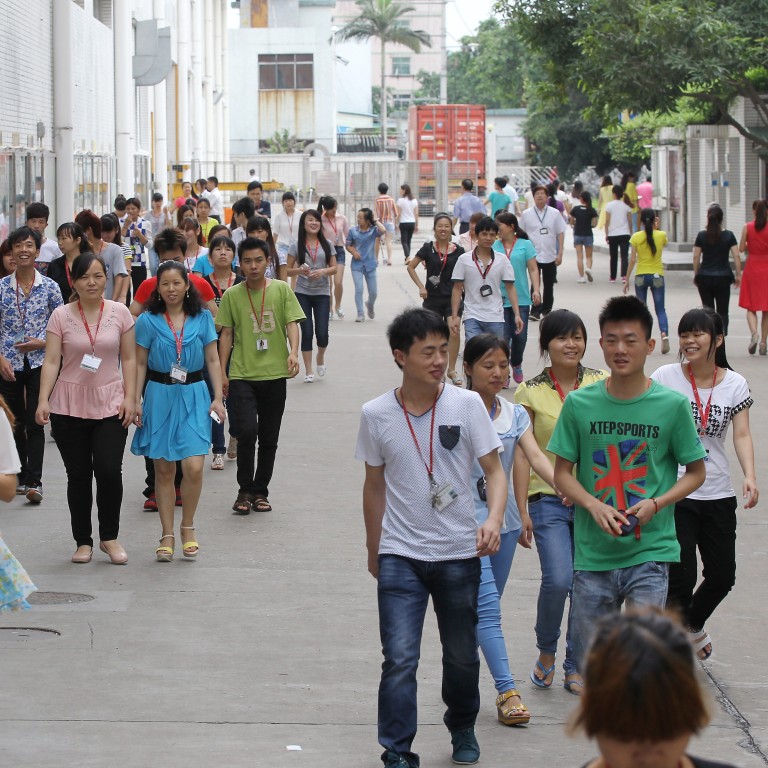 Brain drain in China's rust belt exacerbated by economic decline as talent competition heats up
Weaker economies in Northern provinces lead to talented employees moving to prosperous south, which leads to further economic weakness
Housing costs are low in the Northeast, but companies in prosperous southern provinces can offer much higher salaries
In 1996 not long after graduating from a vocational school with some computer skills Liu Qingfeng left Liaoyuan, a once coal-rich town in northeastern Chinese province of Jilin. It was a period of massive lay-offs in state-owned enterprises that were enduring brutal government-mandated reforms.
Over the next two decades, Liu travelled between Shanghai, Shenzhen and Beijing, taking jobs in hospitals, investing in an electric vehicle rental business and setting up his own online marketing firm in 2016. He also married his childhood sweetheart and had two children. From time to time, he went back home to check on his two young boys, and told them they would eventually need to leave Liaoyuan for first-tier cities.
"There are more opportunities in tier-one cities even though competition is fierce," Liu said, referring to the handful of China's largest cities, including Beijing and Shanghai. "My children can decide where they want to settle down or what kind of work they want to do, but they need to have the ability to survive in first-tier cities."
Liu's wishes for his sons to have bright futures are equal to the worries of officials in China's rust belt – the northeastern provinces of Liaoning, Jilin and Heilongjiang – which was home to millions of industrial workers in the 1950s and 1960s, but over the last two decades have been suffering different degrees of brain drain on top of weak incentives for economic growth. This has led to a vicious cycle where the weak economy expedites the talent loss that in turn slows growth further.
The population outflow has been the most severe in Heilongjiang province, which sits on the border with Russia. Between 2013 and 2017, the number of residents fell by 460,000 to 37.89 million, according to data from National Bureau of Statistics. Jilin did not have a net outflow of residents until 2016 but lost 360,000 people over the next two years, while Liaoning's situation was slightly better, with about 200,000 people leaving the province from 2015 to 2017.
The exodus of talent is particularly concerning for the provincial government in Heilongjiang's capital, Harbin, as from 2015 to 2017, more than 2,600 people with specialised skill sets, including engineers, left state-owned enterprises and public institutions. Among them, close to two thirds were in senior positions, according to a statement published by the Heilongjiang Human Resources and Social Security Bureau in early April.
That does not include the loss of 67,500 skilled workers during the same period, officials said. In 2017, only two thirds of college graduates in the three provinces were eventually employed locally.
Heilongjiang's previous attempts to attract talented graduates appear to have been ineffective as it only targeted more experienced and senior potential recruits, such as well-known scholars. Now, the government wants to broaden the scope of its talent hunt, offering more subsidies and tax incentives to companies who hire recent graduates, even though that would further increase pressure on the government's already strained balance sheet.
The three provinces had a combined fiscal deficit of more than 600 billion yuan (US$89 billion) last year, according to official data. Heilongjiang alone accounted for half, and it continues to increase every year. The region relies heavily on the transfers from the central government to fund everything from pensions to infrastructure expenditure and talent recruitment.
The wealth gap between the struggling northeast and richer southern provinces of China becomes more apparent when it comes to appealing to available talent within the job market. Among the 20 first and second-tier cities tracked by Liepin.com, a Beijing-based recruitment site, for its top-talent index, Shenyang, one of the most developed cities within the rust belt, ranked at the bottom in the first quarter of 2019 with an average annual income of 164,000 yuan (US$24,000) per person. By comparison, Ningbo, another second-tier city of about the same size in eastern Zhejiang province, offered 181,400 yuan.
According to Yan Fei, a professor of sociology at Tsinghua University in Beijing, a large private car manufacturer from the east coast is known to hire the entire floor of a hotel across the street from First Automobile Works Group (FAW) one of China's largest carmakers, in Changchun, capital of Jilin province, during hiring season every spring. Applicants simply need to provide an income slip from that month, and then they are offered a 300 per cent increase on their current FAW salary, resulting in a large number of engineers and technicians speaking with northeastern accents working in its factory on the east coast.
"This small case shows that the weak economy and lack of upwards social mobility has led to a serious loss of people [in the rust belt]," Yan said in an article published by Vistopia, an art and literature platform.
In 2017, the per capita gross domestic product of each of China's three rust belt provinces all fell under the national average of 59,201 yuan (US$8,700) for the first time since 1952.
In some cities in Heilongjiang province, urban residents have been leaving non-stop since the 1990s. Hegang, a city built around the mining industry, lost 100,000 people between 1996 and 2017, while its growth rate plunged as coal resources were depleted.
Yichun, another city that used to thrive on logging and steel businesses, is struggling to create job alternatives for the next generation to stem the population outflow of 183,000 that has occurred over the past two decades.
Hu Xiaohui, associate professor of urban and rural planning at Zhejiang University of Finance and Economics in Hangzhou, said high urbanisation rates in the rust belt from the early development of its industrial sectors a century ago mean that people are forced to leave to look for jobs elsewhere once the local economy begins to shrink. The urbanisation rates in Heilongjiang and Liaoning were higher than the national average in 2017.
"If urbanisation is low, then rural workers can still move to [local] cities to work," Hu said.
Low home prices seem the only plus for recruiting talent to the rust belt. In Hegang, a second-hand home cost around 150 yuan (US$22) per sq ft in April, 40 times less than the average price in Beijing. Hegang's public security bureau is also offering a new home and a car for new employees this year, which is "a dream that many young people in the city strive to achieve over many years," according to an article published in the state-run Heilongjiang Daily in April.
Hu, though, suggested that local officials should instead increase investing in higher education institutions within the rust belt, while also finding a way to convince talent to take jobs locally rather than looking elsewhere.
"It must be government driven, because the region has been sidelined by the market," Hu added. "They can start with universities [by subsidising eduction], and supplement [recruitment] with housing and entrepreneurship polices."
The challenge facing the rust belt has been compounded by rising competition for talent from other provinces. Since the beginning of 2018, the government of Huzhou, a silk-producing city in the eastern province of the affluent eastern Zhejiang province, has sent three delegations representing dozens of major companies to the rust belt to recruit college graduates.
An extremely low birth rate is also fuelling pressure on the region's brain drain. China's overall birth rate fell last year to its lowest since 1952, with only 15.23 million newborns. But the northeast region fared even worse, according to government data, with the three provinces accounting for just 4 per cent of births last year despite having about 7 per cent of the population.
The region's low birth rate has existed for decades partly because local officials carried out China's one-child policy more strictly than did the rest of the country.
Huang Wenzheng, a co-founder of population policy NGO cnpop.org, estimated the region's fertility rate stood at 0.76, showing the average number of children that a woman could have in her lifetime. At this rate, the region's newborns would fall below 200,000 by 2050, and this will not stop unless the government makes great efforts to encourage births, according to Huang.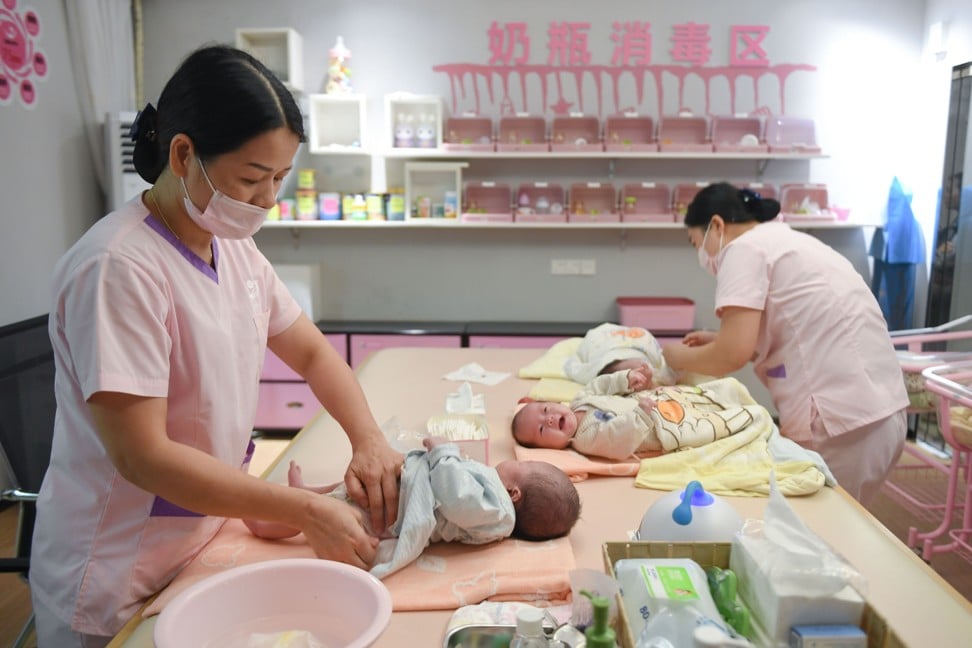 There are skilled workers returning home from tier-one cities for family reasons, among others, and this small group could be a blessing for businessmen like Liu, who is looking to expand his business based on the low cost of local labour.
"From a macro perspective, you see a net outflow of people. But at the micro level, as an entrepreneur, I think it's good time to go home [to recruit people]," he said after opening a branch of his company near Changchun in Jilin province in December.
His new branch is still small with 15 employees, compared to his two offices in Beijing and Shanghai that have 100 staff, but some have a significant experience having worked in large cities like Shanghai before returning home.
"Beijing and Shanghai are putting a cap on the growth of population. That increases our cost of operation to about 10,000 yuan (US$1,475) for one employee in each of those two cities," Liu said. "But in my hometown of Liaoyuan, I only need to pay about 3,000 [yuan] for each hire. And I don't need to take care of where they live because many live at home."
However, not every city in the rust belt is as cheap. Nathan Pang, a native of Dalian, Liaoning's port city, works in an advertising firm in Beijing. The cost of many consumer products in Dalian are the same as those charged in Beijing but average incomes are much lower, he said.
Dalian's average per capita disposable income was about 40,000 yuan (US$5,900) annually, compared to 60,000 yuan in Beijing last year.
"I can have a slightly more comfortable life here," said Pang said, who has been living in Beijing for six years and has no plans to leave his 300,000 yuan (US$44,000) a year job to return to Dalian.