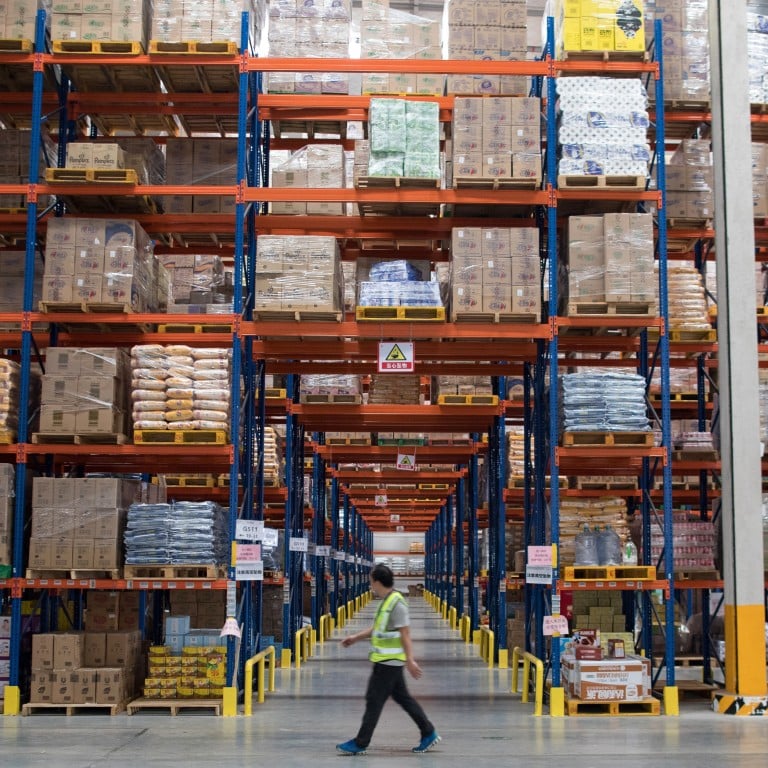 China economic growth slows sharply in April, even before higher US trade tariffs take effect
Industrial production growth – the output of industrial sectors in China's economy, including manufacturing – fell to 5.4 per cent from 8.5 per cent in March
Retail sales, a measure of consumer demand in China, grew by 7.2 per cent in April, well below 8.7 per cent rate in March and lowest in 13 years
China's economy looked to have had its growth slow sharply in April, the last month before new US trade war tariffs take effect, with both industrial production and retail sales growth posting significant declines.
The big picture to be gleaned from Wednesday's data dump is that China's economy is losing the momentum it gained in the first quarter, at a time when it is being sucked into an ever-intensifying trade war with the US. Over the past week, the world's two largest economies have exchanged tit-for-tat tariffs, as it looked like chances of a near-term trade deal – which had appeared to be growing only two weeks ago – have dwindled.
The weak data are also likely to rekindle the debate over whether the Chinese government needs to enact more fiscal and monetary stimulus to prop up the economy. After the
stronger-than-expected
first quarter GDP figure, the Politburo had downgraded the need for further stimulus.
Industrial production – a measure of the output of the industrial sectors in China's economy, including manufacturing, mining and utilities – grew by 5.4 per cent in April from a year earlier. This was well down from 8.5 per cent in March and below a poll of economists conducted by Bloomberg, which had predicted growth of 6.5 per cent. This was also the lowest reading since November last year.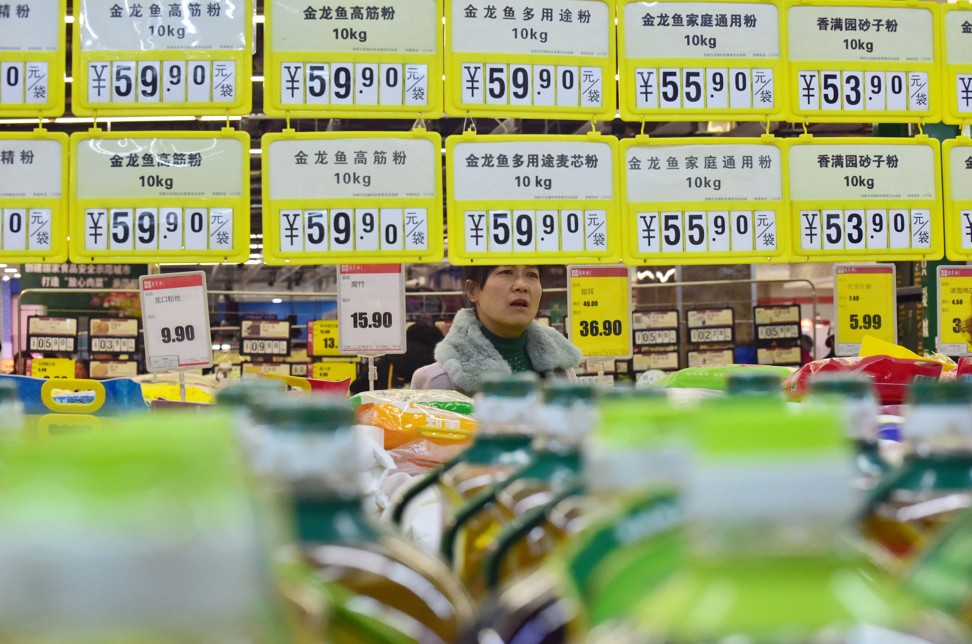 Within the industrial sector, manufacturing output grew by 5.3 per cent year-on-year, down from 8.5 per cent last month. This will spark fears over the ability of Chinese producers to deal with an escalating trade war with the US, which will see them pay higher tariffs both for imports and exports where US suppliers or buyers are involved.
The Chinese government made a nod to these concerns by including for the first time an exclusion mechanism in its latest
round of tariffs
on US$60 billion of US imports. These will take effect on June 1, but Chinese companies will have the chance to apply for an exemption, which analysts said has been established to support key domestic industries and employers.
Retail sales, a measure of consumer demand in China, grew by 7.2 per cent in April from a year earlier. This was lower than the expected figure of 8.6 per cent and points to slowing consumption in the world's most populous nation.
This was the lowest figure for retail sales since May 2003, when it grew 4.3 per cent. It suggests that China's efforts to stimulate consumption are wearing off.
Fixed asset investment, which measures spending on physical assets such a real estate, infrastructure or machinery, grew 6.1 per cent for the year to date, down on the previous reading of 6.3 per cent for the January to March period and also below Bloomberg's poll, which had forecast a rise to 6.4 per cent.
These aggregate slumps, while not forecast by economists' consensuses, had arguably been telegraphed by other indicators
The manufacturing purchasing managers' index (PMI), a gauge of sentiment among factory operators, fell to 50.1 in April, a decrease on March's performance of 50.5, and below the median expectations of a poll of Bloomberg analysts, which had predicted an unchanged reading of 50.5.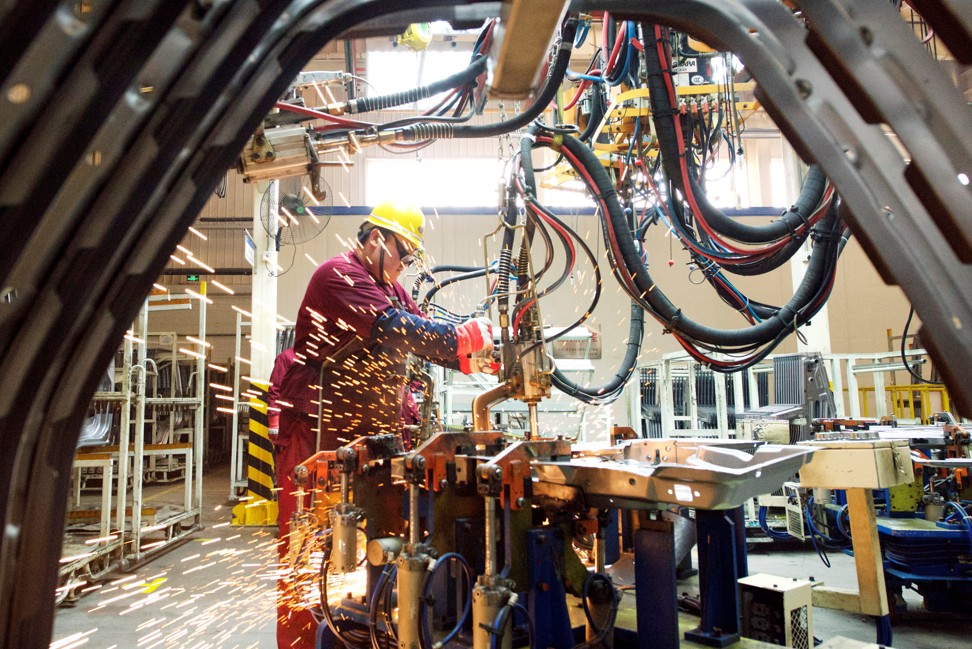 Exports dropped by 2.7 per cent in April, countering a 14.2 per cent rise in March and an economic growth rate of 6.4 per cent in the first quarter of 2019
Meanwhile, Tuesday's data showed that vehicle outputs and sales in April declined by 14.45 per cent and 14.61 per cent year-on-year respectively, according to the China Association of Automobile Manufacturers.
The data suggests that China's stimulus measures may be starting to wear off. Beijing had engaged in multiple rounds of rate cuts for banks, galvanising the flow of lending into the economy.
These measures had led to stronger-than-expected first-quarter growth, which many political analysts said had emboldened the Chinese government to take stronger trade policy measures against the US.
However, with tariffs on US$200 billion of Chinese goods having risen to 25 per cent and further 25 per cent tariff to be applied to most of the remaining Chinese
exports to America
, valued at around US$300 billion, it remains to be seen what tools
Beijing has in its arsenal
to defend its economy.
The first round of 25 per cent tariffs are now in effect, meaning room to manoeuvre for Chinese companies is limited. The raft of tariffs known as List 4, which targets the remaining US$300 billion – with some carve-outs for pharmaceutical goods and rare earth minerals – will most likely take a couple of months to take effect.
While this gives negotiators time to reach a deal, it also gives companies time to get their export orders in early. Since this list will see a tariff levied on goods such as smartphones for the first time, US buyers may be scrambling to purchase now at the lower price – so-called front loading – a trend which may feed into the figures in the months to come.
The fact that these data were all lower than expected suggest that the US tariffs are beginning to make a serious dent in the Chinese economy, just when pressures are about to rise.
This article appeared in the South China Morning Post print edition as: Data shows slowdown in growth on mainland