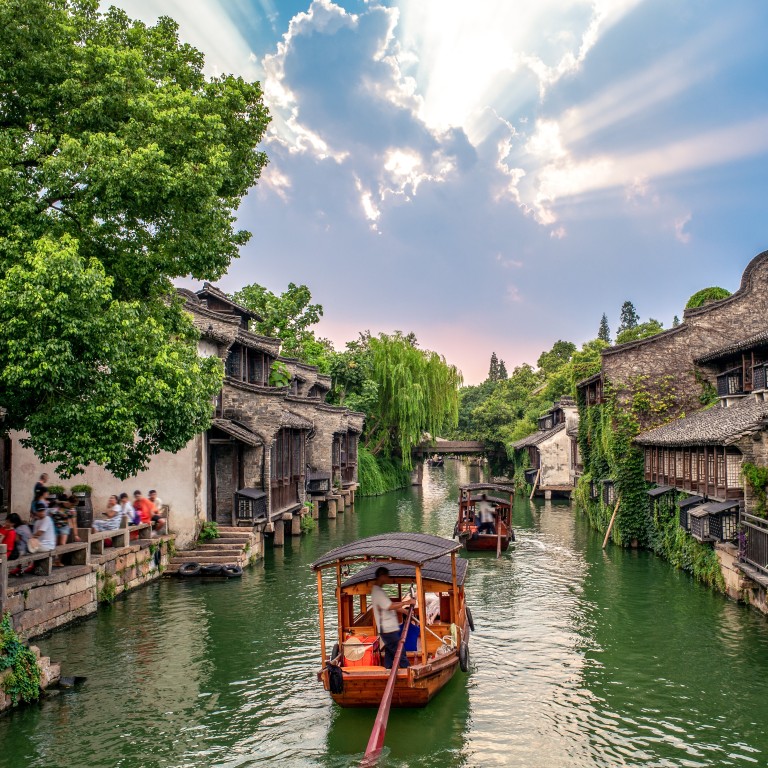 Trade war-hit town near Shanghai see positives from US-China tensions as it seeks two-way investment flows
Official from Tongxiang in Zhejiang province hope that its manufacturers will set up factories in the United States but keep their headquarters in China
As of the end of last year, 14 companies from Tongxiang had set up shop in the US including a US$350 million fibreglass plant in Columbia, South Carolina
Tongxiang, a town in the Chinese coastal province of Zhejiang, has been hit hard by the increase in US tariffs on Chinese imports this month, but local government officials are now banking on the trade war to boost two-way investment flows.
At an investment promotion event targeting potential US investors in Shanghai last week, days after the US escalated trade tensions by raising tariffs on US$200 billion of Chinese products from 10 per cent to 25 per cent, Fei Jianliang, the local commerce bureau director, said the trade war "could somehow boost investment in both countries".
Lu Liang, deputy director of the bureau of commerce in Tongxiang, a two-hour drive south of Shanghai, said that the local government is encouraging its main exporters to set up factories in the US to avoid import duties while keeping their head office in the town – a multinational model of moving production offshore while retaining key functions within the home country.
At the same time, Lu said the city is looking for multinationals to invest in "advanced manufacturing" sectors in the city. "With tariffs increasing, now is a good time to invest in China to manufacture and sell locally," Lu said.
The comments from local Chinese officials in an export-oriented town show that a decoupling of the world's two largest economies, if there is one, could only happen in slow motion after four decades of trade and economic integration.
The economy of Tongxiang, a city of 1.2 million people, is highly dependent on exports of manufactured goods such as textiles. The city's exports surged to US$4.2 billion last year, up 17 per cent from a year earlier, local official data showed, with the US the largest market, accounting for around a sixth.
At least US$340 million worth of exports to the US are affected by the additional tariffs levied by Washington on May 10. If US President Donald Trump proceeds and imposes tariffs on the remaining US$300 billion worth of Chinese products not now subject to sanctions, every shipment from Tongxiang to US will be covered.
As a result, the city's manufacturers are rapidly relocating abroad, and so far, 14 companies from Tongxiang had set up factories in the US. The city's outbound investment reached US$680 million last year, or more than double the investment inflow of US$300 million.
The largest is a US$350 million fibreglass plant in Columbia, South Carolina, owned by Tongxiang-based Jushi Group. A ceremony lighting the factory's furnace was held last week at the plant, which has an annual capacity of 96,000 tonnes of fibreglass, marking the official start of production three and half years after the initial investment.
Jushi USA lobbied last year for its Chinese parent company, Jushi Group, to be excluded from US tariffs on materials used at the Columbia plant. In a letter to US trade representative Robert Lighthizer in November, the company said tariffs "will have a crippling effect on Jushi's ability to build and operate its production lines" and force the company "to re-examine all aspects of the project", according to the company's request sent to the Office of the United States Trade Representative.
The requested exclusion from 25 per cent additional tariffs included nine types of products, four of which – packaging-distribution systems, instant print labelling machines, industrial ovens, and screw pumps – were denied, while the remaining items are still under review.
Separately, the local government of Zhoushan city in Zhejiang province is also upbeat about China-US economic ties after it became the location of the first finishing and delivery centre in China for Boeing 737 aeroplanes.
Li Fangjun, director of Zhoushan's Investment Promotion Bureau, said the city is hoping that production at the Boeing plant can be ramped up to deliver the plant's full capacity of 100 Boeing 737 Max planes a year. Since the start of operation last year, the centre has delivered two planes.
For 2018, exports to the US accounted for less than 5 per cent of Zhoushan's trade, with the city showing a big trade deficit of 4 billion yuan (US$578 million) last year as it needed to make large purchases from the US for the Boeing plant.
"Zhoushan is a port city that imports a lot of commodities such as oil, coal and iron ore. Comparatively, our exports – mainly seafood – are much smaller," Li said. "Even though Zhoushan has a trade deficit with US, Zhenjiang still has a pretty big surplus with US."
This article appeared in the South China Morning Post print edition as: cities see chance to boost flow of investments Trade war may boost bilateral investment flow