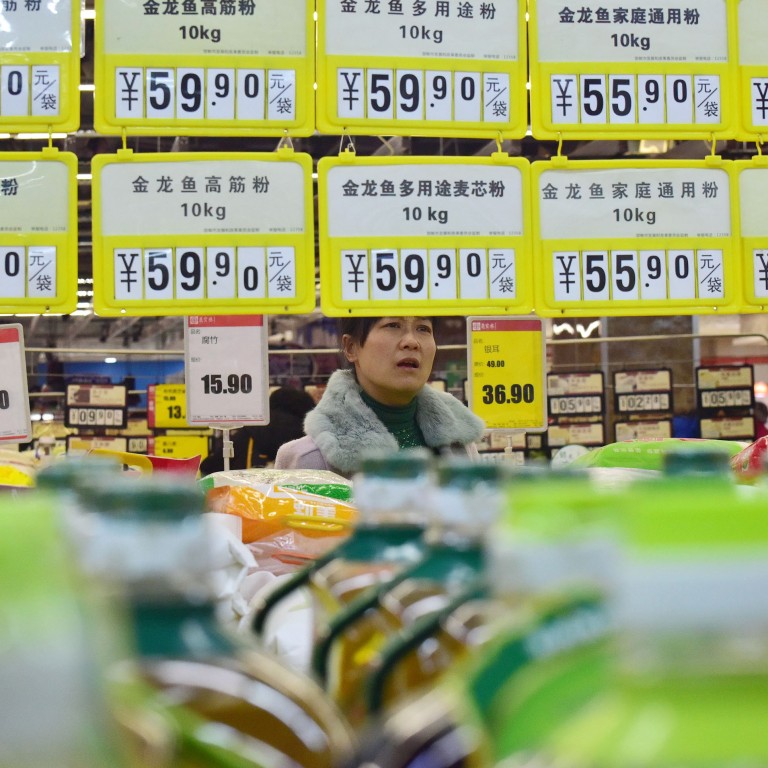 China's middle class growing desperate and anxious about US trade war impact
Fears of trade war impact also appear to be affecting willingness to spend and prompting moves to safeguard wealth in foreign currencies and gold
Rising food prices and unemployment levels adding to concerns despite state and social media urging nation to stand strong in face of adversity
China's middle class, particularly better-educated white collar workers, are growing increasingly confused and anxious over how the trade war with the United States will affect the lives of ordinary citizens, in contrast to official press and social media which have been dominated by messages urging the country to stand strong in face of the adversity.
Concerns about the impact of the trade war, combined with rising food prices, are already affecting consumers' willingness to spend, which could cause a further deceleration in Chinese economic growth.
These concerns may also increase efforts by the upper and upper middle classes to safeguard their wealth by buying gold or foreign currency and moving their wealth abroad.
For China's urban middle class, who have benefited from the country's economic boom in the last few decades and may have taken it for granted that life would be better, the intensified rivalry between China and the US is bringing a strong sense of uncertainty about their future, pushing citizens to scramble for any information about the trade war away from the official propaganda rhetoric.
"Please tell me the proper understanding of what the impact of the trade war will be on the lives of ordinary people like us. Thanks!" wrote Su Gengsheng, a popular online writer and blogger with more than 300,000 followers on China's largest social media platform Weibo, four days after the
US raised tariffs
on US$200 million of Chinese imports.
The post was unusual for Su's extremely non-political account after she rose to popularity with cosmetics recommendations and make-up tips. However, the trade war question seemed to speak to the heart of the concerns shared by many of Su's followers, and rapidly attracted thousands of replies and likes as well as more than 10,000 shares. Comments on the post were soon blocked because they "violated relevant laws and regulations", although the original post was still visible.
Despite a lack of access to uncensored news, the adverse effects of the trade war have started to be felt and are rapidly becoming known throughout Chinese society. This is especially true for those who now have things to lose, including the value of their stocks and real estate, the chances of sending their children to study in the US, or even just being able to watch the final season of Game of Thrones on television.
The government's nationalistic rallying cry, asking people to tighten their belts and to prepare for prolonged hardships, has further amplified concerns among those citizens who have worked hard to earn a comfortable lifestyle.
"Recently, I often chat with my classmates and clients who live and work abroad. We talk very carefully as we are afraid of our WeChat account being blocked because of any sensitive content related to trade war news. But I really need to know more about what is really happening in the trade war and what will come next," said a Guangzhou-based exporter in his 40s, who asked not to be named.
"In just two weeks, the mentality of my friends around me has changed. We used to think [a trade war] to be absolutely impossible. Now I start to fear there will be a devaluation of the [yuan] in the near future, and even a more horrible situation ahead if the two sides engage in a full-scale war, not only in trade and technology, but also in finance and the currency market.
"I would love it if all my fears were unnecessary, but I can't help but have them. I think I might need to make a contingency plan, like keeping a certain amount of either yen, US dollars or Australian dollars in cash at home, only for emergencies in extreme situations. A problem may not arise, but now I really need to be aware of the possibility because of my family."
The latest news on the economy and on the government's response to the trade war has been unsettling for some, and came as a fresh blow to Chinese middle-class confidence on top of growing risks of inflation and unemployment.
Food prices jumped 6.1 per cent in April due to higher pork and fruit prices, with
pork price
increases accelerating to 14.4 per cent from 5.1 per cent in March. Last week, Beijing set up a
special task force,
the State Council Employment Work Leading Group, to monitor the country's employment situation, underscoring the government's increasing concern over unemployment due to the continuing escalation of the trade war with the US and in the wake of recent high-profile lay-offs by the likes of Sony Mobile, Cisco Systems and Oracle.
"The yuan is sliding towards 7 to the US dollar, a 500-gram package of grapes has soared to 30 yuan (US$4.3) at the wet market, and Vice-Premier Hu Chunhua will head the group watching job market stress. There is more and more news on the effects of the trade war and how it is starting to impact our daily life," said Yan Chao, a 30-year-old operations manager at a Shanghai-based advertising company.
"My job is very important for me as my wife is a housewife and we have a daughter who is just two years old. My parents are retired doctors and pay most of the mortgage for me. My wife and I are going to buy a new car through a car loan, but maybe it's better to delay that plan until maybe next year when the economic situation becomes certain."
The exchange rate with the US dollar hovered around 6.9 last week, but Li Yue, a veteran Shenzhen-based electronics engineer, has been converting some of his yuan savings at exchange rates of around 6.3, 6.5, and 6.7.
"It was very difficult to search for foreign technical information via the internet in the 1990s, and now I look longingly to that time. As a technologist, I have a full understanding that if Sino-US relations continue to deteriorate, or if China loses more orders from Western countries, many of the industrial supply chains developed in the past will soon be scrapped," said Li Yue.
Other Chinese citizens are taking steps to safeguard their wealth due to fears of the effects of the trade war.
"I even heard some wealthy people are going to banks in Hong Kong to buy gold bars and keeping them in the bank for safety," said Li Zhenbiao, a Guangzhou-based agent helping wealthy Chinese citizens emigrate and buy property overseas. "It's a good choice if you are not optimistic about the [outlook for the] economy and the value of the yuan … but it's a very new [practice] and just emerging. Not many people have acted yet to buy gold bars. After all, the investment threshold is high. Buying and stockpiling some dollars is the easiest thing to do for ordinary people."
The high levels of debt held by many individuals is also of particular concern if the economy slows down further.
Eli Mai, a sales manager in Guangzhou, owns two flats with a total market value of 7 million yuan (US$1 million), with around 2 million yuan outstanding on the mortgages.
Mai, 35, spends most of his monthly salary, about 15,000 yuan (US$2,200), on his mortgage, while the family uses his wife's income for daily expenses. At the beginning of last year, Mai felt that his career was stagnant and that his expenses were greater than his income. Therefore, he borrowed 300,000 yuan (US$43,400) from a local bank, with an average interest rate of over 5 per cent, and used the money to invest in a friend's travel agency.
"The business is not profitable yet. I just pray that the trade war will end as soon as possible," Mai said. "But on the other hand, I think it will be far from a happy ending."
This article appeared in the South China Morning Post print edition as: Mainland middle-class fears grow over trade war impact