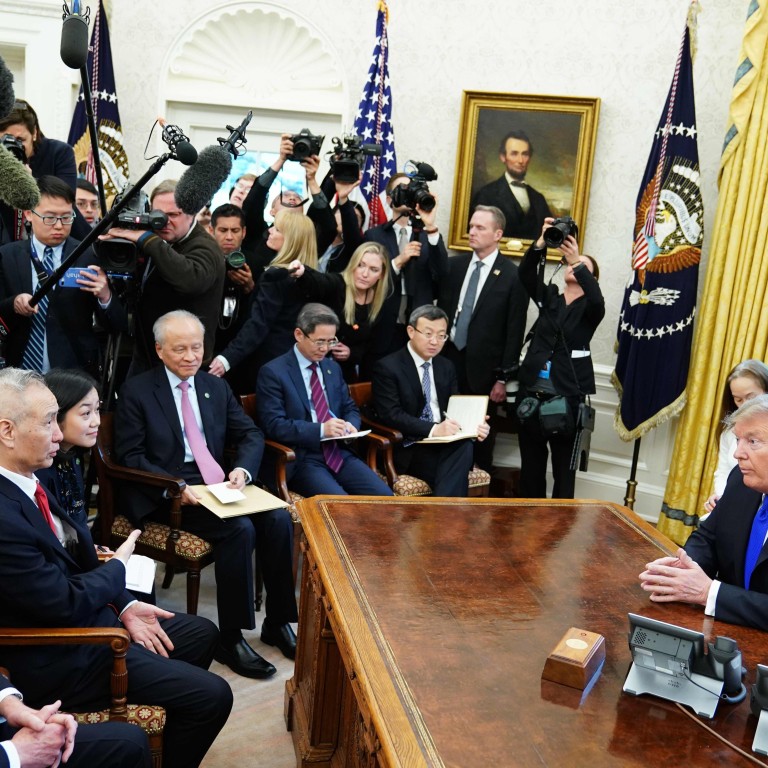 Exclusive

|
China asks state media to pick battles carefully with long US trade war looming, sources say
Beijing tells government officials and state media outlets to refrain from generalising US into one single voice opposing China
China is preparing for a protracted economic and technological rivalry after US President Donald Trump further escalated the already strained relationship
China hopes to appeal to potentially sympathetic voices on the other side of the trade war by asking its government officials and state media outlets to avoid being overly and often unnecessarily critical of the United States and its key players, even as it prepares for a protracted trade and technology confrontation with Washington, according to sources who were briefed on the latest government instructions.
Internal briefings held this week reflected the Chinese leadership's line of thinking that China has to make serious preparations for the worst-case scenario of an intense, broad-based and extended confrontation with the US on the trade, technology and geopolitical fronts, while also keeping open the option that tensions with Washington could ease.
"We have been told not to use 'the US side' generally in our copy because there are many different voices within the US," said one state media executive, who declined to be identified because the instructions are confidential. "The idea is that there are people in the US who are against the trade war or the confrontational approach towards China."
A second source, who works as an executive in a state-owned enterprise, said that the response by Beijing to the recent US escalation of trade tensions remains "restrained" despite an outpouring of nationalistic commentaries in China's state media.
"At least there are no people shouting slogans in front of the US embassy or trying to smash American shops in China," said the state-owned enterprise executive.
In May 1999, angry Chinese citizens shouted anti-American slogans and threw rocks at the US embassy in Beijing after Nato planes bombed the Chinese embassy in Belgrade in the former Yugoslavia, killing three Chinese journalists and injuring dozens of others.
Since US President Donald Trump decided to raise tariffs on US$200 billion worth of Chinese products from 10 per cent to 25 per cent and put telecommunications equipment maker Huawei on a trade blacklist, effectively banning US firms from selling it components and software, China has felt that it was being backed into the corner and had to put its foot down.
The South China Morning Post reported earlier this week that three days after the US raised the tariffs, President Xi Jinping canvassed the other 24 members of the Politburo for their views on the US trade demands and the ruling body overwhelmingly decided to mandate its firm position and not offer concessions.
Wang Yang, one of the seven members of the Politburo Standing Committee, the nation's top decision-making body, and officially the forth most senior member within the ruling Communist Party, later told a Taiwan business delegation that China is ready to engage in an "arm wrestling" contest with the US, downplaying the economic impact on China of the US tariffs.
While China has taken few public actions since the talks collapsed in early May, apart from imposing retaliatory tariffs on US$60 billion worth of US imports, China is escalating its official rhetoric over the potential for further retaliation. China's National Development and Reform Commission, the government's economic planning agency, suggested that China could ban exports to the US of rare earths, which contain minerals that are vital for hi-tech and military components.
"China is willing to satisfy normal demands for rare earth resources from other countries," an agency spokesman said earlier this week. "But I can tell you, if someone is trying to use our exported rare earth to make products that will be used to contain China's development, then I don't think these people in the south of Jiangxi [where the rare earths are mined]. or even the whole country. will be happy."
At the same time, China is opening doors to US investors, officials and opinion leaders who share certain common ground, or at least advocate a less confrontational approach against Beijing.
Bloomberg, for instance, will host its second New Economy Forum in Beijing in November, together with a Beijing-based think tank, with the conference headed by former vice-premier Zeng Peiyan. The scheduled speakers will also include former US secretary of state Henry Kissinger and former US treasury secretary Hank Paulson.
And China's government and official media have continued to avoid personally attacking US President Trump despite growing unhappiness with his administration's policies, in the hopes of leaving an open for a reduction in trade tensions.
This article appeared in the South China Morning Post print edition as: Beijing trying not to burn its bridges with WashingtonBeijing tries not to burn bridges with Washington – but prepares for worst